All Moments in Amber Heard, Johnny Depp Trial That Captivated Social Media
The defamation trial between Johnny Depp and Amber Heard is drawing to a close and looking back at the last six weeks of testimony and witness recounts have shown that this trial has been filled with ups and downs.
Depp sued his ex-wife Heard for $50 million after she wrote an opinion piece with The Washington Post in 2018 claiming to be a victim of domestic abuse. The article did not name Depp specifically, but Depp and his legal team argued that it was clearly about him and their turbulent relationship. Heard countersued Depp for $100 million for nuisance.
The trial has been filled with emotional testimonies, gruesome retellings of violent incidents, accusations from both parties of alleged domestic abuse, lots of objections from the attorneys representing the actors, and some humorous moments that viewers quickly took viral.
While closing arguments are expected on Friday morning, here are the moments from the six-week-long trial that captivated the internet.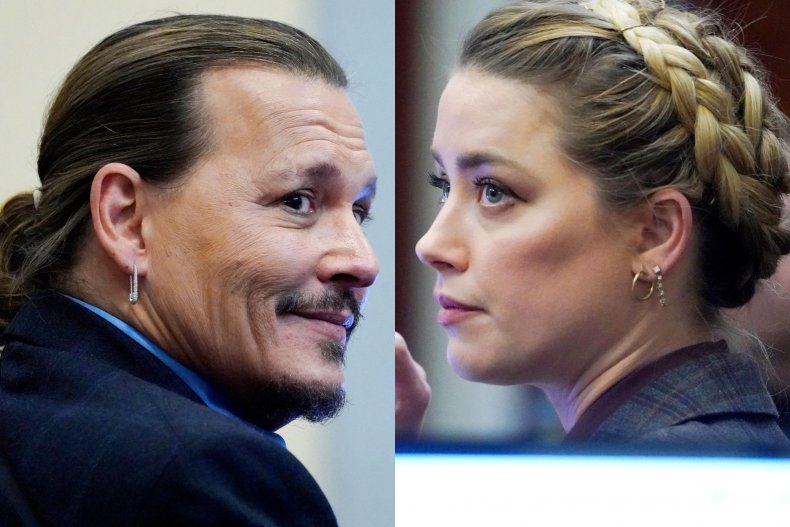 Johnny Depp Smirks After Being Called "Boring, Old"
One of the first clips to go viral on social media of the trial, which took place in Fairfax, Virginia, was during the testimony of Heard's former personal assistant, Kate James.
In James' video deposition, she stated that Heard told her she didn't enjoy hanging out with her husband and his friends because they were "boring and all old men playing guitars and it wasn't interesting to her."
Her comment elicited a smile from Depp, 58, and the clip from the courtroom amassed millions of views on Tiktok after being posted by a user who goes by the username @glizilion.
Johnny Depp's Personal Testimony
Many moments from Depp's personal testimony caught the internet's attention. Depp took the stand early on in the trial, testifying that he never once hit Heard.
"Nothing of the kind had ever happened," Depp told the jury in late April. "Though [in] the relationship there were arguments and things of that nature...but never did I, myself, reach the point of striking Miss Heard in any way. Nor have I ever struck any woman in my life."
"I am obsessed with the truth," he continued. "Today is...actually the first opportunity that I've been able to speak about this case in full."
One widely disputed incident also involved an injury in which Depp lost the tip of his finger. Depp claimed that Heard threw a glass vodka bottle at him which shattered, resulting in the injured hand, whereas Heard testified Depp did it to himself during a fight.
Depp admitted that he initially lied to medical professionals about what happened. "I didn't want to get her in trouble. I tried to just keep things as copacetic and as easy as possible for everyone," he said in the Virginia courtroom. "I did not want to put her name in that mix."
Feces Incident
One moment from his testimony went viral though, as users began sharing clips of Depp accusing Heard of defecating on his bed.
The hashtag, "Amber Turd" and "#MePoo" were trending on Twitter just hours after his testimony.
Amber Heard: "I Hit You" Audio
A video of the Pirates of the Caribbean actor reacting to audio played in court in which Heard admits to hitting him went viral after being shared by Twitter user @johnnyhellodepp.
"I'm sorry. I hit you like this, but I did not punch you. I did not f**king deck you. I f**king was hitting you. I don't know what the motion of my actual hand was. But you're fine. I did not hurt you," Heard said in the video.
Depp's solemn expression while the audio played amassed almost 12 million views.
"Objection, Your Honor, Hearsay"
The lawyers for both actors spent a significant amount of time during the trial objecting to one another's questions to witnesses, and several of the moments had the courtroom unable to hold in their laughter.
Heard's lawyer, co-counsel Adam Nadelhaft, questioned Depp's house manager Ben King on April 25 and interrupted his own line of questioning, citing a hearsay objection.
Judge Penney Azcarate replied, "But you asked the question."
Depp and his lawyer appeared to share a laugh in the clip that has been shared numerous times.
In another instance, TikTok user @SaraLianneX shared a compilation of Heard's lawyers' hearsay objections and Depp's reactions in a video that had amassed more than 18 million views at the time of writing. In the video, Depp joked several times about the hearsay objection and made the court laugh.
But Heard's lawyers were not the only ones with a multitude of objections. A video of Depp's lawyer, Camille Vasquez—who has developed a small fanbase of her own throughout the trial—objecting to Heard's team during the redirect of Heard went viral.
Posted on TikTok by user @mculokii, the nearly two-minute video showed Vasquez putting pressure on Heard's attorney, Elaine Bredehoft, as she struggles to ask questions to her client.
At one point, Bredehoft pauses and says, "I'm trying, I'm trying."
Amber Heard Describes First Time Johnny Depp Hit Her
The Aquaman actress recalled the first time Depp hit her on her first day on the witness stand, gaining a notable social media reaction.
Heard recalled asking Depp once what his tattoo meant. Depp told her the tattoo said "Wino." Heard said she started laughing then, and Depp slapped her in the face. She continued to laugh because she thought the slap was a joke, but he reportedly hit her again.
"You think it's so funny? You think it's funny, b**ch?" Heard said that Depp told her.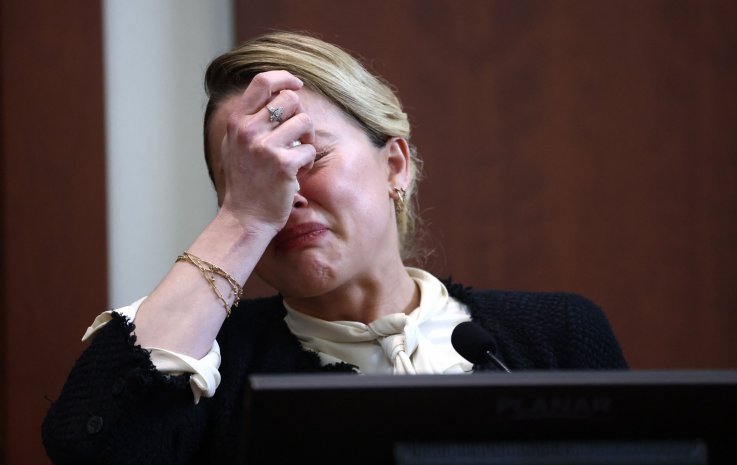 US actress Amber Heard testifies at the Fairfax County Circuit Courthouse in Fairfax, Virginia, on May 5, 2022.
JIM LO SCALZO/POOL/AFP via Getty Images
Heard's supporters began flooding social media as #IstandWithAmberHeard, one tweeting a video from the testimony and writing, "You've heard his side. Now listen to her speak."
Another fan wrote on Twitter, "I'm already reduced to tears while she's up there defending herself, reliving the most traumatic times of her past life from 6-10 years ago while the world watches on. She's the voice for the voiceless survivors everywhere. Truly inspirational."
Others were not so sympathetic to her emotional testimony, some saying that her testimony reminded them of Kristin Stewart's performance in Twilight.
TikTok user @beeyoung92 produced a comparison video that includes clips of Heard in the trial and Bella Swan (Stewart) in Twilight. The caption onscreen reads: "I thought I'd seen these scenes before today's trial."
Johnny Depp and Kate Moss
During Heard's testimony, she recalled an incident in which Depp allegedly went to hit her sister, Whitney Henriquez. When recalling the fight on the witness stand, Heard said, "I just instantly think of Kate Moss and the stairs, and I swung at him. In all my relationships to date, I hadn't [delivered] a blow. For the first time, I hit him square in the face."
After she dropped the supermodel's name, Depp and his attorney Benjamin Chew appeared to celebrate, as Chew fist-bumped the air. Many questioned the significance of that detail, and several legal experts explained that Heard inadvertently opened the door for Depp's team to bring Moss in as a witness to testify against the rumor.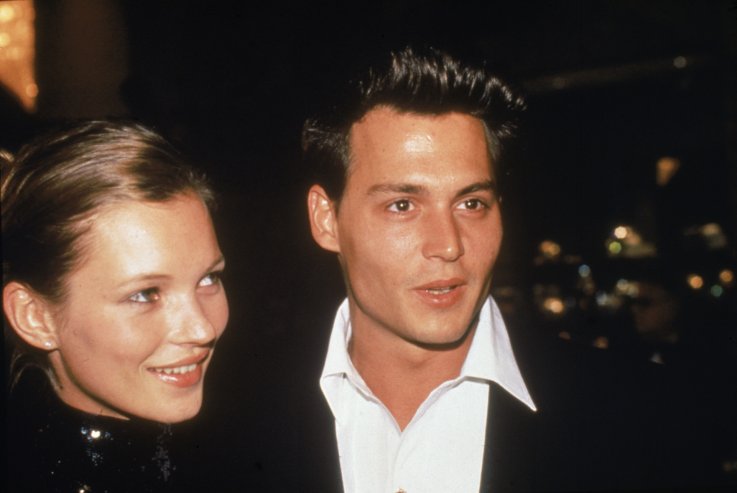 American actor Johnny Depp with his girlfriend, British model Kate Moss, at the 52nd Annual Golden Globe Awards, held at the Beverly Hilton Hotel, Beverly Hills, California, January 21, 1995.
Fotos International/Getty Images
Depp and Moss dated from 1994 to 1997, and rumors have circulated for several years that Depp pushed the supermodel down the stairs during their relationship.
On May 25, Moss appeared in court by video deposition and denied that Depp ever pushed her down any stairs, saying, "No, he never pushed me, kicked me or threw me down any stairs."
After testifying, video clips of Depp appearing to smile at his former girlfriend through the screen were widely shared.
Later on the same day, Depp testified that Heard was the one who took his story of helping Moss after she fell down a set of slippery stairs while on vacation in Jamaica, and "turned it ugly in her mind."
"That's the whole story," the actor said, "But then the rumor of it, I had never heard a rumor of that before Miss Heard grabbed hold of it. It's like that, I'm sorry."
Amber Heard Says People Have Been Threatening Her And Her Baby
Heard ended the trial's testimonies on Thursday by asking Depp to leave her alone, saying that because of the trial, she was "harassed, humiliated, threatened every single day."
"Even just walking into this courtroom, sitting here in front of the world," Heard said, her voice emotional. "Having the worst parts of my life, things I've lived through, used to humiliate me. People want to kill me.
"People want to put my baby in the microwave, and they tell me that," she continued. "Johnny...promised me that if I ever left him, he'd make me think of him every single day that I live."
Heard denied she was snickering on the stand, saying, "I'm not sitting in this courtroom laughing, smiling and making snide jokes. I'm not. This is horrible. This is painful, and this is humiliating for any human being to go through. Perhaps it's easy to forget that, but I'm a human being."
She said that at the end of all this, she just wants "Johnny to leave [her] alone," and hopes that she will be able to regain her voice following the trial.
"Johnny has taken enough of my voice," she said. "I have the right to tell my story, I have the right to say what happened to me, I have the right to my voice and my name. He took it long enough."