Andrew Cuomo's Sexual Harassment Bill Lowered Bar for Complaints, Eliminated 'Severe' Requirement
Prior to being accused of sexual harassment, New York Governor Andrew Cuomo signed a bill into law that significantly lowered the bar for proving harassment claims and extended greater protections to victims.
In August 2019, Cuomo approved the Human Rights Law, which eliminated the restriction that harassment must be "severe or pervasive" to be legally actionable. The bill also made it easier for employees to file harassment complaints, and extended the statute of limitations from employment sexual harassment claims from one year to three years.
Under this law, any action in the workplace that rises above "petty slights and trivial inconveniences" can qualify as harassment, and victims are no longer required to identify a history of harassment or similar examples of misconduct from a perpetrator.
Now the legislation is coming to light amid accusations that Cuomo sexually harassed three women—including two of his former employees.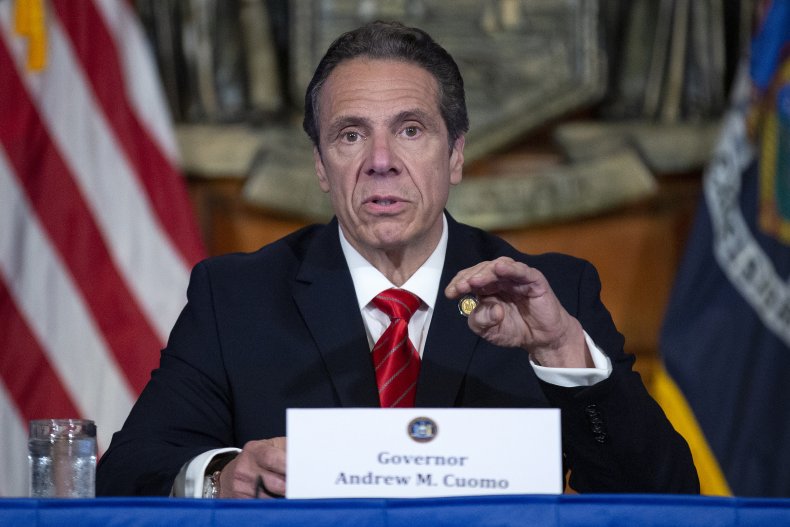 On February 24, Lindsey Boylan, a former aide to Cuomo, detailed sexual harassment allegations against the governor that included unwanted sexual advances such as a forceable kiss and an invitation to play strip poker.
In a blog post, Boylan said that Cuomo had "created a culture within his administration where sexual harassment and bullying is so pervasive that it is not only condoned but expected."
Days later, Charlotte Bennet, another former aide to Cuomo, said that the governor made her uncomfortable with questions about her sex life and whether she would consider dating an older man.
"I understood that the governor wanted to sleep with me, and felt horribly uncomfortable and scared," Bennett told The New York Times.
A third women, Anna Ruch, also told the Times of alleged sexual advances. She said that she had met the governor at a wedding in September 2019 where he put his hand on her exposed lower back and she pulled away.
"I was so confused and shocked and embarrassed," Ruch said.
The sexual harassment claims also came to light amid allegations that Cuomo has threatened or verbally harassed politicians across the state who disagree with him.
In response to the sexual harassment allegations, Cuomo denied making advances or "inappropriately" touching anybody, but acknowledged that his behavior might have been harmful in ways that he was unaware of at the time.
"It was unintentional, and I truly and deeply apologize for it," Cuomo said. "I feel awful about it, and frankly I am embarrassed by it, and that is not easy to say. But that is the truth," the governor said during a Wednesday press conference.
Cuomo has since faced bipartisan calls to resign or be impeached from office. But during his remarks to the media, Cuomo insisted he would not be stepping down and instead asked New Yorkers to wait for the results of a full investigation by the New York attorney general.
"I have learned an important lesson. I am sorry. I am sorry for whatever pain I have caused anyone. I never intended it," he added.
Boylan and Bennet have since rejected Cuomo's apologies and asserted that they were "full of falsehoods" and "not accurate."
"How can New Yorkers trust you @NYGovCuomo to lead our state if you 'don't know' when you've been inappropriate with your own staff?," Boylan tweeted on Wednesday.
A spokesperson for Cuomo's office told Newsweek on Thursday that the governor was "proud" to implement legislation to expand sexual harassment protections in 2019.
"Governor Cuomo was proud to spearhead legislation to greatly expand the scope and protections offered by the New York state. The governor will fully cooperate with the attorney general's review and we will have no further comment on the allegations until the review is complete," the spokesperson said.
Update: This article has been updated to include a statement from Governor Andrew Cuomo's office.