Late actress Anne Heche recalled attending the premiere of Volcano with Ellen DeGeneres in a newly resurfaced interview.
The soap opera star and the talk show host made their red carpet debut at the 1997 event, walking hand in hand after Heche was allegedly told she could lose her job for doing so. At the time, they were one of the first openly gay female couples in Hollywood.
Speaking on the Behind the Velvet Rope podcast earlier this year, which was released Tuesday, the Six Days Seven Nights star revealed why she made the appearance with DeGeneres, knowing there would almost certainly be consequences.
"I wanted to stand up for love," she told host David Yontef.
Heche said she hoped to inspire the LGBTQ community to "tell the truth about who they are," because "they really deserved to be in a loved society that was gender-free."
She added that her decision had a "colossal effect on my life," but she didn't seem to have any regrets.
"What I'm grateful for is that we've come further in terms of where we see gender as it deals with love and relationships," Heche said. In 2022, she added, people seem to be "more conscious" of "how to treat others who don't necessarily have the same opinions."
"I am so proud being a part of moving that needle a bit forward," she said.
Newsweek reached out to a DeGeneres representative for comment.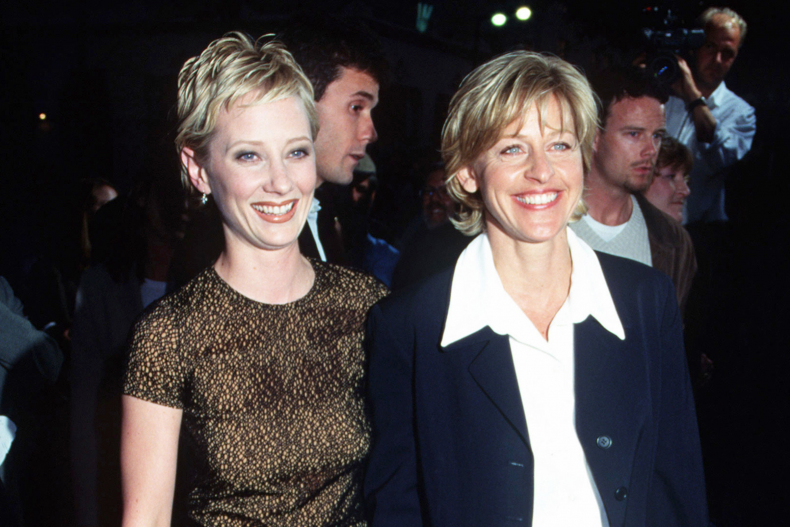 In 2020, Heche appeared on the 29th season of Dancing With the Stars and spoke about her romance with the Finding Dory star, which began in 1997 and ended in 2000.
"I was in a relationship with Ellen DeGeneres for three and a half years, and the stigma attached to that relationship was so bad that I was fired from my multimillion-dollar picture deal and I did not work in a studio picture for 10 years," Heche said in a video on the show.
Discussing meeting DeGeneres at a 1997 Vanity Fair Oscars party, she said, "That was the night that changed my life forever."
In a 2021 episode of Heche's Better Together podcast, her friend and co-host Heather Duffy Boylston called her the "original canceled."
According to Merriam-Webster, "cancel culture" is defined as "the practice or tendency of engaging in mass canceling as a way of expressing disapproval and exerting social pressure."
Heche died at the age of 53 on August 12 after succumbing to injuries she suffered from crashing her blue Mini Cooper into a Mar Vista, California, house.
Her representative's statement, obtained by Newsweek, said: "Today we lost a bright light, a kind and most joyful soul, a loving mother, and a loyal friend.
"Anne will be deeply missed but she lives on through her beautiful sons, her iconic body of work, and her passionate advocacy. Her bravery for always standing in her truth, spreading her message of love and acceptance, will continue to have a lasting impact," the statement said.
Following her death, DeGeneres posted a tribute to the Emmy winner via Twitter: "This is a sad day. I'm sending Anne's children, family and friends all of my love."
Other celebrities, including Alec Baldwin and Rosie O'Donnell, have also spoken about Heche since the accident.
Heche is survived by her son Homer Laffoon, whom she shared with ex-husband Coleman Laffoon, and son Atlas Heche Tupper, whom she shared with ex James Tupper.