Bernie Sanders, Gavin Newsom Tied to Replace Biden in 2024: Poll
New polling shows that a majority of California voters do not want Joe Biden to run for office again in 2024, with equal percentages of Democrats saying that progressive Senator Bernie Sanders of Vermont and their state's Governor Gavin Newsom would be their top choice to replace the current president.
Biden has seen his approval rating tank rapidly over the past year, leading some Democrats to raise alarms that he would be unlikely to win a second White House term in 2024. Many have also raised concerns about Biden's age, as he will turn 82 shortly after the next presidential election.
While Biden's age and health may be a concern to some, a sizable portion of California voters don't seem bothered by the prospect of Sanders, who will turn 83 in 2024, becoming president. The independent from Vermont, who unsuccessfully sought the Democratic Party's nomination in 2016 and again in 2020, tied with Newsom as the top choice for California's Democratic voters, according to new polling published Friday by UC Berkeley's Institute of Governmental Studies.
Sanders, who won the 2020 Democratic primary in California, and Newsom, 54, both were selected as the top choice to replace Biden as the 2024 nominee by 13 percent of Democratic survey respondents. Vice President Kamala Harris, 57, who previously served as a senator for California, came in third, with 10 percent selecting her as their top choice.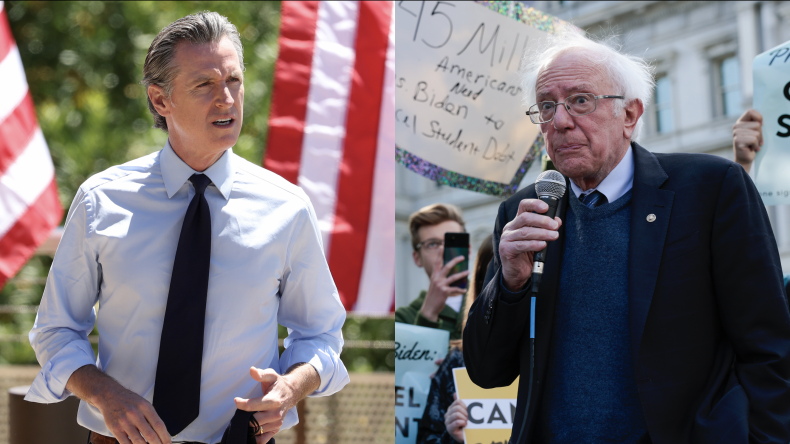 Newsom pulls ahead in the survey when respondents' second choices are factored in with their first options. Then the California governor is backed by 25 percent, compared to 18 percent who supported Sanders and Harris.
Overall, the poll showed that 61 percent of California voters of all political persuasions oppose Biden seeking a second term. Among Democrats, 46 percent oppose the president running for the White House again while an equal percentage support him seeking another four years as commander in chief.
The survey was conducted from August 9 to 15 among 9,254 registered California voters. It had an overall margin of error of plus or minus 2 points, with the sampling error among Democrats being plus or minus 2.5 points.
The Washington Post first reported in April that Sanders has not "ruled out" making a third bid for the White House if Biden declines to seek reelection. The news was based off a memo from a top Sanders adviser, Faiz Shakir, who was the former presidential candidate's 2020 campaign manager. The memo was distributed to progressive allies, advising them on how to "embrace" attacks about the senator's support for their candidates in the November midterms.
Analysts have posited that Newsom is weighing a potential 2024 run, even possibly in a direct challenge to Biden. The speculation mounted in July when the California governor released an ad in Florida slamming the southern state's Governor Ron DeSantis. While former President Donald Trump is seen as the potential frontrunner for the GOP presidential nomination in 2024, DeSantis is regularly floated as the strongest alternative.
A previous July poll by News Nation and Decision Desk HQ showed that nationally Harris would be the top choice for the Democratic Party's presidential nomination if Biden does not run in 2024. The current vice president was backed by about 16 percent of respondents, while Sanders came in second with almost 11 percent and Newsom placed third at about 9 percent.
The survey included 1,000 registered voters with a margin of error of plus or minus 3.07 percent.
Biden and other White House officials have repeatedly said that he plans to seek reelection in 2024. The president has asserted that Trump running for office again would make him even more eager to seek a second White House term.