Mysterious Message for Beyoncé Appears in Sky After Making Grammys History
Beyoncé's history-making moment at Sunday's 65th Grammy Awards has been met with elation among her fans—as well as a mysterious message in the sky.
The chart-topping singer, who made a late arrival at Los Angeles' Crypto.com Arena after getting stuck in traffic, scooped four awards at the ceremony: Best R&B Song for "Cuff It"), Best Dance/Electronic Recording ("Break My Soul"), Best Dance/Electronic Album (Renaissance) and Best Traditional R&B Performance ("Plastic Off the Sofa").
Beyoncé won the most awards at this year's ceremony, tied with the worship music collective Maverick City Music. Beyoncé's haul saw her walk away with a career total of 32 Grammy trophies, besting Hungarian-British conductor Georg Solti's previous record.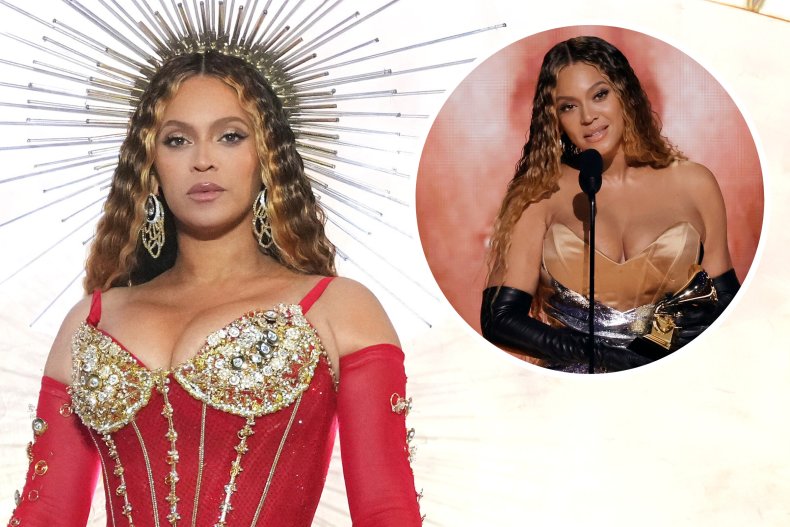 "I'm trying not to be too emotional," Beyoncé, 41, said while accepting her record-breaking prize for Dance/Electronic Album. "I'm trying to just receive this night."
During her speech, the Texas native also paid tribute to both her "beautiful husband" Jay-Z and the "queer community for their love and for inventing the genre."
While Beyonce's Beyhive fanbase has been celebrating her moment of glory, an anonymous message was also shared in the skies of Los Angeles.
Brandon Launerts, senior producer of digital and social content for The Late Late Show With Stephen Colbert, on Monday shared footage of a sky-written message that read: "Beyoncé, you made music history."
Launerts revealed in his caption that the message was "spotted in LA," but it has not yet been revealed who was responsible for it.
On Sunday night, while the Grammy Awards ceremony was still in full swing, Beyoncé shared a social-media post that celebrated winning three of her awards.
"We won 3 y'all," the Instagram post read. "To my Hive, thank y'all so much for all of your love and loyalty! Big thank you for the BREAK MY SOUL and CUFF IT wins!!! To The Dream, Tricky, HOV, and Big Freedia. I love y'all!"
Beyoncé continued by thanking members of her team and finished with: "It feels great to be honored for the vocal performance. Thank you to all the talented vocalists who killed those beautiful TikTok renditions! I feel very grateful and filled with joy!"
The accompanying picture showed Beyoncé posing with two Grammy Awards in her hand, and another placed at her feet. It was posted while the ceremony was ongoing, and before she had won her fourth award.
Beyoncé had broken records before even arriving at this year's ceremony. She was not only the top nominee for the year, with nine nods; she also increased her career nomination total to 88, tying her with her husband, Jay-Z, for the most Grammy nominations received by any artist.