Biden Should Not Have 'Rewarded' Saudi Arabia With Visit: Bernie Sanders
Senator Bernie Sanders said Sunday that President Joe Biden should not have "rewarded" Saudi Arabia with his visit, as criticism continues to build over the trip to the Middle Eastern nation.
Biden announced the visit with hopes to build diplomacy between the United States and Middle Eastern allies—while also hoping to convince Saudi Arabia to increase oil production to help lower domestic gas prices, which climbed in recent months amid inflation and sanctions on Russian oil.
However, the trip was met with criticism over Saudi Arabia's record on human rights. Critics questioned if Biden would successfully walk the fine line between promoting diplomacy while holding Saudi leaders responsible for several alleged abuses—including their alleged involvement in the 2018 murder of Washington Post journalist Jamal Khashoggi.
Sanders, a Vermont independent who caucuses with the Democratic Party, joined the criticism during an appearance on ABC News' This Week on Sunday morning.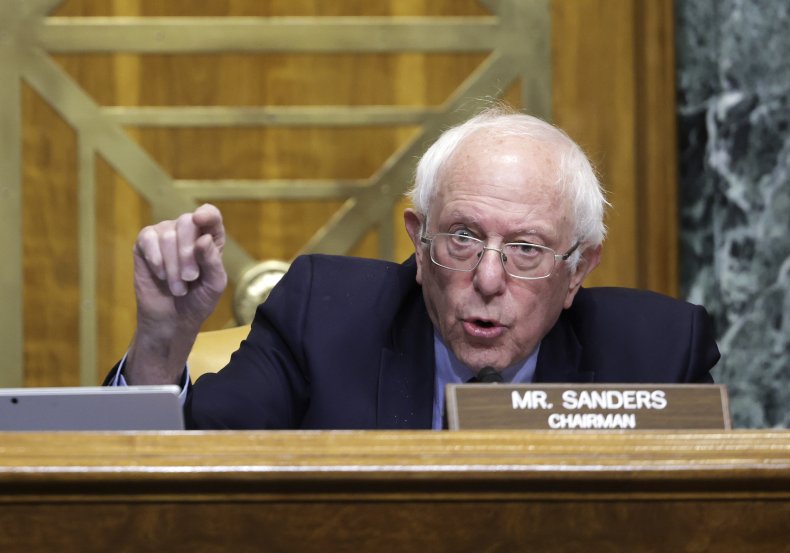 "You have a leader of that country who was involved in the murder of a Washington Post journalist," Sanders said. "I don't think that that type of government should be rewarded with a visit by the President of the United States."
Sanders—critical of Biden during the 2020 presidential primary when he presented himself as the progressive alternative for Democrats—has backed many aspects of the Biden agenda throughout his presidency, but has a long history of condemning Saudi Arabia's alleged human rights abuses.
He said that rather than visit Saudi Arabia to strike an oil-production deal, the U.S. could pass a windfall profits tax on oil companies as an alternative to lowering gas prices, though it remains unknown if the Senate would pass such a policy.
"You've got a family that is worth $100 billion, which questions democracy, which treats women as third class citizens, which murders and imprisons its opponents," the senator said. "And if this country believes in anything, we believe in human rights. We believe in democracy. I just don't believe we should be maintaining a warm relationship with a dictatorship like that."
Saudi Arabia Visit Rife With Controversy
The president's trip to Saudi Arabia comes just a few years after he said, as a presidential candidate, that he would make the nation a global pariah over the death of Khashoggi. However during his visit, Biden faced criticism for fist-bumping Crown Prince Mohammed bin Salman, who U.S. intelligence determined had involvement in Khashoggi's death.
Fred Ryan, publisher and CEO of The Washington Post, said in a statement the fist bump was "worse than a handshake" and "shameful."
"It projected a level of intimacy and comfort that delivers to MBS the unwarranted redemption he has been desperately seeking," he wrote.
Biden also left the region without earning an immediate promise on increased oil production, but he remained optimistic, saying on Friday: "I'm doing all I can to increase the supply for the United States of America, which I expect to happen. The Saudis share that urgency, and based on our discussions today, I expect we'll see further steps in the coming weeks."
The president defended the trip as part of a "new and more promising chapter of America's engagement" in the Middle East, including Saudi Arabia, in an opinion piece for the Post. Biden also defended his handling of Khashoggi's death, telling reporters that he raised the issue during a meeting with Saudi leaders, Reuters reported Friday.
Newsweek reached out to the White House for comment.