Black Lives Matter Calls Conservative Cry of 'Defund the FBI' Hypocritical
In the days since the FBI raided former President Donald Trump's Mar-a-Lago estate, many Trump supporters have pushed for the federal agency to be defunded. Black Lives Matter (BLM) has responded by insinuating such messaging is hypocritical given conservative backlash against calls made by progressive groups to defund the police.
One such instance came soon after Republican Representative Matt Gaetz of Florida threatened to give "not one more damn penny" to the FBI and other such agencies. BLM responded in a tweet to Gaetz that "you are corny AF. But we'll work with you to defund and dismantle the FBI. Welcome to #DefundThePolice."
For many people, BLM has become linked to the "defund the police" efforts. This happened after the group—which began as a grassroots, social justice movement but has also expanded into the Black Lives Matter Global Network Foundation—led protests around the world against police brutality. These protests grew in size and frequency in the wake of George Floyd's death in 2020, which is also when "defund the police" became a movement of its own.
On Thursday evening, BLM noted how Republican Representative Marjorie Taylor Greene of Florida had also criticized the FBI. BLM tweeted out an illustration of a Black arm (labeled "abolitionists") joining hands with a white arm (with the phrase "Marjorie Taylor Greene's unhinged Twitter account" on it). "Defund the FBI" was written at the top.
"Y'all know that this is satire and we are WILDLY uninterested in partnering with her, right?" BLM wrote in a followup message. "We just thought it was funny how quickly they went from 'back the blue' to #DefundThePolice ..."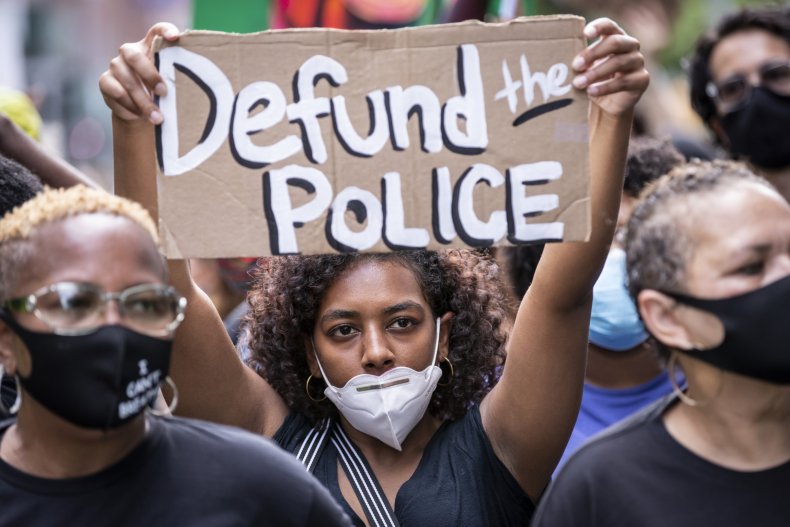 The BLM Twitter account also shared a tweet from conservative columnist Todd Starnes that read, "The FBI had been weaponized. Defund and Dismantle."
"Love this for us. Join us in our mission to divest federal resources from agencies like the FBI," the progressive group wrote in its caption above Starnes' message.
Similarly, after right-wing podcast host Liz Wheeler tweeted "Abolish the FBI," BLM shared her post with the comment: "Liz is an abolitionist girlie now."
BLM also retweeted various messages concerning the FBI's raid of Trump's estate, making it clear the group is by no means an ally of the former president.
Not everyone saw the same correlation between calls to defund the FBI and the movement to do the same with police departments. Investigative journalist Alex Rubinstein was among those who made the differentiation.
"Amazing to see so many braindead blue checks tweeting gotchas at Republicans for calling to defund the FBI, drawing false equivalencies between a federal domestic intelligence & law enforcement agency & local police departments," Rubinstein tweeted. "Yes, Republicans are hypocrites but this is dumb."
Newsweek has reached out to BLM for comment.