A coalition of Black protesters in Portland, Oregon, drafted an open letter urging allies to avoid doing harmful damage to communities while fighting against police brutality and systemic racism.
The open letter was published on Tuesday, in We Out Here Magazine (WOHM), a Northwest hip-hop lifestyle magazine, in response to "ongoing behavior seen as detrimental to Black Liberation."
The letter comes as Portland remains an active site for protests against police killings. Last summer, the city gained national attention after the murder of George Floyd, when several protests turned into rioting.
This week, reports showed some protesters in the city shattering windows, starting fires, and violently clashing with officers.
On Tuesday, Portland activists said that while there is "no excuse" for police to murder citizens, allies of the protest movement should not be actively doing damage to communities and resources.
"There is no excuse for the police to murder civilians. This is completely unacceptable and every abuse of power is a stain on our nation, and an obstacle to peace. Every cover up, lie and delay prove to us further that this system is not reformable," the protesters wrote in the open letter.
"As an array of Black writers, speakers, artists, activists, teachers, parents and professionals, we already struggle to survive in a state that makes every effort to reshuffle and erase us. We need our allies in this fight to understand and honor this fact. Understand that doing damage to us, our communities, and our resources undoes the work we do.
"Black people are not a monolith, and having a complicit Black person in your planning space does not indicate support from the Black community. For decades, efforts towards Black Liberation have suffered at the hands of both well-meaning allies and predatory opportunists, and over the last year we have watched as people have profited from and damaged our movement without our consent or approval," the group continued.
The protesters then added that while "revolutionary times call for revolutionary measures," any actions that "neither increase solidarity nor broadcast purpose while making the lives of local Black communities more difficult are not acceptable."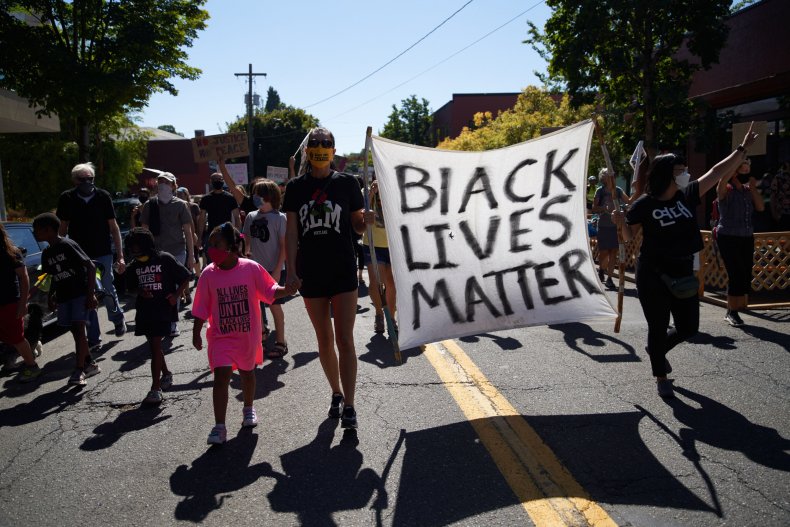 The activists' statement comes as the nation continues to see widespread protests against police killings of Black Americans. According to data from research group Mapping Police Violence, 181 Black people in the U.S. have been killed by the police since last May.
On Tuesday, police officer Derek Chauvin was convicted of second-degree unintentional murder, third-degree murder and second-degree manslaughter for the murder of Floyd, a Black man whose death last summer sparked international protest movements.
That same day, protests erupted in Columbus, Ohio, after Ma'Khia Bryant, a 16-year-old Black girl, was fatally shot by a police. And just one week earlier, protesters gathered across Minneapolis to mourn the loss of Daunte Wright, a 20-year-old Black man, who was fatally shot by a police officer at a traffic stop.
Ben Crump, an attorney representing the Floyd family, tweeted Tuesday: "As we breathed a collective sigh of relief today, a community in Columbus felt the sting of another police shooting as @ColumbusPolice killed an unarmed 15 yo Black girl named Makiyah Bryant. Another child lost! Another hashtag"
D. A. Bullock, an organizer with Reclaim the Block, told Newsweek Tuesday that regardless of Chauvin's conviction, "real justice" can only be served when there is a fundamental change to policing in the U.S.
"Real justice in this case," Bullock said, "is a fundamental change of the system that we see through the transfer of funds away from the Minneapolis Police Department into the communities that we serve.
"Because, although we support the family and their pursuit of justice, we know that ultimately what true justice looks like is another George Floyd not happening again next summer, or the summer after that."
Newsweek contacted We Out Here Magazine for additional comment, but did not hear back in time for publication.