Border Patrol Official Estimates Over 1 Million Migrant Encounters This Year, 540K More Than 2020
Border Patrol is on pace to make over 1 million migrant encounters at the southwest border this year, a significant spike compared with 458,088 total encounters in 2020.
"Based upon what we've already apprehended and looking at what's remaining in the fiscal year, that we will have approximately about a million apprehensions or encounters this year," said Deputy Chief of U.S. Border Patrol Raul Ortiz, according to CBS Evening News.
Given Ortiz's estimate, this year's total number of encounters would top last year's total by more than 540,000 arrests.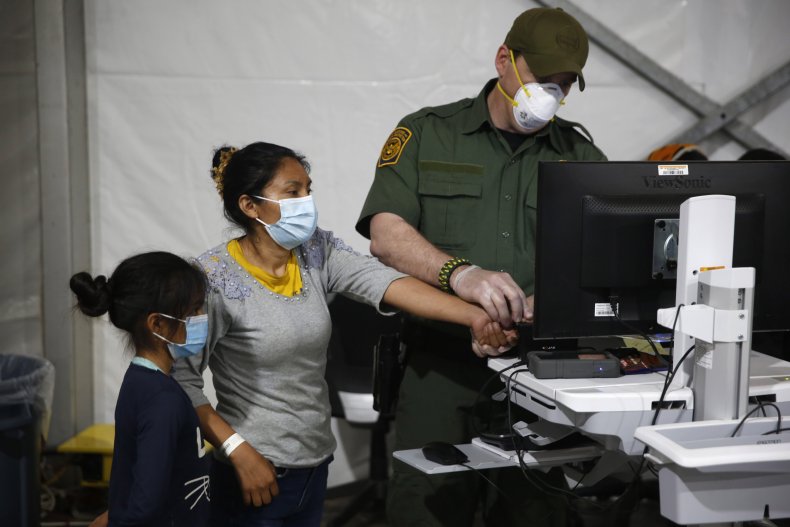 The number of southwest land border encounters is set to beat 2019's high of 977,509 encounters and will outpace last year's rate, according to U.S. Customs and Border Protection (CBP) data. As of February, CBP reported 396,958 total southwest border encounters for this year.
Data on CBP encounters can be broken down into two types: migrants rejected by Border Patrol and migrants apprehended, or temporarily detained by agents. So far in 2021, CBP has reported 317,590 expulsions and 64,046 apprehensions. In comparison, last year, a total of 197,043 migrants were rejected and 203,608 were detained.
The spike in encounters at the U.S.-Mexico has coincided with changes in border policy under President Joe Biden, who has promised his administration will "dismantle" former President Donald Trump's immigration system.
Increased numbers of migrants started coming to the U.S. months before Biden took office, so by the time the new administration arrived, border agents were already becoming overwhelmed. Biden has repealed Trump's Migrant Protection Protocol, which forced asylum seekers to wait in Mexico for their immigration court dates. For this reason, migrants want to be arrested by Border Patrol so they can enter U.S. immigration custody and receive a Notice to Appear in court.
Despite the high number of encounters at the border, the Biden administration continues to expel most single adults and families under Title 42, a public health rule that gives immigration authorities the power to rapidly reject asylum seekers. For this reason, the high number of arrests does not necessarily mean 1 million migrants have entered the country.
However, the Biden administration has received criticism for its opacity about who gets to stay and who must go after they enter immigration custody. Department of Homeland Security (DHS) Secretary Alejandro Mayorkas and Biden have reiterated that the majority of migrants are being expelled, but February data showed that many of the migrants are in fact staying in the U.S. while awaiting their court dates.
Some of them are even being released into the U.S. by Border Patrol without a Notice to Appear in court.
And with Border Patrol set to encounter over 1 million migrants, the number of families, single adults and unaccompanied minors filling border facilities are likely to keep exhausting resources.
A CBP spokesperson did not provide specific comment on Ortiz's estimate: "The unique challenges of the pandemic require additional authorities, such as the CDC order known as Title 42, to allow DHS to effectively protect both the health and safety of migrants and our communities from the spread of COVID-19. The border is not open, and the majority of people are being returned under Title 42."
CBP's fiscal year runs from October 1, 2020 through September 30, 2021.