British Prime Minister Boris Johnson made a surprise visit Saturday to Ukraine's capital city, Kyiv, to meet with Ukrainian President Volodymyr Zelensky while also slamming Russia's "barbaric" invasion of the country.
"Today I met my friend President@ZelenskyyUa in Kyiv as a show of our unwavering support for the people of Ukraine. We're setting out a new package of financial & military aid which is a testament of our commitment to his country's struggle against Russia's barbaric campaign," the prime minister tweeted.
Johnson did not elaborate on what the financial and military package would include. However, a day earlier, he announced that Britain would supply Ukraine with £100 million ($130 million) worth of weapons after Russia bombed a train station in the eastern city of Kramatorsk.
After the meeting, Zelensky shared an image of himself shaking hands with Johnson while writing on Facebook that the prime minister is "one of the most principled opponents of the Russian invasion, a leader in sanctions pressure on Russia and defense support of Ukraine."
Johnson's visit came amid a wave of European support for Ukraine as Russia continues to carry out violent attacks on the nation's citizens. Also on Saturday, Austria's Chancellor Karl Nehammer traveled to Kyiv to discuss strengthening sanctions, supporting an energy and oil embargo against Russia, and fast-tracking Ukraine's membership to the European Union (EU), according to a statement from Zelensky.
On Friday, European Commission President Ursula von der Leyen pledged to offer Ukraine a speedier path to becoming a member of the EU, stating that "it will not as usual be a matter of years to form this opinion but I think a matter of weeks," CNBC reported. Gaining access into the EU typically takes several years to negotiate and confirm, but Zelensky has pushed for an expedited process due to the war.
Meanwhile, Italy's Foreign Minister Luigi Di Maio reportedly told staff this weekend that the country will soon reopen its embassy in Kyiv. He called the move "another gesture to demonstrate support for the Ukrainian population, a concrete way to affirm that diplomacy must prevail," according to the Associated Press.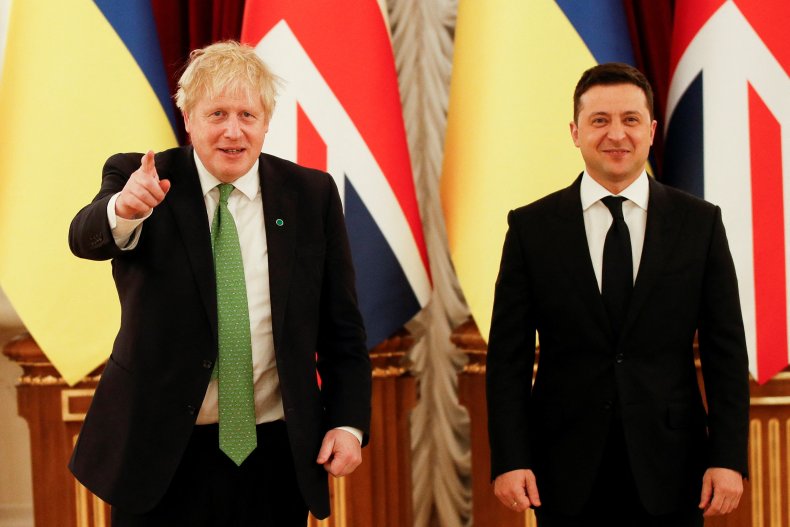 The latest round of European support comes after Russia was accused of committing several war crimes across the country. On Friday, a Russian missile struck a train station in Kramatorsk, located in the eastern Donbas region, killing at least 50 Ukrainians, who were attempting to flee the country.
Days earlier, Ukrainian officials said that Russian soldiers massacred and tortured hundreds of civilians near Kyiv. Graphic images have emerged showing mass graves and corpses with their hands tied behind their backs in the town of Bucha. Russian troops have also been accused of raping and torturing women.
The attacks sparked widespread condemnation, with President Joe Biden labeling Russian President Vladimir Putin a "brutal war criminal." Eugene Finkel, a Holocaust expert, told Newsweek last week that Russia's actions are akin to genocide of the Ukrainian people.
Newsweek contacted the foreign ministries of Ukraine and Russia for additional comment.