Boulder, Atlanta Shootings Put Joe Biden's Gun Control Plan Back on Agenda
President Joe Biden has outlined his desire for reform of firearm legislation and two recent mass shootings in the U.S. have now pulled attention back to the issue of gun violence across the nation.
A shooting in Boulder, Colorado, on Monday left ten people dead, including a police officer. Shootings at three spas in Atlanta, Georgia, last week left eight people dead, among them six women of Asian descent.
Each has seen questions raised over gun control laws, giving Biden an opportunity to talk again about his campaign's plan to "end gun violence."
His aims include increased background checks; requiring these for all gun sales; and a ban on assault weapons. Biden also proposes a buyback program offering current owners of weapons the chance to sell them to the government.
In a statement issued on the third anniversary of the Parkland shooting, Biden called on Congress to "enact commonsense gun law reforms, including requiring background checks on all gun sales, banning assault weapons and high-capacity magazines, and eliminating immunity for gun manufacturers who knowingly put weapons of war on our streets."
In the wake of the recent shootings, Democratic lawmakers have outlined their desires for further gun safety legislation.
The U.S. House of Representatives passed two bills to expand background checks earlier this month.
The first expands checks to include purchases of weapons made online, at gun shows, and through some private transactions, Reuters reported. The second gives authorities 10 business days to complete federal background checks before a gun sale is licensed.
While there has been comfortable support in the Democratic-majority House for expanding background checks, passing such measures through the Senate poses a sterner test.
The upper chamber is split 50-50, with Democrats holding a majority due to Vice President Kamala Harris' power to cast tie-breaking votes.
However, this does not help them in securing the 60 votes needed to bypass a filibuster, which could be used by Republicans to stall legislation.
Even with the entire Democratic caucus united, they would require 10 Republicans to vote alongside them to bypass the filibuster.
There have been suggestions of moving to eliminate the filibuster from progressive Democrats. However, Biden and some moderate Democrats have expressed support for it remaining.
Senate Majority Leader Chuck Schumer (D-NY) has said the prospect of eliminating the filibuster remains "on the table."
He said how Senate Republicans vote on background checks could be a "test" that determines what options Democrats explore to ensure the passage of legislation. Ending the filibuster is among them.
Schumer tweeted on Monday night that the Senate "must and will move forward on legislation to help stop the epidemic of gun violence."
Sen. Joe Manchin (D-WV) has been opposed to eliminating the filibuster. However, he has expressed support for tougher background checks on gun purchases.
Some Democrats have previously urged Biden to become more involved in rallying support in the Senate, saying the time is right to do so.
"I hope and I expect that President Biden will be willing to get engaged in hand-to-hand advocacy in the Senate on background checks," said Sen. Chris Murphy (D-CT) earlier this month, the Associated Press reported.
Sen. Richard Blumenthal (D-CT), quoted by the Associated Press, said he thinks now is an opportunity to push reform: "What's changed is we now have a president who can put pressure on our colleagues."
Polling has shown bipartisan support for increased background checks among the public. Advocacy groups have also reiterated calls for federal action.
The president of Everytown for Gun Safety John Feinblatt said in a statement: "This is yet another in a long string of horrific tragedies, from Boulder today to Atlanta last week to the dozens more people in the United States who are shot every day, but whose stories do not make the headlines.
"To save lives and end these senseless killings, we need more than thoughts and prayers—we need federal action on gun safety from the Senate and the administration, and we need it now."
In comments shared with Newsweek, Shannon Watts, founder of Moms Demand Action, said: "We mourn with the communities of Boulder and Atlanta after the devastating and senseless mass shooting tragedies in the past week.
"We can't and won't accept gun violence as just a fact of life in America."
Watts also called for federal action on gun safety.
Newsweek has contacted the White House and the offices of the lawmakers mentioned for comment.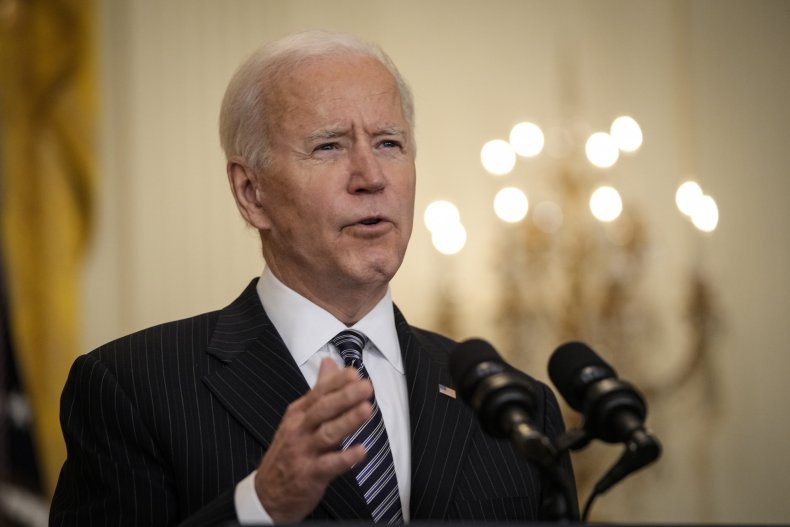 Update 03/23/2021: This article was updated with additional comments from Sen. Schumer. Further comments from Moms Demand Action were also added to this piece.