Burundi to Restart Peace Talks and Free 2,000 Prisoners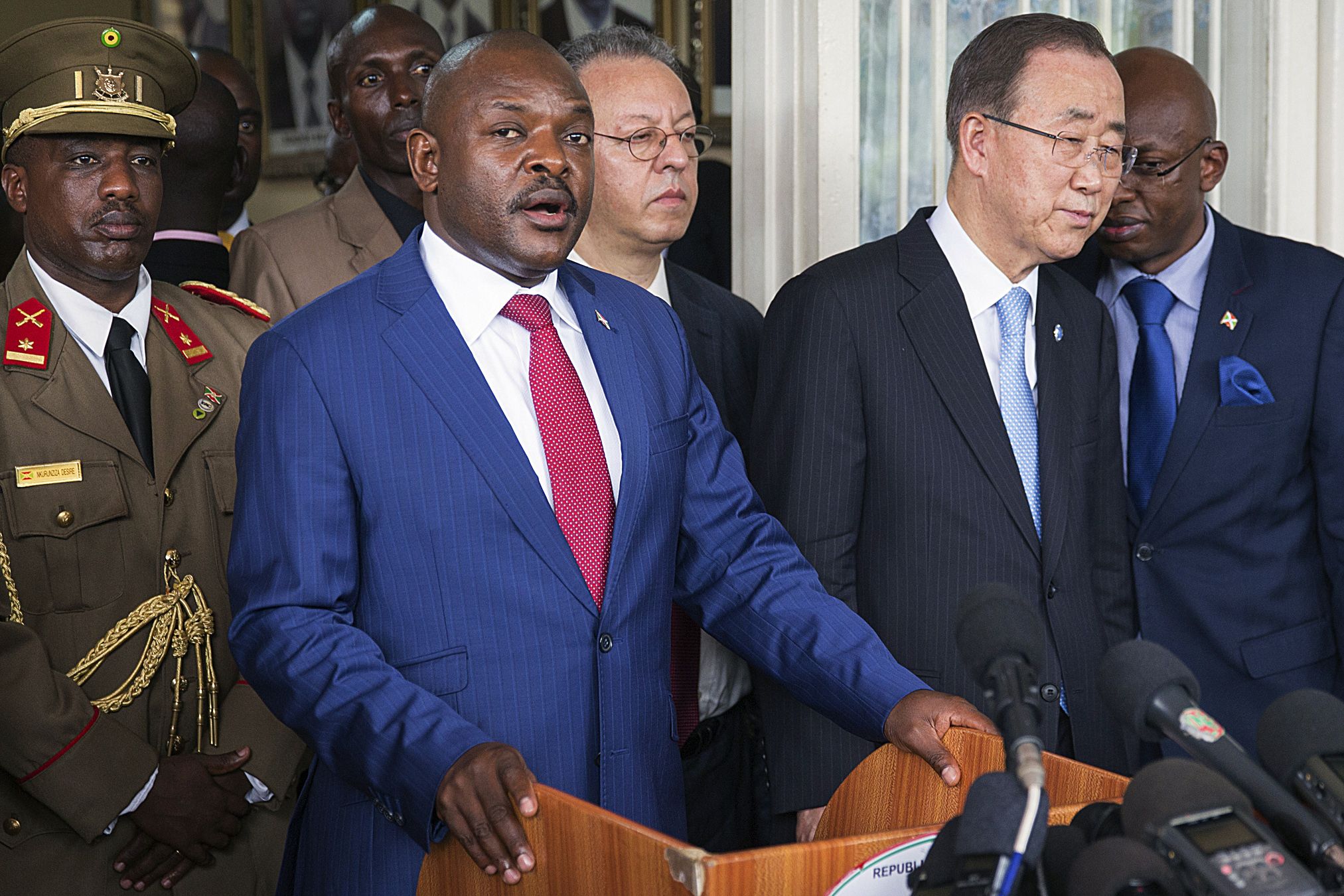 Burundi's President Pierre Nkurunziza says he will hold talks with opposition parties and free 2,000 prisoners in a bid to bring stability to the conflict-torn country.
More than 400 people have been killed in Burundi since Nkurunziza announced his intention to run for a third term in April 2015. Opposition activists maintain that Nkurunziza's decision was unconstitutional, since he had already served two terms, which is all Burundi's constitution permits. But Nkurunziza's camp says it is legitimate as he was not elected by the population for his first term, which began in 2005 following a 12-year civil war in Burundi, but was chosen by parliamentarians.
Nkurunziza met with U.N. Secretary General Ban Ki-moon in the capital Bujumbura on Tuesday. The last attempts at peace talks broke down in January, after the government rejected the inclusion of certain opposition figures that it accuses of orchestrating a failed military coup in Burundi in May 2015. The leader of the coup, General Godefroid Niyombare, was recently designated the head of an opposition rebel group called FOREBU, which was formed in December 2015.
In a joint press conference with Ban on Tuesday, Nkurunziza indicated that the latest peace talks would not include the alleged coup plotters. "Burundians and U.N. agree that inter-Burundian dialogue shall bring together Burundians but the perpetrators of insecurity...will not be involved," he said, according to Reuters.
The Burundian president has left relatively few options open for achieving peace in the country. Nkurunziza rejected a proposed 5,000-strong African Union peacekeeping force, which he said would be treated as a foreign invasion and would prompt an armed response from Burundi. South African President Jacob Zuma, along with the leaders of Senegal, Ethiopia, Gabon and Mauritania, are heading to Bujumbura for talks on Friday.
Ban welcomed the release of the prisoners, calling it an "encouraging step." A spokesman for the opposition Union for National Progress (UPRONA), Thacien Sibomana, said he feared Nkurunziza may only free pro-government prisoners and may keep opponents of the regime locked up.
Nkurunziza also used the meeting to reiterate accusations that Rwanda had been recruiting refugees into armed militias aimed at toppling the Burundian government. More than 245,000 refugees have fled Burundi since April 2015, with more than 70,000 heading to neighboring Rwanda. The Rwandan government, including President Paul Kagame, has repeatedly denied accusations that Burundian refugees were being given military training in Rwandan refugee camps. The Rwandan foreign minister, Louise Mushikiwabo, announced earlier in February that the country is looking to relocate Burundian refugees into unspecified third countries since "the growing risks to our national security from the Burundian impasse and misunderstandings in our foreign relations are unacceptable."
U.N. experts and former Burundian presidents have warned of the possibility of genocide in Burundi, which has a similar ethnic makeup to Rwanda. In 1994, Rwanda suffered a genocide in which more than 800,000 Tutsis and moderate Hutus were killed by Hutu extremists.