Buttigieg Slams Republicans Against Bill Protecting Same-Sex Marriages
Transportation Secretary Pete Buttigieg on Sunday criticized Republicans, including Florida Senator Marco Rubio, who are against codifying protections for same-sex marriages.
"I depend on and count on my spouse every day, and our marriage deserves to be treated equally. And I don't know why this would be hard for a senator or a congressman," Buttigieg, the first openly gay U.S. Cabinet secretary, said during an appearance on CNN's State of the Union.
On Tuesday, the House passed the Respect for Marriage Act to codify protections for same-sex marriages into federal law. Seven Republicans didn't vote for the bill, while the majority of the GOP—157 in total—opposed the measure. However, all Democrats along with 47 Republicans were able to vote in favor of passing the bill, which is now heading to the Senate.
"I don't understand, because such a majority of House Republicans voted 'no' on our marriage...hours after I was in a room with a lot of them talking about transportation policy, having what I thought were perfectly normal conversations with many of them on that subject, only for them to go around the corner and say that my marriage doesn't deserve to continue," Buttigieg said, referring to Republicans who voted against protecting same-sex marriages.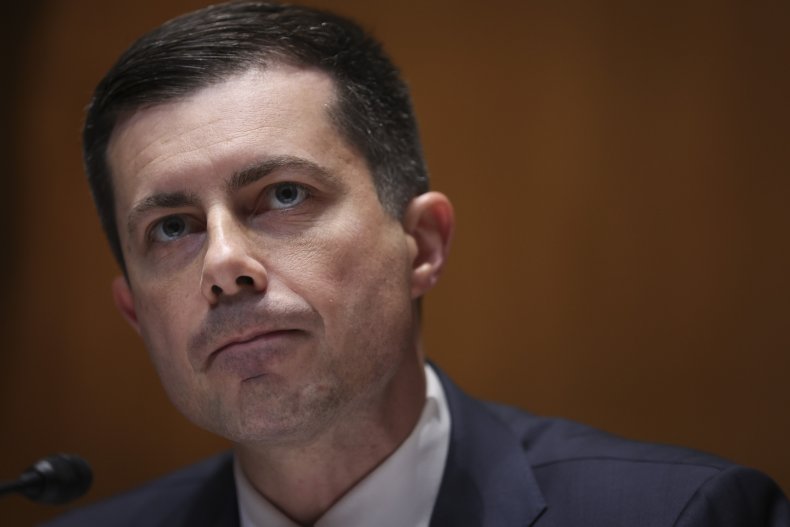 On Wednesday, Rubio was criticized on social media for reportedly calling the bill a "stupid waste of time." CNN's chief congressional correspondent Manu Raju shared Rubio's comment in a tweet, and said that the senator told him that he would vote "no" on this legislation.
State of the Union host Jake Tapper asked Buttigieg on Sunday about his response to Rubio's comment and what he wants Senate Republicans to know.
"If he's got time to fight against Disney, I don't know why he wouldn't have time to help safeguard marriages like mine," the transportation secretary responded, referring to the senator's opposition to Disney after the company announced that it rejects Florida's Parental Rights in Education Act, which is known as the "Don't Say Gay" bill.
Buttigieg continued: "If they [Republicans] don't want to spend a lot of time on this, they can vote yes and move on. And that would be really reassuring for a lot of families around America, including mine."
The Respect for Marriage Act comes amid concerns that conservative justices in the U.S. Supreme Court might target same-sex marriages next after a June decision by the Court overturned Roe v. Wade, a 1973 landmark decision that gave women the federal right to an abortion.
Justice Clarence Thomas issued an opinion suggesting that the Court should reconsider all of the "substantive due to process precedents, including Griswold, Lawrence, and Obergefell." Thomas said that each of those precedents were "demonstrably erroneous."
Obergefell v. Hodges, which was decided in 2015, legalized same-sex marriage nationwide. Meanwhile in 2003, the Court ruled in Lawrence v. Texas that criminal penalties for sodomy or private sexual acts between consenting adults are unconstitutional. In 1965, the Court ruled in Griswold v. Connecticut that married couples have the right to buy and use contraceptives without government restriction.
Newsweek reached out to the Republican National Committee (RNC) for comment.