Campaign to Rehabilitate Prince Andrew Is 'Just Getting Weird'
Developments in the reported attempt to rehabilitate Prince Andrew's public image in the wake of sexual abuse allegations by Jeffrey Epstein victim Virginia Giuffre, have gone down a "very strange tunnel" in recent weeks, according to a new episode of Newsweek's The Royal Report podcast.
Andrew stepped down from his public roles in 2019 following a car crash TV interview in which he attempted to discredit Giuffe's claims against him and was unable to justify his friendship with convicted sex offender, Epstein.
In 2021, Giuffre brought a sexual assault lawsuit against the prince which he settled out of court in 2022, though he has maintained that the allegations were false. Ahead of settling the lawsuit, it was announced that the royal had been stripped of his military patronages and would cease to use his HRH (His Royal Highness) title, all with the approval of Queen Elizabeth II.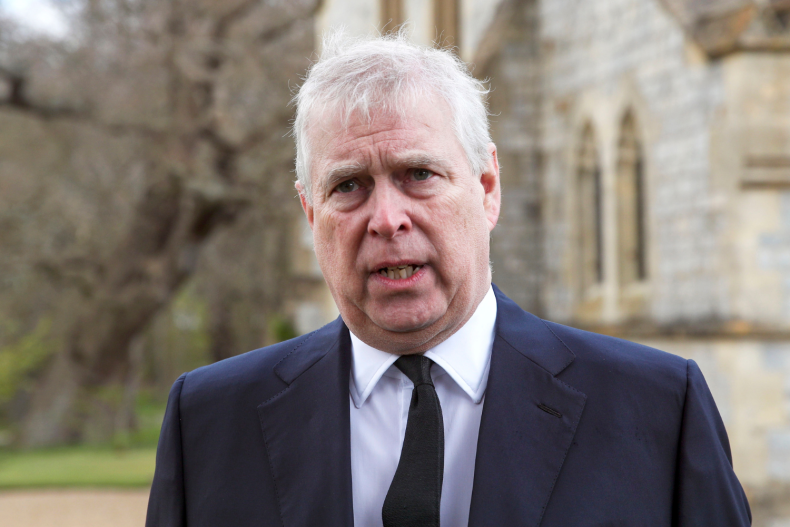 Though there have been reports that the royal has attempted to make headway for a public comeback, most notably in June 2022 where his request to take part in the annual garter day ceremony at Windsor Castle was allegedly thwarted by King Charles and Prince William, Andrew remains away from the royal spotlight and regularly polls as the most unpopular member of his family.
In recent weeks, efforts have been made by Ghislaine Maxwell, who is serving a 20-year prison sentence for sex trafficking, and her relations to help disprove Giuffre's claims against Andrew.
In an interview from her prison cell, Maxwell claimed a crucial photograph of the royal and Giuffre was fake and an image released by her family is an attempt to prove that claims Andrew and Guiffre had sex in a bathtub were false.
"The campaign to rehabilitate Prince Andrew is just getting weird," Newsweek's chief royal correspondent, Jack Royston, discussed in a new episode of The Royal Report.
"We had, last week, Ghislaine Maxwell standing up from prison and giving an interview to TalkTV about Prince Andrew, in which she said the famous photograph of him with Virginia Giuffre was fake, and now we have a really bizarre front page of one of Britain's most-read broadsheets The Daily Telegraph, which shows a photo that we're led by the newspaper to believe kind of exonerates Prince Andrew."
The photograph run by the newspaper accompanied an article titled: "Exclusive: The photo that 'clears Prince Andrew' over bath sex."
Maxwell's older brother Ian told the paper: "I am releasing my photographs now because the truth needs to come out. They show conclusively that the bath is too small for any sort of sex frolicking."
"It has always been that the Maxwell position that that wasn't possible because the bathtub was too small," Royston explained. "This photo is supposed to prove that that's the case.
"I think the first thing to comment on about the photo is that there does actually seem to be quite a bit of space in that bathtub but I think the most striking and weird aspect of this story is that the two people who are in there are wearing masks of Prince Andrew and Virginia Giuffre."
He continued: "So, they're kind of sat there with paper stuck to their faces, with like a printout photo of Andrew's face and a printout photo of Virginia's face. It's gone really down a very, very strange tunnel, and who on earth is telling Andrew or telling the Maxwells or telling anybody that this is in any way helping Andrew? I have absolutely no idea."
The outlandish defense, Royston adds, appears to be "insensitive and inconsiderate to the very real victims of Jeffrey Epstein," among whom was Giuffre.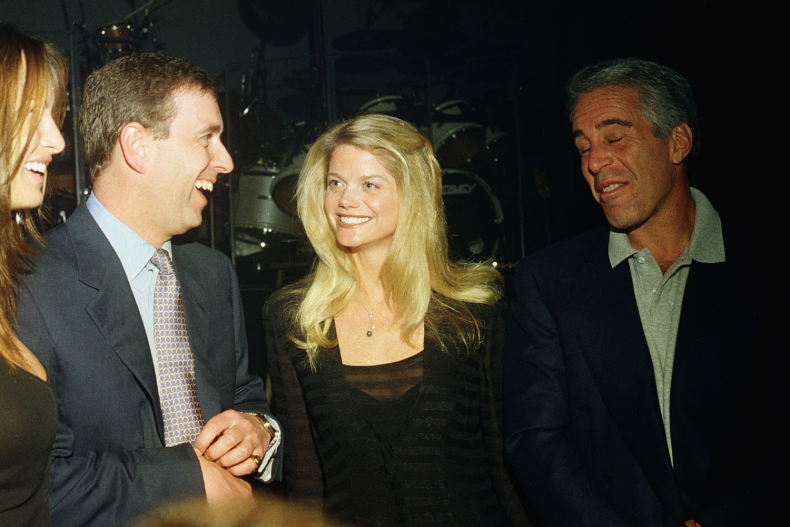 "It's not really clear what they're trying to say anyway. This all takes place against the backdrop of anonymous sources suggesting that Andrew might attempt to stage another comeback," he said.
Andrew has been encouraged by some to reopen his lawsuit with Giuffre after her defamation case against attorney Alan Dershowitz, who denied claims that she had been trafficked to him by Jeffrey Epstein, collapsed in November 2022.
James Crawford-Smith is Newsweek's royal reporter based in London. You can find him on Twitter at @jrcrawfordsmith and read his stories on Newsweek's The Royals Facebook page.
Do you have a question about King Charles III, William and Kate, Meghan and Harry, or their family that you would like our experienced royal correspondents to answer? Email royals@newsweek.com. We'd love to hear from you.