The spread of the deadly new coronavirus to every continent except Antarctica in the past two months has prompted fears the bug is a "once-in-a-century" pathogen and raised questions of how the current outbreak will end.
The virus first appeared in the central Chinese city of Wuhan, Hubei province, in December 2019, with mainland China so far the hardest hit by infections and deaths, as shown in the map by Statista below. While the number of confirmed cases and recovered patients have recently trended closer and China has reported its lowest number of infections since late January, in the past fortnight countries including Iran, Italy, and South Korea have become new hotspots. As of Tuesday, countries including Armenia, Czechia, the Dominican Republic, Luxembourg, Iceland, and Indonesia, had reported COVID-19's arrival, meaning the virus is now in more than 60 countries and territories. In the U.S., there have been six deaths among and at least 105 cases, and a director at the CDC last week warned it is a question of when, not if, it will spread in the community.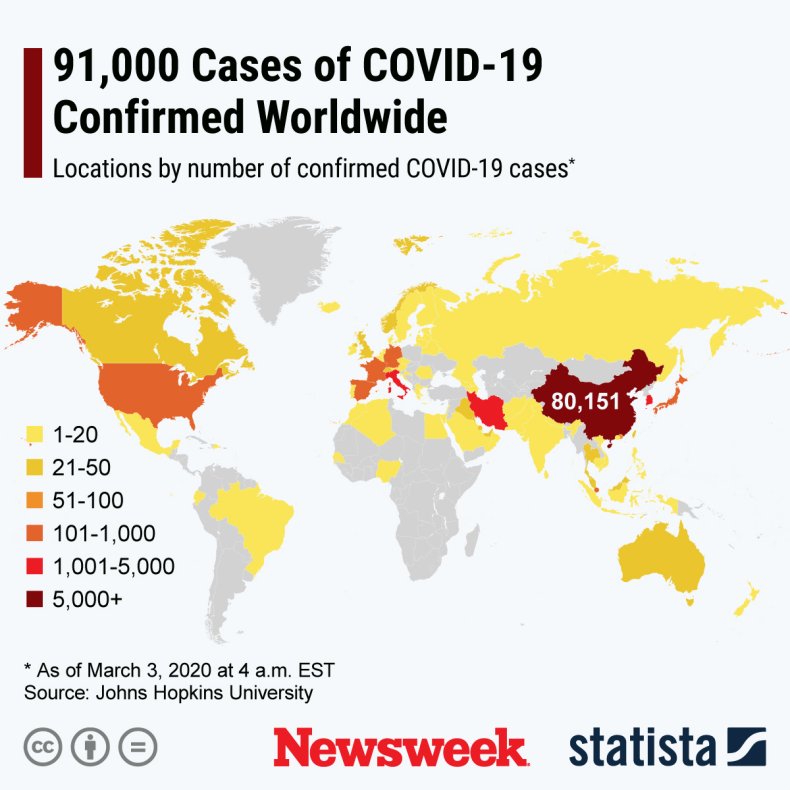 The relative ease with which the bug is passed on and its ability to kill healthy adults in addition to the elderly last week prompted Microsoft co-founder Bill Gates to express concern that the virus is "behaving a lot like the once-in-a-century pathogen we've been worried about." He also called COVID-19 a "pandemic"—a term the World Health Organization (WHO) has avoided using.
Gates was also concerned by the virus's case fatality rate of around 1 percent (a changeable figure which others have put at about 2 percent). This places COVID-19's deadliness somewhere between the flu pandemics of 1957 and 1918, which had rates of 0.6 percent and 2 percent, respectively. The former led to 1.1 million deaths worldwide, while the latter killed at least 50 million people.
However, Christopher Chiu, clinical senior lecturer and honorary consultant in infectious diseases at the U.K.'s Imperial College London, told Newsweek that whether or not COVID-19 is a pandemic is "semantics" because once the virus starts spreading among people who haven't traveled to an outbreak epicenter or caught it from an individual who has, "the definition of pandemic will be reached."
Piers Millett, senior research fellow at the Future of Humanity Institute at the University of Oxford, an expert in pandemics and the impact of biotechnology, told Newsweek: "The current outbreak has already been classified in the highest risk category according to the WHO. This carries a great deal more weight than describing it as a pandemic, which has no specific meaning under international public health rules."
Pandemic or not, the past tells us that major outbreaks tend to either burn hot and fast, or burn low and slow, said Millett. In the first scenario they are so effective at killing people that it affects their ability to spread, while in the alternate situation, "many, many" people are infected but fewer people die.
Chiu explained: "At a certain point, when a large proportion of individuals in the population are immune, transmission and new cases tail off." Efforts to stop a pathogen from spreading also help to end outbreaks.
The Spanish 1918 flu pandemic, the deadliest in history, ended because the virus ran out of hosts as individuals became immune or died. The 1957 Asian flu pandemic was brought under control with a combination of a quickly developed vaccines, antibiotics to treat secondary infections, and immunity in some people.
The 2003 SARS epidemic that killed 774 people ended partly due to measures to control the spread of the infection, such as quarantines and the isolation of the sick. Such methods worked because SARS is relatively easy to diagnose at an early stage and was geographically confined, said Chiu.
But once a bug has spread to many countries and is being passed around, such approaches only really slow its progression "although that might be helpful in reducing the peak numbers of infected people, which may prevent health services from being overwhelmed," Chiu said.
So far, SARS-CoV-2 (the name of the virus which causes COVID-19, not to be confused with SARS) is acting how we would expect a new "aggressive" virus that has jumped from an animal to a human, said Millett.
"From the virus' point of view, killing their host reduces their ability to replicate and makes them less successful. A well-adjusted virus may make its host sick but will not kill it. If this is a new crossover event from an animal species, you would expect the outbreak to decrease in both intensity and ferocity over [the] coming weeks as the virus begins to adjust to its new host," he said.
"The current best estimates for COVID-19 suggest that it has a very low case fatality rate," Millett went on. "It may spread widely but the vast majority of people infected will recover." As the outbreak rumbles on and officials around the world try to place obstacles in its path such as quarantines, scientists are working to create vaccines and drugs to prevent and treat it.
The "unprecedented" public health measures China has put in place "may well have limited it [COVID-19's spread] in China but have not completely controlled it," said Chiu.
Asked whether she shares Gates' fears that SARS-CoV-2 will be a "once-in-a-century" pathogen, Catherine Rhodes, executive director of the Centre for the Study of Existential Risk at Cambridge University told Newsweek: "I would suggest that this is something we should expect on a more frequent basis than that.
She added, pointing to a 2017 World Bank working group report warning that a flu pandemic will occur in the coming decades, that it is "seen as pretty much inevitable that we will face another pandemic influenza outbreak."
"Looking back over human history, there is a clear trend to repeated disease outbreaks having a truly global impact," said Millett. The good news is that we have a never-before-seen ability to respond.
"Our ability to intervene—to understand what is causing these outbreaks, to prevent their spread, to create vaccines or therapies, has been around for a much shorter time—little more than a few decades," he explained, adding: "We are yet to really understand what the new normal looks like with today's tools we have to deal with disease."
Chiu chimed: "On the bright side the world is better prepared than ever before, with pandemic preparedness plans having been activated and research into treatments and vaccines having mobilized extremely quickly." As for Gates' warning, Chiu concluded: "I think we still need to wait and see."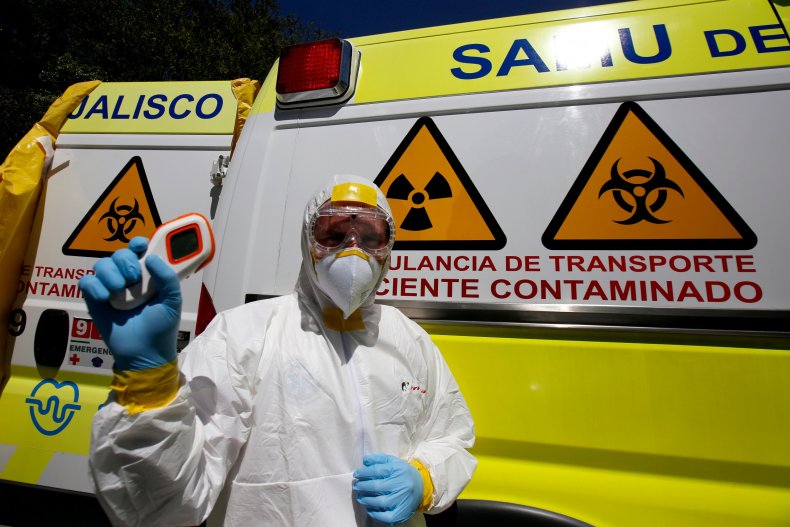 Uncommon Knowledge
Newsweek is committed to challenging conventional wisdom and finding connections in the search for common ground.
Newsweek is committed to challenging conventional wisdom and finding connections in the search for common ground.
About the writer
Kashmira Gander is Deputy Science Editor at Newsweek. Her interests include health, gender, LGBTQIA+ issues, human rights, subcultures, music, and lifestyle. Her work has also been published in the The Independent, The Independent on Sunday, The i Newspaper, the London Evening Standard and International Business Times UK.