Candidates Look Ahead After New Hampshire Primary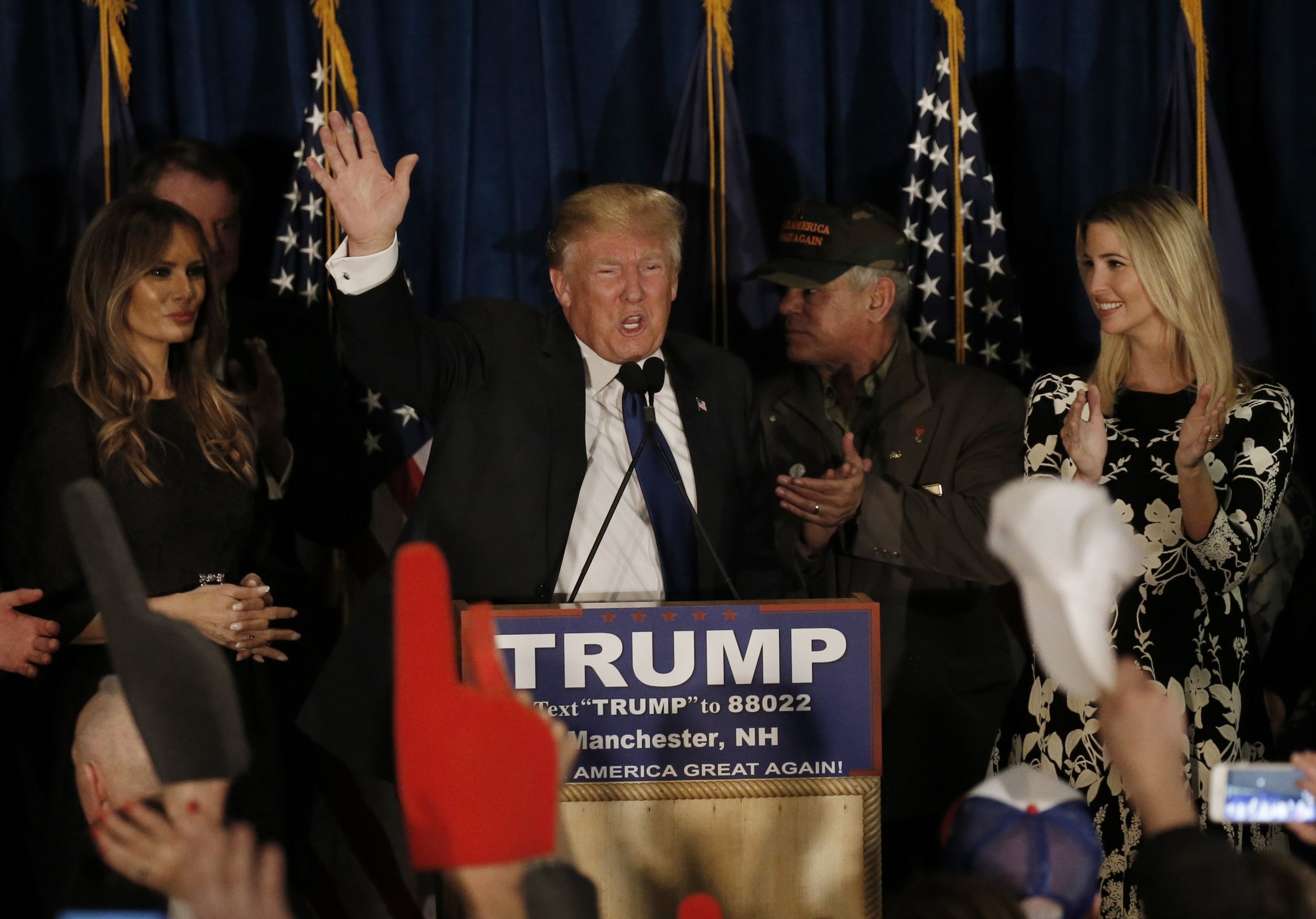 Following the victories of Bernie Sanders and Donald Trump in the New Hampshire primary, the candidates left the state.
Sanders's first stop was in New York City, where he had breakfast with Reverend Al Sharpton. The two leaders met at Sylvia's Restaurant in the Harlem neighborhood of the city, the same location where then-Senator Barack Obama dined with Sharpton in 2008. Sanders needs a larger share of the minority vote if he's to win outside of overwhelmingly white states like Iowa and New Hampshire.
Clinton has a lead among black voters in South Carolina, the first-in-the-South primary. Residents will cast their ballots in the Democratic primary there on February 27.
Clinton is expected to campaign soon with black victims of police deaths, including the mothers of the late Trayvon Martin and Eric Garner. Both men died after police-related incidents in Sanford, Florida, and New York City, respectively.
On the Republican side, Trump credited his first 2016 victory to his "great relationship" with New Hampshire residents. "We certainly have a lot of people who want to be involved, who weren't liking me so much...a couple of months ago," he said Wednesday on Morning Joe. "It was amazing, the love that was in the state of New Hampshire."
Before New Hampshire, Ohio Governor John Kasich hadn't gained much national momentum and didn't get much attention at debates or in the media. In an interview with CBS This Morning on Wednesday, the second-place finisher in the Republican contest said he loved the feeling of "being underestimated," after his surprising second-place finish.
"A lot of people said a lot of things. They said I wasn't gonna get in the race, I wouldn't raise the money, I wouldn't make the debate, I wouldn't do well in New Hampshire, I was gonna drop out, I was gonna disappear and now we're here," he said. But, despite his placement near the top of the pack, Kasich earned half the votes as Trump.
He accused former Florida Governor Jeb Bush for spending tens of millions of dollars on his campaign in New Hampshire and portraying a negative message. Bush is another former governor whose campaign stayed alive after New Hampshire, coming in fourth according to the most recent count. "This campaign isn't dead," Bush told his fans.
Indeed, history has shown that candidates who don't win in New Hampshire can continue on to become president, first demonstrated by Bill Clinton in the 1992 election.
Florida Senator Marco Rubio related his disappointing fifth place in New Hampshire to his shaky performance at the GOP debate on Saturday night, saying the loss was "on me." At the event, he stumbled on his words by twice repeating the same talking points, almost verbatim. Just last week, Rubio came in third at the Iowa caucuses, a placement he praised.
In an interview with the Today show on Wednesday morning, the freshman senator blamed the media for "fixating" on his poor debate performance, and said he remains confident he will be the Republican nominee.
"The last thing people heard about our campaign in many cases was something bad happened on Saturday night with Marco Rubio," he said. "To the extent we finished shorter than what we wanted to, it was because of me."
Following his sixth-place finish, New Jersey Governor Chris Christie said he will "take a deep breath" and pause from traveling to evaluate the future of his campaign. Instead of going next to South Carolina, he returned home to the Garden State on Wednesday. Christie spent much of the past several months campaigning in New Hampshire to appeal to residents in the critical state. Reports on Wednesday morning indicated that Christie would suspend his campaign, making him the latest dropout along with Rick Santorum, Rand Paul and Mike Huckabee.
After weak performances, it will be a challenge for Carly Fiorina, the former chief executive officer of Hewlett-Packard, and Ben Carson, the retired neurosurgeon, to continue their efforts. But neither is offering any indication that they're readying to quit the race. Amid the Iowa caucuses last week, former Maryland Governor Martin O'Malley dropped out of the Democratic race.
The next two early states to vote this month are South Carolina and Nevada. Sanders and Clinton face off in their next debate on Thursday night, followed by the Republicans in their ninth contest of the primary season on Saturday.