Chibok Girls 'Identified' in Boko Haram Proof of Life Video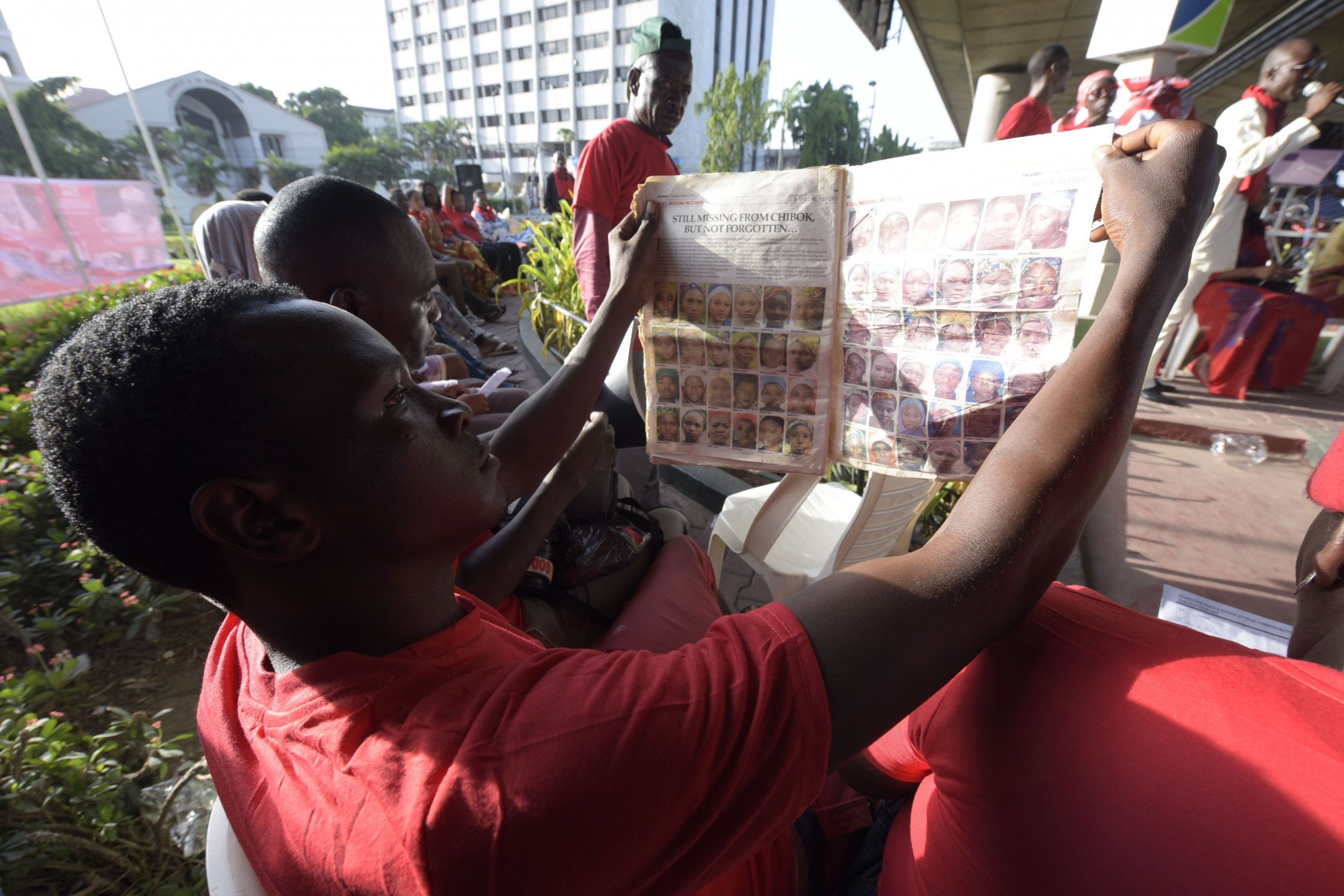 Parents of more than 200 missing Nigerian schoolgirls abducted by Boko Haram in April 2014 say they have identified some of the girls in a proof-of-life video.
The video was released to local government officials in Chibok, which is in Nigeria's northeast Borno state, on Tuesday, Reuters reported. Around 15 girls are shown in the video, in which an off-camera male asks the girls what their names are and where they were taken from. No Boko Haram member features in the footage.
If genuine, the video would constitute the first sighting of some of the girls since a separate video released in May 2014 showed them shortly after their kidnapping. In total, 276 girls were kidnapped from the Government Girls Secondary School in Chibok on April 14, 2014—57 later escaped but 219 are still missing. The kidnapping sparked a global campaign under the hashtag #BringBackOurGirls, with world leaders, U.S. First Lady Michelle Obama and celebrities such as Alicia Keys urging the Nigerian government and international community to locate the girls.
Two mothers of the missing girls—Rifkatu Ayuba and Mary Ishaya—identified their daughters, named Saratu and Hauwa respectively, in the video, while a third mother, Yana Galang, identified five others. The girls were pictured against a yellow wall and wore black or purple hijabs. They said they were being treated well but wished to return to their families.
One of the girls, identified as Naomi Zakaria, according to CNN, indicates that the video was made on December 25, 2015, and says that she is speaking "on behalf of all the Chibok girls and we are all well." She then goes on to make an apparently scripted appeal to the Nigerian authorities to meet Boko Haram's demands for their release.
Nigerian President Muhammadu Buhari said in December 2015 that the government had "no firm intelligence" on the whereabouts of the girls, despite numerous false starts. Buhari has also indicated the government would be willing to negotiate the girls' release with Boko Haram if a credible leader of the group can be established. Abubakar Shekau is believed to be the current leader of Boko Haram and appeared in an unverified video in March, the first possible sighting of him since March 2015.
Boko Haram—which pledged allegiance to the Islamic State militant group (ISIS) in March 2015—has kidnapped at least 2,000 women and girls since the start of 2014, according to Amnesty International. Children, and young girls in particular, are increasingly being used in suicide attacks by the group, with a report by UNICEF released on Tuesday stating that one-fifth of Boko Haram suicide bombers are children, with 75 percent of the child bombers being female.