China Asks Asia Powers to Join in War Games and U.S. Is Not Invited, Report Says
China has reportedly invited regional powers to join it for a new round of upcoming war games—and the U.S. is not invited.
Citing a draft of the code of conduct being flushed out between China and the Association of Southeast Asian Nations (ASEAN), the Agence France-Presse reported Thursday that Beijing was seeking to persuade leaders of the 10-member organization to participate in upcoming military exercises and energy exploration in the waters of Asia, where Chinese and ASEAN territorial claims overlap. Vietnam was reportedly the most resistant to the move, accusing China of militarizing artificial islands in the disputed South China Sea, but other countries apparently put up little opposition to the proposition.
In the draft document, China specifically stipulated that outside countries should not be allowed to participate in joint China-ASEAN exercises "unless the parties concerned are notified beforehand and express no objection," AFP reported.
The news came amid a worsening in U.S.-China relations and the final stages of the biannual, international Rim of the Pacific (RIMPAC) exercise, from which the U.S. disinvited China earlier this year. Seven out of the ten ASEAN states are participating in RIMPAC, highlighting the U.S. regional dominance that China has long criticized.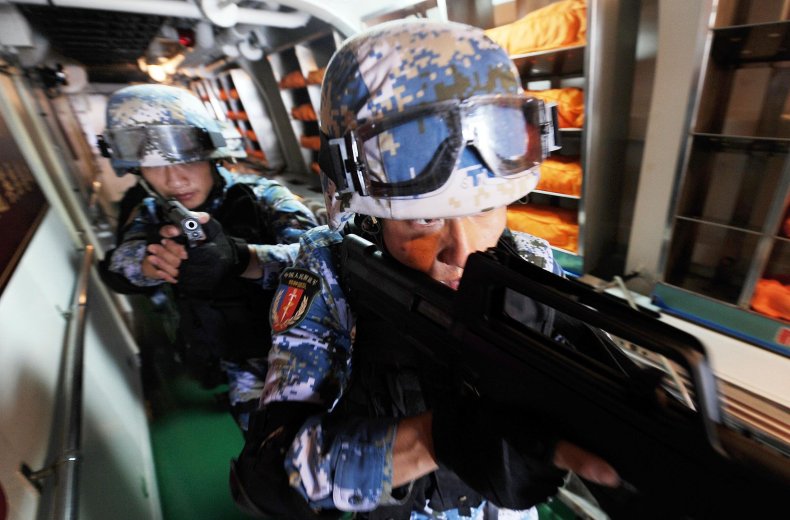 China's armed forces celebrated their 91st anniversary of its founding on Monday and, in that stretch of time, the People's Liberation Army has evolved from a communist guerrilla force to a modern military giant. Since coming to office in 2013, Chinese President Xi Jinping has emphasized the need to further revolutionize the service into a "world-class military" in the coming decades. This did not sit well with the U.S.
The U.S. has accused China of using underhanded political and economic tactics to enhance its position on the world stage. The Trump administration has particularly railed against Chinese military activity in the South China Sea, to which Beijing has laid vast territorial claims contested by a number of regional powers, including ASEAN members Brunei, Malaysia, the Philippines and Vietnam.
Beijing has asserted its right to send military assets through these waters because it considered them part of its sovereign territory, but the U.S. does not recognize these claims and has sent rival naval patrols to stake its own position. In May, shortly after China landed a number of H-6K nuclear-capable bombers on a disputed set of isles and reefs known as the Spratly Islands, the U.S. military announced that China would no longer be invited to participate in this year's RIMPAC, the largest naval exercise in the world.
The U.S. accused China of deploying "anti-ship missiles, surface-to-air missile (SAM) systems, and electronic jammers" on the Spratly Islands and argued that "China's continued militarization of disputed features in the South China Sea only serve to raise tensions and destabilize the region." The Chinese Foreign Ministry soon snapped back, warning that if the U.S. "thinks that it can blackmail China into giving up its inherent rights by manipulating one or two exchange programs, it is indulging in unrealistic thinking to no avail."
Beijing's Ambassador to Washington Cui Tiankai recently confirmed that Chinese State Councilor and Defense Minister Wei Fenghe and Chinese naval commander Vice Admiral Shen Jinlong would be visiting the U.S. during the second half of this year, according to a Global Times article translated by the official Chinese Military Online. The followed last month's visit by Defense Secretary James Mattis to China and was likely intended to give reinforce diplomatic measures between the two powers.
Aside from their geopolitical dispute in the Asia-Pacific, however, the U.S. and China have found another realm to clash over. President Donald Trump has established new steel and aluminum tariffs he argued were necessary to project jobs and national security, but China warned could be the first salvo of a global trade war between the world's top two economic powers. The U.S. and China have already hit one another with billions of dollars worth of duties, and Trump has threatened to go as high as $200 billion, or even $500 billion. China has threatened to retaliate in what its Ministry of Commerce called "the biggest trade war in economic history."
China has only doubled down on its rhetoric amid fresh threats from the Trump administration, which has been forced to offer billions of dollars worth of bailouts to U.S. industries affected by retaliatory tariffs, which have been adopted by China as well as Canada, the European Union, India, Russia and Mexico. Chinese Foreign Ministry spokesperson Geng Shuang laid out his government's two top talking points.
"Firstly, we urge the US side to adopt a correct attitude and not attempt to blackmail China because it will not work," Geng told reporters during a regular press briefing. "Secondly, we urge the U.S. side to return to rationality and refrain from acting impulsively, otherwise they will end up hurting themselves."