China and Russia to Deepen Defense Ties—Military
China's Xi Jinping is doubling down on his strategic military partnership with Russia, even as Russian President Vladimir Putin doubles down in Ukraine this week with the largest forcible annexation of territory since World War II.
Putin will formally sign agreements to annex four of Ukraine's Russian-occupied regions at a signing ceremony in Moscow on Friday, the Kremlin said in a statement.
Beijing is unlikely to endorse the move, which could represent a real hard limit on China's political relationship with Moscow. Military relations, however, are set to grow regardless of events in Europe.
Colonel Tan Kefei, China's defense ministry spokesperson, told reporters on Thursday that the two countries would "deepen strategic communication" between their two forces and "carry out pragmatic cooperation" based on the consensus reached by Xi and Putin.
Beijing and Moscow would "continuously enrich the relationship between the two countries with new strategic meaning," said Tan.
China, which has said the ties between the two countries are based on a "non-alliance" principle, counts Putin's Russia as its only major ally in its intensifying strategic competition with the United States.
In 2019, the neighbors upgraded their relationship to a special category of its own—a "comprehensive strategic partnership of coordination for a new era." In February, three weeks before Russia's invasion of Ukraine, Xi and Putin issued a joint communiqué declaring a "no limits" partnership with "no forbidden areas" of cooperation.
The designation indicates support for one another's core interests—China on Ukraine and Russia on Taiwan, for instance—as well as further convergence on political, military and economic issues.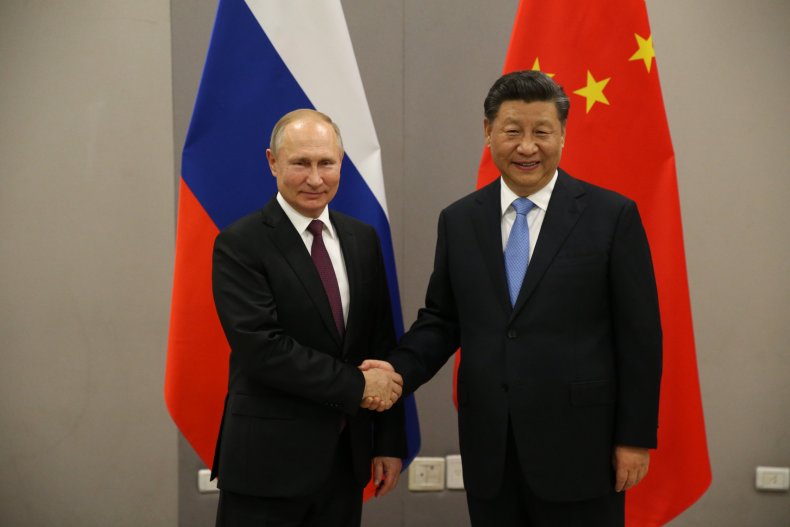 "China and Russia are jointly committed to opposing hegemony and power politics, as well as upholding international justice and equity," Tan told the Chinese defense ministry's monthly press conference.
"Exchanges and cooperation between the two militaries have continued to deepen in various fields," the senior defense official said. "Strategic communication has reached a new level, pragmatic cooperation has witnessed new breakthroughs, and new progress has been made in [bilateral] mechanisms."
The Chinese and Russian air forces conducted four joint patrol missions in 2022, said Tan. China's main service branches also traveled to the Russian Far East to take part in Moscow's quadrennial Vostok war games earlier this month. Naval vessels from China and Russia continued joint training missions in the Pacific after that.
On Monday, the U.S. Coast Guard said it tracked a group of three Chinese and four Russian warships conducting an exercise in the Northern Pacific last week. The naval patrols in the Bering Sea—their second such drills in 12 months—took them within 75 nautical miles of Alaska's Kiska Island on September 19, the Coast Guard said.
"China will continue to uphold an open and friendly attitude, conduct extensive military cooperation and exchanges with more countries, continuously raise the level of strategic mutual trust, and jointly safeguard world peace and stability," Tan said.
Tan also used the occasion to criticize Taiwan, whose government announced plans to raise defense spending by nearly 14 percent next year, the first double-digit increase in years.
Taipei's decision, which is pending approval by parliament, comes amid heightened tensions with Beijing, which claims the island as part of its territory. Taiwan's defense ministry has earmarked funds for the purchase of sophisticated American weaponry such as HIMARS launchers.
Tan said Taipei had "deliberately exaggerated the so-called mainland military threat against Taiwan, confused right and wrong, and intensified tensions and confrontation across the Taiwan Strait."
President Tsai Ing-wen of Taiwan says she has no intention of changing the island's political status by declaring independence, a move also discouraged by the United States. But China considers Tsai a supporter of the Taiwan independence movement nonetheless.
"There will be no peace across the Taiwan Strait unless the Taiwan independence separatist forces are eradicated," Tan said.