China Media Pushes Conspiracy of U.S. Plot Against Kamila Valieva
China's largest state newspaper has thrown its weight behind a Russian conspiracy theory that claims the West is behind the doping scandal involving teenage Olympic sensation Kamila Valieva, who is being investigated for a failed drug test.
In an article published on Monday, shortly after the 15-year-old figure skating European champion was allowed to continue competing at the 2022 Beijing Olympics, the People's Daily quoted Russian commentator Igor Korotchenko as suspecting an anti-Russia plot by the United States and its NATO allies.
Korotchenko, who is editor-in-chief of the Russian magazine National Defense, said Valieva's case could be the result of "hybrid warfare" by Western spies.
The newspaper, which is owned by the Central Committee of the Chinese Communist Party, voiced its own suspicions about the timing of Valieva's case, which emerged last week after she tested positive for a banned substance in a sample collected on December 25.
The doubt raised by the influential news outlet has not been echoed publicly by any Chinese officials, with the Olympic organizing committee stressing a commitment to anti-doping on Tuesday.
But the views of Korotchenko—a pro-Kremlin former legislative candidate—are not his own. He was backing a conspiracy first proposed by Russian Senator Valentina Matviyenko, who is also speaker of the Federation Council, the upper house of the Russian parliament.
At a February 11 press event, Matviyenko questioned the source of the information that led the International Olympic Committee (IOC) to disclose the ongoing legal case after Valieva's positive drug test, hinting at the involvement of Western intelligence agencies.
"Why did the story initially appear as a rumor in some Western media, rather than an official statement? This is at the very least strange," Russia's state-funded television channel RT quoted her as saying. She also linked Valieva's case to the Rodchenkov Anti-Doping Act, a U.S. law that allows someone to be prosecuted if their actions affect the results of an American athlete.
"In my opinion, more clarity was added by recent overseas statements, from which it is clear they are trying to tie this story to the Rodchenkov Act," said Matviyenko. "We remember who was behind it then, and understand now that all this is beginning to look like manipulation by special services—you know which ones."
The 2020 law was named for Grigory Rodchenkov, the former Russian laboratory head who covered up the country's state-sponsored doping during the 2014 Sochi Winter Olympics, and who later helped the IOC expose the scheme.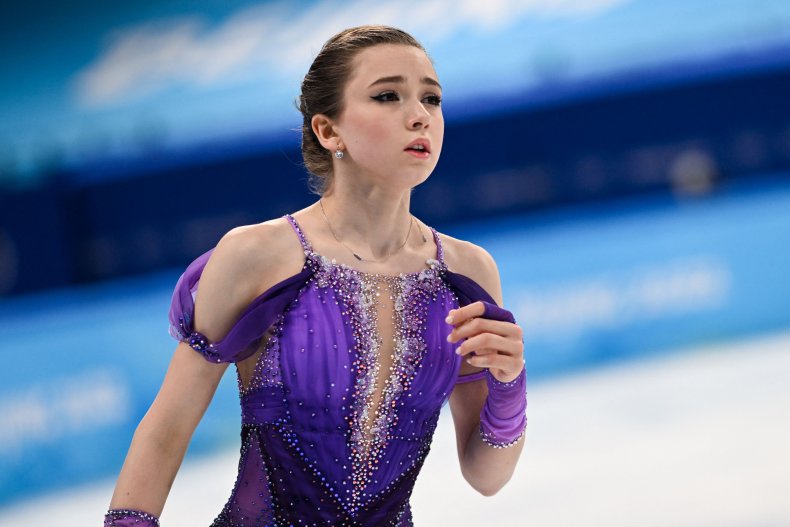 Details of Valieva's case, however, actually broke in Russian newspaper RBC, which not only named the figure skating European champion, but also reported the substance in question as trimetazidine, a heart medication that is banned for its potential to boost endurance.
Valieva helped her team to gold in the figure skating team event on February 7, but a medal ceremony scheduled for the following evening was canceled after the IOC was notified of her test results. Athletes from the U.S. and Japan, who placed second and third, respectively, have yet to be given their medals and will leave China without them.
Valieva is on the bill for Tuesday's women's competition as well as Thursday's free skating medal event, which she and her teammates are tipped to win in what may be the first sweep of the podium by any one nation in Winter Games history. However, the IOC has already decided not to hold an awards ceremony if Valieva wins a medal while the ruling in her case remains pending.