China Won't Dial Down Aggression, Taiwan Preparing for the Worst: Official
Taiwan does not expect China to soften its aggressive diplomacy even after Xi Jinping secures an unprecedented third term as leader in fall 2022, an official in charge of cross-strait affairs has said.
Some analysis in Taiwan has raised the possibility of seeing a more toned-down approach by Beijing after Chinese Communist Party General Secretary Xi overcomes leadership contenders and retains his position as the nation's paramount leader during the party's 20th National Congress.
"We can always hope for the best, but we sure need to prepare for the worst," said Chiu Chui-cheng, deputy minister at the Mainland Affairs Council in Taipei.
Appearing via video link at an event hosted on Tuesday by the Washington, D.C.-based Center for Strategic and International Studies (CSIS) think tank, Chiu said the opposite could be true.
"Today's China is a regime that does not shy away from showing its ambition and intention," Chiu told Jude Blanchette, who is Freeman Chair in China Studies at CSIS. "We believe that the CCP's aggressive foreign policy is unlikely to dial down in the foreseeable future. We might even see a more assertive regime after the 20th Party Congress."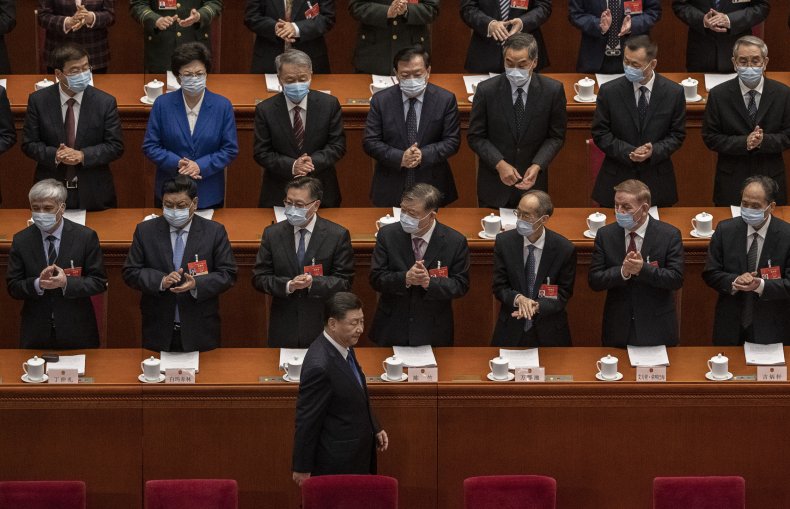 Taipei and Beijing do not recognize each other's governments. Therefore, political dialogue is conducted not through their respective foreign ministries but via specially appointed agencies, each led by cabinet ministers.
But high-level talks between Chiu's Mainland Affairs Council and the Taiwan Affairs Office in Beijing have not been held since 2016, the year Taiwan's President Tsai Ing-wen and her Democratic Progressive Party were voted into office. The cross-strait neighbors blamed one another for the impasse, which revolves around differing interpretations of a concept known as the "1992 Consensus."
Chiu described the last five years of China's policies toward Taiwan as "rigid, negative and without flexibility." He suggested this was a result of Chinese leader Xi essentially advising himself on how to conduct the country's Taiwan policy.
During Xi's remarks at the CCP's centennial celebrations on July 1, he dedicated a paragraph to what China calls the "Taiwan question"—the status and ultimate fate of the self-ruled island.
Despite projections of a looming Chinese invasion of Taiwan—some say within this decade—Chiu said the Chinese leadership does not appear particular urgent.
"Although Xi referred to the Taiwan issue as a 'historic mission,' he did not put a timeline on the completion of such a mission," said the Taiwanese official, "Showing that there is no urgency in Xi's policy agenda to resolve the Taiwan issue."
The United States has backed the Tsai administration and her attempts to maintain relations across the Taiwan Strait. Taipei has vowed not to make any rash moves despite the support of international partners.
"Going forward, both now and into the future, our government's commitment to peaceful and stable cross-strait relations will remain unchanged," said Chiu. "And we will maintain a non-provocative and non-adventurist attitude to prevent serious conflict from breaking out in the Taiwan Strait."
Not Another Afghanistan
In a week dominated by coverage of the U.S. withdrawal from Afghanistan, the Tsai administration has fielded questions about its loyalty and the likelihood of the country's top officials fleeing the island in the event of war with China.
Both Tsai and her premier, Su Tseng-chang, have dismissed concerns in the past days.
Chiu said: "Taiwan is not and will not be another Afghanistan. We are a force for good in the region. Our determination to fortify our national sovereignty and democratic system has never been so strong.
"We will never succumb to the CCP's intensified pressure and its saber-rattling. Taiwan never surrenders. Taiwan will continue to strengthen and proactively demonstrate our determination for self-defense."
Chiu said he trusts the U.S. "knows and understands Taiwan's irreplaceable strategic importance" in the center of the first island chain. "Taiwan is at the front line of confrontation between democracy and the CCP's neo-totalitarianism and outward aggression," he added.
"When geographic reality gives Taiwan no choice but to stand at the forefront of the CCP's intensified political suppression, economic inducement, diplomatic offensive, military provocation and social infiltration, it is vital that the U.S. and the international community continue to pay close attention to the development of cross-strait situations."