Crypto Investors Turn to Ethereum as Alternative to Bitcoin
Ethereum, the world's second largest cryptocurrency, soared to a record high Monday as investors placed their bets on the coin's future in commerce and looked for an alternative to Bitcoin's lofty valuation.
In mid-day trading Monday, Ethereum fetched $4,148.44, just off the record high of $4,172.10 It's up 7.06% in the last 24 hours and 449.81% this year. The market cap is $480.72 billion, CoinDesk reported.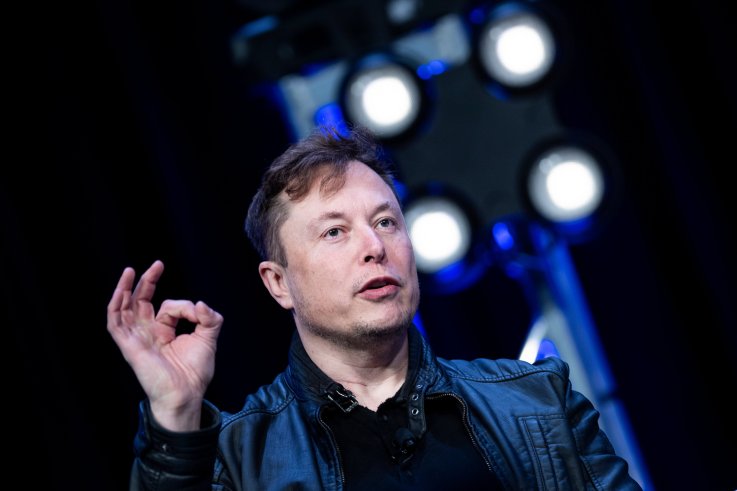 Elon Musk, CEO of Tesla, speaking at a satellite conference in March 2020. Tesla announced in an SEC filing in February that it had bought $1.5 billion worth of Bitcoin, and would start accepting Bitcoin as a payment method for its products.
Brendan Smialowski/AFP/Getty
Jason Deane, Bitcoin analyst at Quantum Economics in London, said Ethereum's rise underscores the strength of the cryptocurrency market.
"Effectively, it's an endorsement for Bitcoin and the crypto market as a whole," he told Newsweek. "Bitcoin remains the anti-inflationary/store of value against which other coins are measured, including Ethereum. Of course, these two assets ultimately serve different purposes and, although there is some crossover, it's unclear how many buyers fully understand those differences."
The apparent split: Bitcoin has become a buy-and-hold investment for major companies while Ethereum is a bet on the future development of a new decentralized financial system.
"Although it's too early to say for sure, there does appear, at least anecdotally, two different narratives emerging: Bitcoin remains a long-term store of value financed by treasury reserves, while Ethereum seems to be viewed more as a speculative technology play financed through working capital," Deane said.
While the divergence appears to be "broadly true," Deane said Mogo, a Canadian company, and Metui, a Chinese company, have added Ethereum to their balance sheets.
Major companies, including Tesla and MicroStrategy, as well as major Wall Street firms such as Grayscale Bitcoin Trust, have invested in Bitcoin.
Lennard Neo, head of research at Stack Funds in Singapore, said in a research report that about 25 publicly traded companies have invested a total of $4 billion in Bitcoin and most have at least doubled their initial outlay.
But Ethereum doesn't attempt to compete on Bitcoin's terms.
Ethereum, often called Ether, has generated innovative financial products that could lead to decentralized finance, called "DeFi" in crypto circles, allowing for peer-to-peer transactions without using a commercial bank.
"DeFi still is a niche market with certain risks but it also has interesting properties in terms of efficiency, transparency, accessibility, and composability," Dr. Fabian Schär said in a research report published by the St. Louis Federal Reserve Bank. "As such, DeFi may potentially contribute to a more robust and transparent financial infrastructure."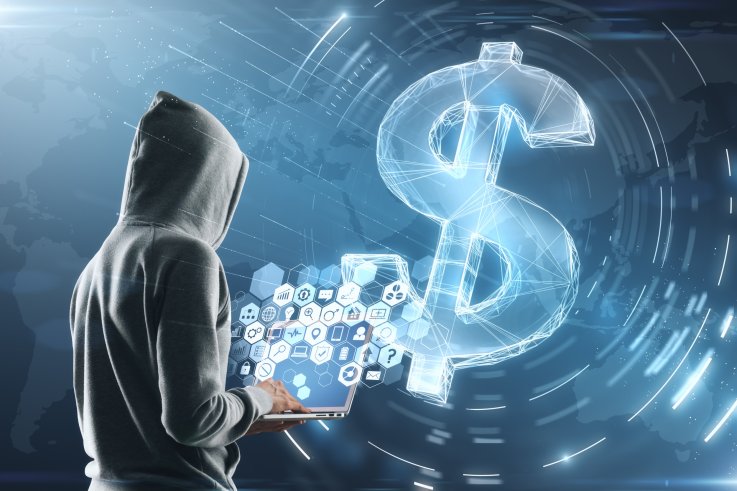 An unknown person was able to steal $2.8 million from a shared digital "vault" on Yearn.Finance, a service that allows users to deposit their funds in collective digital pools. Vault funds are then used in other "decentralized finance" (DeFi) offerings with the goal of generating additional earnings for the vault's depositors.
peshkov/Getty
Ethereum was launched in 2015. It's an open-source, blockchain-based software. Open source means the source code is available at no cost and others can build on it or modify it for specific tasks. It doesn't mean that a usable, off-the-shelf software package is available at no cost.
Bitcoin declined about 2% overall in April, including a "flash crash" that chopped about 19.56% from its price (a decline of 20% or more is considered a bear market). Ether gained about 40% last month.
"The bottom line: Bitcoin's code base can be copied, but the credibility, and immutability of its hard money policies cannot," Greg Cipolaro and Dr. Ross Stevens, researchers at New York Digital Investment Group, the Bitcoin subsidiary of Stone Ridge Holdings, a $10 billion alternative asset manager, said in a research report. "Bitcoin is long past the point of being catchable."
Major Wall Street investment banks, including Morgan Stanleyand Goldman Sachs, offer Bitcoin investments to top clients. Bitcoin futures are traded on the Chicago Mercantile Exchange, underscoring the cryptocurrency's growing mainstream acceptance.
In midday trading Monday, Bitcoin changed hands at $58,067.38 up 0.70% in the last 24 hours and 97.37% for the year. Its record high is $64,829.14. The market cap is $1.09 trillion, CoinDesk reported.
Market Sasses Entrepreneur: The limits of Elon Musk's market charisma have been established—Dogecoin didn't fetch a buck despite his appearance on "Saturday Night Live."
The self-proclaimed "Dogefather" has tweeted playfully about Dogecoin and mused about it becoming the world's currency, sending the price higher. Last month, Musk plugged his appearance on SNL – and the media noticed. But the price fell about 30% to 49 cents during the show.
Dogecoin's price has ranged from less than a penny to $0.74. While the percent gains appear to be striking, they're off a small base.
In mid-day trading Monday, Dogecoin traded at $0.51, a drop of 31.08% from its high of $0.74. It's up 3.99% for the day and 10,606% for the year, CoinDesk reported.
Musk, founder and CEO of Tesla and SpaceX, mentioned Dogecoin in SNL's opening monologue. During Weekend Update, a parody of network news, he called the cryptocurrency a "hustle" and howled to the moon the goal of Dogecoin's enthusiasts to send it to an unimaginable high of $1.
Despite Saturday's belly flop, this isn't likely to be the end of Dogecoin, because enthusiasm appears to be boundless for the crypto cooked up in 2013 as a parody of Bitcoin.
The number of Bitcoin is capped at 21 million, driving the price higher amid strong demand, but the number of Dogecoin is unlimited, and there are about 129 billion bowers in circulation and more are added each year.
Market Pulse
The U.S. faces a paradox: Millions remain unemployed, but many small businesses can't find enough workers as COVID-19 restrictions are relaxed and the economy rebounds.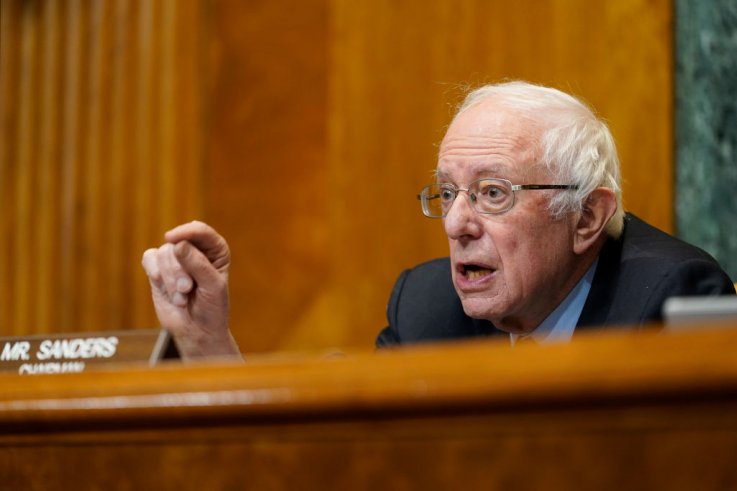 Senator Bernie Sanders (I-Vermont) and other progressives slammed Republican calls for ending extra $300 weekly unemployment payments after a disappointing April jobs report. In this photo, Sanders speaks during a hearing on Capitol Hill examining wages at large profitable corporations on February 25 in Washington, D.C.
Susan Walsh-Pool/Getty Images
Critics say the extra $300 a week from the Federal government in addition to state unemployment benefits means workers at the low end of the pay scale can make as much or more by sitting on the couch as they would by returning to work.
In response, some states, including Florida, Montana and South Carolina, have tightened requirements and deny unemployment benefits to those who don't actively look for work or turn down an employment offer.
Montana plans to end its participation in the federal supplemental benefits program by June 27. Instead, Montana will offer $1,200 to those collecting unemployment on May 4 who find a job and hold it for four weeks.
The U.S. Chamber of Commerce has called for an immediate end to the extra Federal unemployment benefit.
"The disappointing jobs report makes it clear that paying people not to work is dampening what should be a stronger jobs market," the Washington-based trade group said in a statement.
"We need a comprehensive approach to dealing with our workforce issues and the very real threat unfilled positions pose to our economic recovery from the pandemic," the Chamber said. "One step policymakers should take now is ending the $300 weekly supplemental unemployment benefit. Based on the Chamber's analysis, the $300 benefit results in approximately one in four recipients taking home more in unemployment than they earned working."
In March, Congress voted to extend the extra $300 in jobless benefits into September.
The U.S. Labor Department last week said employers added 266,000 jobs in April, well below the 1 million expected by economists.
The unemployment rate edged up to 6.1% in April from 6% in March. Joblessness peaked at 14.7% in April 2020 as the COVID-19 pandemic slammed the economy.
The U.S. Federal Reserve, the nation's central bank, has held interest rates close to zero since March 2020. This makes it cheaper for businesses and individuals to borrow and make credit purchases. Consumer spending represents about two-thirds of the U.S. economy.
But kinks in the supply chain have disrupted the plan. Computer chip shortages have slowed auto production, transportation costs are up and commodity prices such as oil, copper and lumber are rising.
In some sectors, production can't keep up with demand. This means more dollars are chasing fewer goods, leading to higher prices—and renewed concerns about inflation.
The Consumer Price Index increased 0.6% in March, the largest one-month increase since an identical price jump in August 2012. Prices rose 0.4% in February, the U.S. Bureau of Labor Statistics reported.
So far, Congress has passed six major bills totaling about $5.3 trillion to help offset economic problems faced by families and businesses caused by the COVID-19 pandemic. Former President Donald Trump and President Joe Biden have signed the measures into law.
The Fed noted the positives, but said that concerns remain.
"Households have received significant government support—including from forbearance and fiscal programs," the Federal Reserve said in its semi-annual Financial Stability Report. "Even so, some businesses and households remain under considerable strain."