Deepfake Biden Video Hypes False Narrative U.S. Sending Troops to Ukraine
President Joe Biden's unannounced visit to the capital of Ukraine, Kyiv, appeared to take many of his detractors, not just those in Moscow but Washington too, by surprise.
The visit came on the anniversary of the start of Russia's invasion of Ukraine, a conflict that is being fought not just on the battlefield but also in the information space, continuing to attract misleading claims and fabricated content.
Among the most recent examples were videos purporting to show mass protests in Ukraine, which was in fact dated footage from Slovakia as debunked by Newsweek Misinformation Watch.
In the aftermath of Biden's trip, one particularly insidious narrative emerged on social media, purporting that the U.S. is either planning to, or is being asked to, put "boots on the ground" in Ukraine.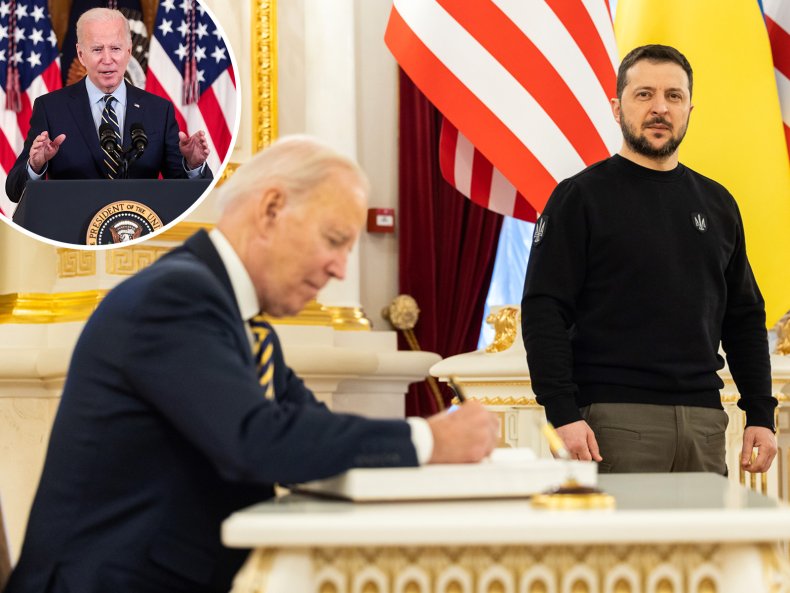 On February 27, a video, shared to his audience by Turning Point USA activist and conservative commentator Jack Posobiec, showed what appeared to be the U.S. president addressing the American public.
In this clip, Biden seemingly announces that he is reinstating the military draft for both men and women in order to help Ukraine's military.
Posobiec appears at the end of the video with a statement that the footage is in fact a deepfake produced by the show's digital team using AI-based tools. A real White House video from December 2021 (which makes no mention of Ukraine) appears to have been used as the visual basis for the deepfake clip.
The TPUSA activist then claimed that the video is a "sneak peak" of what would happen were the military draft to be reinstated, calling the clip a "pre-creation" to warn Americans.
An earlier post featuring the video was shared by The Post Millennial, a conservative news outlet, with a caption clearly stating that the video is a deepfake.
"AI imagines what would happen if Biden declares and activates the Selective Service Act and begins drafting 20 years old to war," the caption said.
However, in demonstration of the dangers of this technology, the clip was since re-edited by others without clarification. A repost by ThePatriotOasis Twitter account does not provide crucial context about the video being a fabrication, and gathered more than 6 million views since February 27.
Furthermore, the contents of the speech are both inaccurate and misleading. First, the fake Biden suggests that he can invoke the Selective Service Act under his presidential authority.
It is not clear what legal basis would be for invoking the act, but the notion that the president could unilaterally reinstate the draft is false. As stated on the Selective Service System website, "a national emergency, exceeding the Department of Defense's capability to recruit and retain its total force strength, requires Congress to amend the Military Selective Service Act to authorize the President to induct personnel into the Armed Forces."
Furthermore, the video adds to a misleading narrative circulating on social media that Americans would be asked to, or are already being called up to, fight against Russia in Ukraine.
As Newsweek reported earlier this week, another prominent example of this was a misleadingly cropped video of a speech by Ukraine President Volodymyr Zelensky purportedly saying that "American sons and daughters" will fight in Ukraine.
But as evident from the longer video, recorded during Zelensky's press conference in Kyiv to mark the one-year anniversary of Russia's invasion, the Ukrainian leader was making a hypothetical point, urging for financial and military assistance to avoid NATO having to put boots on the ground later on.
If American support for Ukraine weakened or stopped, and Kyiv went on to lose the war against Putin, "Russia is going to enter Baltic states, NATO member states, and then the U.S. will have to send their sons and daughters, exactly the same way as we are sending our sons and daughters, to war," Zelensky said.
"And they will have to fight because it's NATO that we're talking about and they will be dying, God forbid, because it's a horrible thing."
Even as fact-checkers quickly highlighted the missing context and misleading nature of the clip, many high-profile social media users, including prominent Republicans such as Rep. Marjorie Taylor Greene (R-GA), reshared it, taking the statement at face value.
The Pentagon has in the past confirmed that U.S. specialists are present in Ukraine to inspect and oversee weapons deliveries.
It has also been widely reported, including by Newsweek, that volunteers from many Western countries, the U.S. among them, are known to be fighting in Ukraine's foreign legion (as there are those fighting for Russia, too).
However, there is no evidence to support the claim—made by Russian officials among others—that there are NATO troops on the ground in Ukraine, a narrative that has been debunked as false by numerous fact-checkers and news organizations.
With regards to the "military draft" claims, the White House has stated from the beginning of Russia's invasion that the U.S. will support Ukraine financially and militarily, but will not put boots on the ground, partly in fear of escalating the conflict to a full-blown NATO war with Russia.
"We've been very clear there are no combat forces in Ukraine, no U.S. forces conducting combat operations in Ukraine," Pentagon Press Secretary Brigadier General Pat Ryder told reporters in November 2022. "These are personnel that are going out in areas where they're not going to be in harm's way to conduct these types of inspections."
There has been no evidence or new reporting to suggest that this stance has changed. Newsweek has reached out to the White House and TPUSA for comment.