Democrats' Chances of Beating Trump-Backed Candidates in Arizona: Polls
Former President Donald Trump has thrown his full support behind Arizona Republican gubernatorial hopeful Kari Lake and Senate contender Blake Masters in what will be seen as a test of his influence in the swing state, but recent polling suggests his preferred candidates face uphill battles against their Democratic opponents ahead of the November 8 election.
Lake, a former television journalist, and Masters, a venture capitalist, have touted Trump's false claims that the 2020 election results were fraudulent, although no evidence has emerged corroborating those allegations. Multiple audits and recounts in Arizona have reaffirmed that President Joe Biden narrowly defeated Trump in the state.
Nonetheless, Lake aims to animate GOP voters with the false claims in her campaign to replace outgoing Republican Governor Doug Ducey, who criticized her candidacy ahead of Arizona's primary. Lake will face off against Arizona Democratic Secretary of State Katie Hobbs, who previously served in the state's Senate and House of Representatives.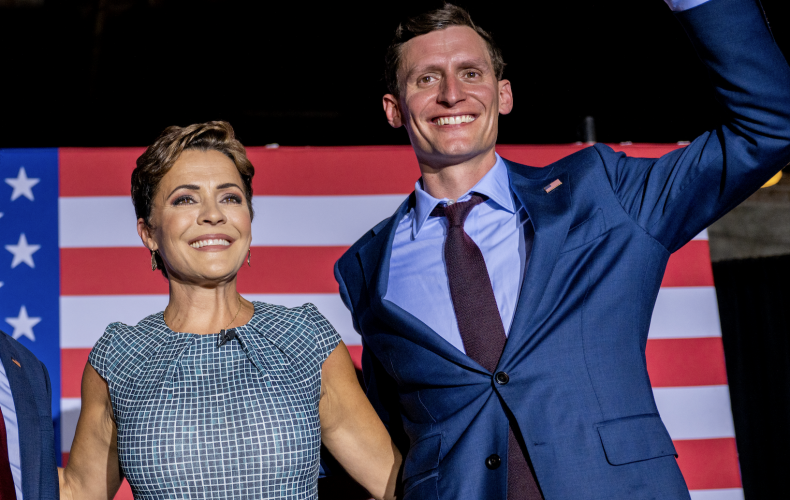 Masters hopes to defeat incumbent Democratic Senator Mark Kelly, a retired astronaut. Kelly defeated GOP Senator Martha McSally in a 2020 special election to serve out the remainder of the late Republican Senator John McCain's term. Kelly aims to be re-elected to a full six-year term.
Recent polling data shows Lake and Masters trailing their opponents, suggesting Trump's influence with Arizona voters has waned since he carried the state in 2016 with a 3.6 percentage-point margin.
Lake vs. Hobbs
Survey data released by Fox News on Thursday showed Hobbs ahead of Lake by 3 points. The Democrat had the backing of 47 percent of Arizona's registered voters compared to 44 percent who preferred her Republican opponent. The poll was carried out from August 12 to August 16 and had a margin of error of plus or minus 3 percent.
A July poll conducted by Beacon Research for the Environmental Voter Project had Hobbs with a lead of 5 points. That survey had Hobbs at 43 percent among registered voters and Lake at 38 percent. The poll included 802 registered voters.
The current average of Arizona polls by news and polling analysis site FiveThirtyEight, which was last updated on Thursday, shows Lake trailing Hobbs as well. Lake has the backing of about 43.8 percent of Arizonans and Hobbs has the support of 47.5 percent.
Masters v. Kelly
The new Fox News poll showed Masters well behind Kelly by an 8-point margin. Half (50 percent) of Arizona's registered voters threw their support behind Kelly compared to only 42 percent who backed Masters. The polling also noted that 10 percent of Republican voters plan to vote for the Democratic senator.
A survey carried out from August 1 to August 8 by Center Street PAC, which supports Kelly's campaign, showed the Democrat in the lead by a double-digit margin. That poll put Kelly at 50 percent and Masters at just 34 percent among 877 registered voters.
FiveThirtyEight's current average puts Kelly ahead by about 8.3 points. The average shows Kelly backed by 50.3 percent of Arizonans and Masters supported by only 42 percent.
How does Arizona lean?
An analysis published by FiveThirtyEight in May shows that Arizona has a partisan lean of 7.6 points in favor of Republicans. The average represents the "margin difference between how" Arizona "votes and how the country votes overall in congressional and gubernatorial elections, according to a blend of presidential and state-legislative election results."
Currently, both of Arizona's senators are Democrats. Senator Kyrsten Sinema flipped her previously GOP-held seat blue when she was elected in 2018. Then Kelly flipped his previously Republican-held seat in 2020. Meanwhile, the state's outgoing governor, Ducey, is a Republican who declined to support Trump's claims that the 2020 election was stolen.
The state narrowly went for Biden in 2020 by a margin of 0.3 percent, or just under 10,500 votes, after the state had gone for Republican presidential candidates in every election since 2000. Former Democratic President Bill Clinton carried the state in 1996, but prior to that, Arizona had gone for the GOP in every election going back to 1952.
While the state is historically Republican-leaning and continues to be viewed as a swing state, recent election results show it might be trending toward Democrats, but the margins are narrow.