Democrats to Force Kevin McCarthy's Hand on Removing Marjorie Taylor Greene From Committee Seats
Democrats are taking the task of removing GOP Rep. Marjorie Taylor Greene of Georgia from House committees into their own hands.
Greene, who has publicly promoted QAnon conspiracy theories and made baseless claims about the Sandy Hook school shooting and 9/11, in addition to anti-Semitic and Islamophobic rhetoric, was named to the House Education and Labor Committee and the House Budget Committee.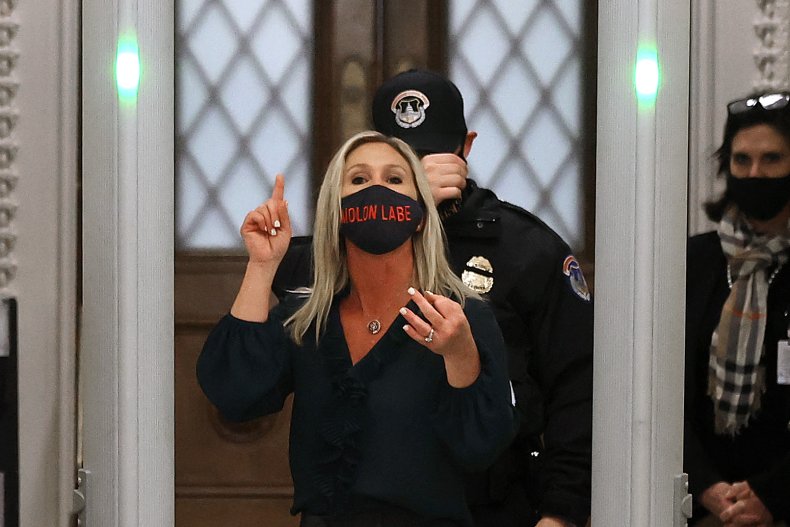 Democrats have been enraged by the congresswoman's behavior, which has also included supporting violent threats against House Speaker Nancy Pelosi and other Democrats prior to her election.
On Monday, House Majority Leader Steny Hoyer gave House Minority Leader Kevin McCarthy an ultimatum. In a letter, Hoyer told McCarthy he must coordinate a Republican-led effort to remove Greene from her committees or Democrats would take the matter to the House floor.
"Rep. Marjorie Taylor Greene must be held accountable for her reprehensible statements, and I am discussing with Members the best course of action to do so," Hoyer said in an email to Newsweek.
There are a few paths Democrats could take to remove Greene from her assignments, the primary of which is a motion from the House Rules Committee. Some Democrats have also discussed a formal censorship of Greene and formal expulsion from the House.
Florida Democratic Representative Debbie Wassermann Schultz also introduced a resolution that would bar Greene from any House panel posts.
"We're focused on making sure that we can render powerless the poisonous nature of this member," Wasserman Schultz said to reporters Monday. "The House has to be able to take actions to police its own membership."
McCarthy, a California Republican, recently met with former President Donald Trump at the president's Mar-a-Lago private club. GOP Representative Adam Kinzinger of Illinois said to NBC News' Meet the Press that Trump is "desperate" to appear as the continued leader of the GOP.
Democrats have replied with accusations that McCarthy is "cowardly" for not drawing a harsher line with more extreme party members such as Greene.
"He's afraid to take on people like Marjorie Taylor Greene and the most extreme elements of his party," Rep. Jim McGovern told CNN on Friday.
So far, McCarthy has reportedly only promised to have a "conversation" with Greene. Greene tweeted over the weekend that she spoke with Trump, and that she "would never back down" amid calls for her removal from Congress.
"It is my hope and expectation that Republicans will do the right thing and hold Rep. Greene accountable," Hoyer wrote. "We will not need to consider this resolution. But we are prepared to do so if necessary."
Newsweek has reached out to the House Rules Committee and McCarthy for comment.