Marjorie Taylor Greene's Boast of Call With Trump Spurs Reactions: 'Lies of a Feather Flock Together'
Republican Representative Marjorie Taylor Greene boasted Saturday that she spoke with former President Donald Trump and has his "support," prompting a wave of strong reactions online.
"I had a GREAT call with my all time favorite POTUS, President Trump!" Taylor Greene claimed Saturday in a tweet.
"I'm so grateful for his support and more importantly the people of this country are absolutely 100% loyal to him because he is 100% loyal to the people and America First," she added.
Taylor Greene's tweet comes as she faces bipartisan criticism and growing calls for her to be removed from office, after past social media posts revealed that she touted conspiracy theories and supported violence against Democrats.
But following her reported call with Trump, the GOP representative from Georgia said Saturday that she would "never back down."
"I will never back down and will stand up against the never ending blood thirsty mob who has addicted their followers to hate, in order to everything I can to protect our freedoms," she wrote.
A number of individuals then took to Twitter to react.
GOP Senator Mitt Romney, one of the few Republicans who has consistently criticized Trump, tweeted Saturday that "lies of a feather flock together" in response to Taylor Greene's statements.
"Lies of a feather flock together: Marjorie Taylor Greene's nonsense and the 'big lie' of a stolen election," he tweeted, referencing Taylor Greene's support of Trump's false claims that the 2020 presidential election had been rigged with voter fraud.
Others weighed in on what the reported call could mean for the future of the Republican party.
John Marshall, founder of the political news and opinion website Talking Points Memo, speculated the call could make Taylor Greene the "de facto leader" of the House GOP Caucus.
"Will take a bit for most to realize it. But with this call Trump has made Greene de facto leader of the House GOP caucus. She speaks for him and he supports her. So she is untouchable. Nominal leaders like McCarthy will fall in line and take her lead because they answer to Trump," he wrote.
Norman Ornstein, a political scientist and scholar at the American Enterprise Institute, a conservative Washington D.C. think tank, warned Republicans that the reported call could "be your future" if they let Trump "off the hook" in the upcoming impeachment trial.
"To Republican senators as impeachment trial looms: Trump just gave a warm endorsement to Marjorie Taylor Greene. This is your future if you let him off the hook again," he said.
Taylor Greene, a long-time Trump ally, has been a controversial political figure since she was first elected to office in November.
In recent weeks, Taylor Greene has come under fire for social media posts in which she espoused conspiracy theories denying school shootings and climate change, and indicating support for the violent execution of some Democrats.
Since then, members of the House Education and Labor Committee have called for her to be removed from her committee assignment, and a slew of other representatives and activist groups have issued support for her to be removed from Congress altogether.
By Friday evening, at least 50 House lawmakers signed onto a resolution introduced by Democratic Representative Jimmy Gomez calling for her expulsion from the House of Representatives, CNN reported.
Adding to the controversy, Democratic Representative Cori Bush announced Friday that she would move her office away from Taylor Greene's over safety concerns.
"A maskless Marjorie Taylor Greene & her staff berated me in a hallway. She targeted me & others on social media. I'm moving my office away from hers for my team's safety," Bush tweeted Friday.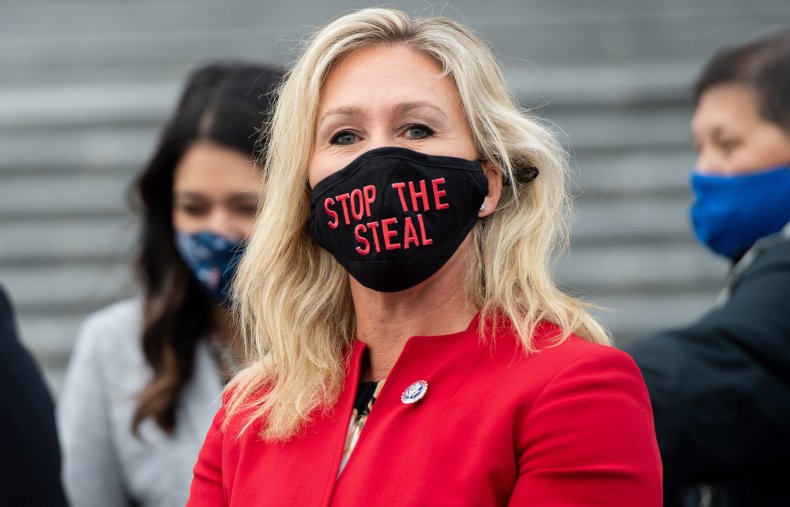 Despite the growing criticism, Taylor Greene has repeatedly said she will not step down.
The GOP representative previously told Newsweek that "Democrats and their spokesmen in the Fake News Media will stop at nothing to defeat conservative Republicans."
"They are coming after me because I'm a threat to their goal of Socialism. They are coming after me because they know I represent the people, not the politicians. They are coming after me because, like President Trump, I will always defend conservative values," she added.
"They want to take me out because I represent the people. And they absolutely hate it," she said.
Newsweek reached out to a representative for Taylor Greene regarding her reported call with Trump, but did not hear back in time for publication.