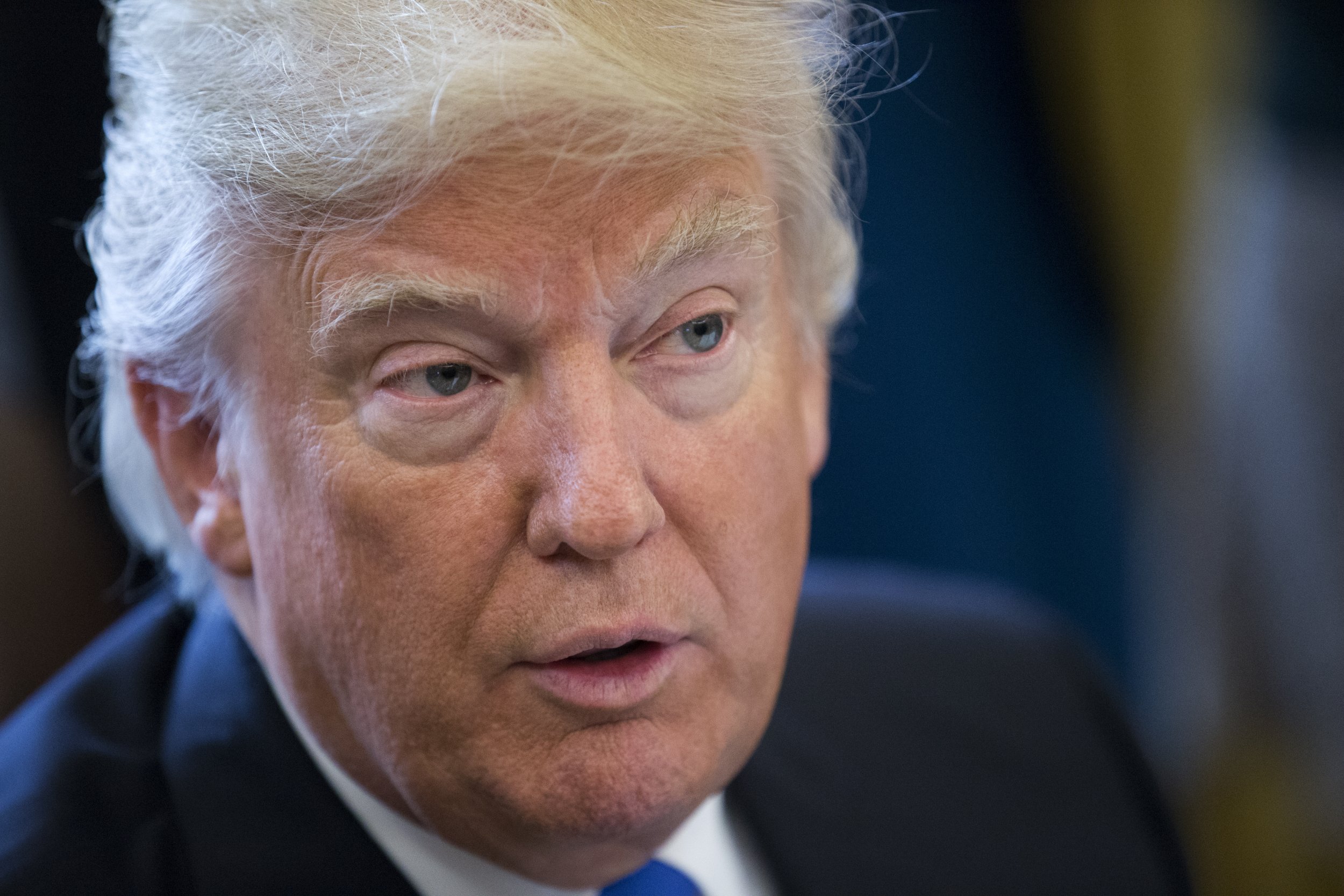 U.S. President Donald Trump gave his first interview since his inauguration to David Muir of ABC News World News Tonight, discussing a range of subjects from the use of torture to "one of the greatest victories ever."
Here are 12 of the biggest talking points from the interview.
1. On whether Mexico will pay for the border wall:
"Yeah, absolutely, 100 percent. We have to stop drugs from pouring in. We have to stop people from just pouring into our country. We have no idea where they're from. And I campaigned on the wall. And it's very important. But that wall will cost us nothing."
2. On bringing back waterboarding:
"It does work…I would do—I wanna keep our country safe. I wanna keep our country safe. When they [terrorists] are chopping off the heads of people because they happen to be a Christian in the Middle East, when ISIS [Islamic State militant group] is doing things that nobody has ever heard of since medieval times, would I feel strongly about waterboarding? As far as I'm concerned, we have to fight fire with fire."
3. On the subject of immigration and undocumented immigrants, whom he promised to deport during his campaign:
"I do have a big heart…we're looking at this, the whole immigration situation, we're looking at it with great heart."
And on signing a sweeping executive order to restrict immigration to the U.S. from certain countries:
"Our country has enough problems without allowing people to come in who, in many cases, or in some cases, are looking to do tremendous destruction...I think that Europe has made a tremendous mistake by allowing these millions of people to go into Germany and various other countries."
4. On voter fraud, which Trump claimed happened in the presidential election:
"I would've won the popular vote if I was campaigning for the popular vote. I would've gone to California where I didn't go at all. I would've gone to New York where I didn't campaign at all."
And on launching an investigation into voter fraud:
"Sure, done."
Later, when asked by Muir: "Do you think that talking about millions of illegal votes is dangerous to this country without presenting the evidence?" Trump replied: "No, not at all."
5. On winning the election:
"You have to understand, I had a tremendous victory, one of the great victories ever. In terms of counties I think the most ever or just about the most ever. When you look at a map it's all red. Red meaning us, Republicans. One of the greatest victories ever."
6. On the CIA, and the speech he made at CIA headquarters on his first day as president:
"I have great respect for the people in intelligence and CIA. I don't have a lot of respect for, in particular, one of the leaders. But that's OK. But I have a lot of respect for the people in the CIA… I got a standing ovation [at Langley]. In fact, they said it was the biggest standing ovation since Peyton Manning had won the Super Bowl and they said it was equal. People loved it. They loved it. They gave me a standing ovation for a long period of time. They never even sat down, most of them, during the speech. There was love in the room. You and other networks covered it very inaccurately."
7. On his inauguration speech crowd:
"They [the media] were showing pictures that were very unflattering—from certain angles—and that were taken early…I'll show you a picture later if you'd like of a massive crowd. In terms of a total audience including television and everything else that you have we had supposedly the biggest crowd in history."
8. On Chicago's murder rate:
"Maybe they're being overly political correct. Maybe there's something going on. But you can't have those killings going on in Chicago. Chicago is like a war zone. Chicago is worse than some of the people that you report, in some of the places that you report, about every night in the Middle East."
9. On Obamacare:
"It's too expensive. It's horrible health care. It doesn't cover what you have to cover. It's a disaster. You know it and I know it. We are going to come up with a new plan, ideally not an amended plan, because right now if you look at the pages they're this high. We're gonna come up with a new plan that's going to be better healthcare for more people at a lesser cost."
10. On the state of the world:
"The world is a total mess. Take a look at what's happening with Aleppo. Take a look what's happening in Mosul. Take a look what's going on in the Middle East. And people are fleeing and they're going into Europe and all over the place. The world is a mess, David."
11. On the Iraq War:
"We should have taken the oil. You wouldn't have ISIS if we took the oil…and we would have had wealth."
12. On David Muir's questioning:
"I think you're demeaning by talking the way you're talking. I think you're demeaning. And that's why I think a lot of people turned on you and turned on a lot of other people. And that's why you [ABC] have a 17 percent approval rating, which is pretty bad."