Donald Trump Slams Alexandria Ocasio-Cortez's Green New Deal: 'High School Term Paper Written by Poor Student'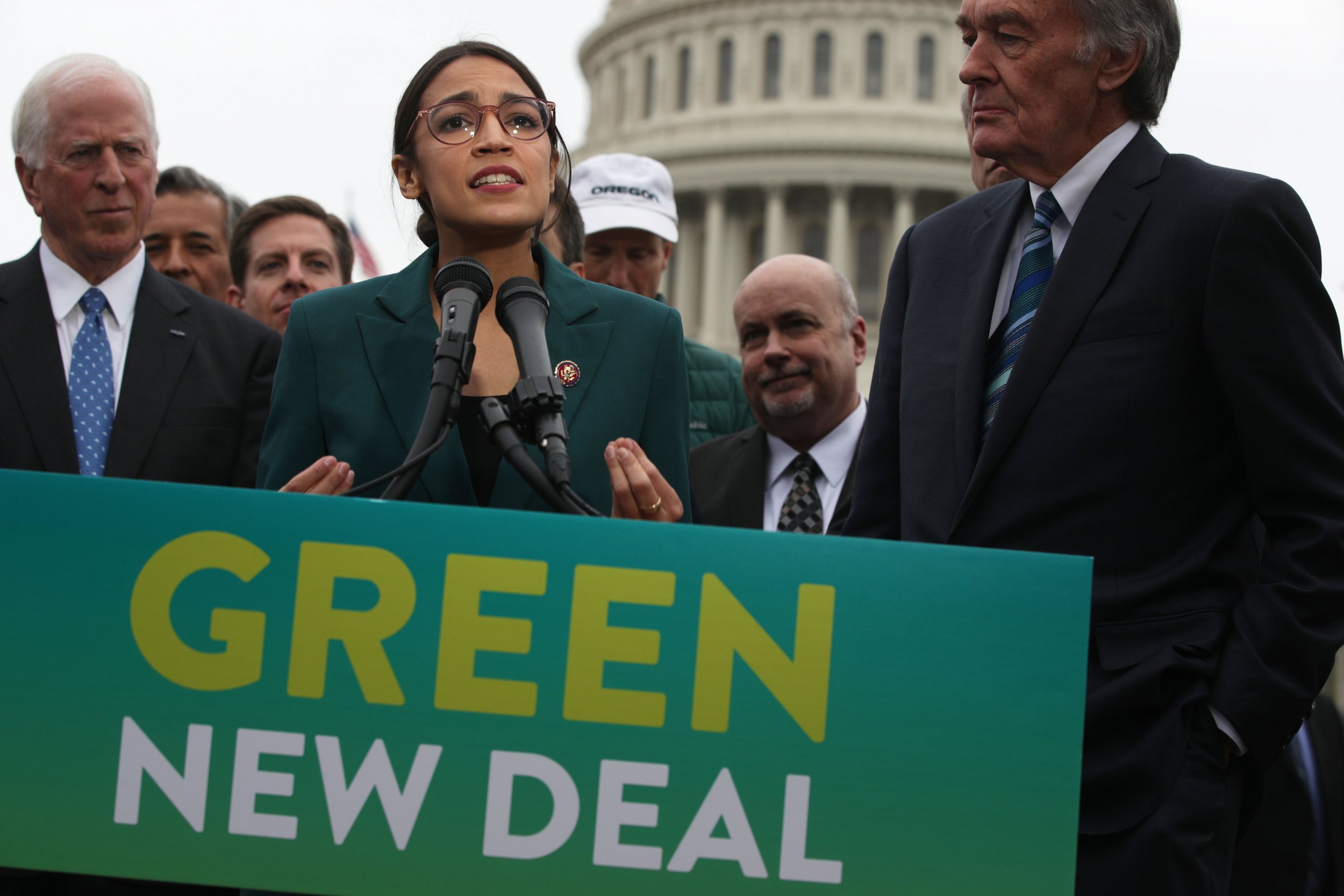 The progressive climate change initiative being pushed in Congress by freshman Democrat Alexandria Ocasio-Cortez known as the Green New Deal was slammed by the president Saturday, lending Donald Trump the opportunity to promise the "future is not socialism."
Trump issued a previously-used talking point to combat the climate change proposal, which includes a stimulus package and calls for an overhaul in American energy consumption to use 100 percent renewable resources and achieve net-zero greenhouse gas emissions within 10 years. He said somebody described the measure as "a high school term paper written by a poor student" during his lengthy address at the annual Conservative Political Action Conference in Maryland.
After Trump used similar language during a rally in El Paso, Texas, last month, the liberal New York Democrat shot back, blasting the president as "a man who can't even read briefings written in full sentences."
"The Green New Deal—I encourage it," Trump said sarcastically. "I think it's something [Democrats] should really promote... No planes, no energy. When the wind stops blowing, that's the end of your electric. 'Darling is the wind blowing today? I'd like to watch television.'"
The proposal has been ridiculed by Republicans, who equate it to socialism and an unachievable goal. The legislation, officially unveiled last month by Ocasio-Cortez and Democratic Senator Edward Markey, has split the party with its failure to garner the backing of some party leaders. Democratic senators running for president will soon be forced to take an official stance on the deal after Senate Majority Leader Mitch McConnell announced plans to hold a vote on the legislation.
"That goes beyond what our charge is," House Speaker Nancy Pelosi said of the Green New Deal to Rolling Stone in a January interview that was recently published. "Our charge is about saving the planet. They have in there things like single-payer and... what is it? Guaranteed income?"
Democratic Senator Dianne Feinstein recently told students she "can't support" the initiative because "there's no way to pay for it."
The unveiling of the plan was met with a series of blunders, including documents, which her staff said were accidentally released, providing fuel to the fire for Democratic opposition and Republican ridicule. Phrases such as "economic security for all who are unable or unwilling to work" and "upgrade or replace every building in the U.S. for state-of-the-art energy efficiency" has led critics to say the plan is impossible to achieve in such a short period of time. And Ocasio-Cortez has said America's wealthiest citizens may have to help fund the measure by paying up to 70 percent in income taxes.
"Some people are like, 'Oh, it's unrealistic, oh it's fake, oh it doesn't address this little minute thing," Ocasio-Cortez said of critics at an event last month. "And I'm like, 'You try! You do it. Cause you're not. Cause you're not. So, until you do it, I'm the boss. How 'bout that?"'
Pelosi said she views the Green New Deal more as a "suggestion" and something that has far too broad of an agenda. "All good values," she told Rolling Stone, "but nonetheless, not what we hope to achieve with this focused, determined, decision-making: You're either for the planet or you are not."