Donald Trump 'Hates Black People' and Is 'Basically Adolf Hitler,' Eminem Raps on Comeback Album 'Revival'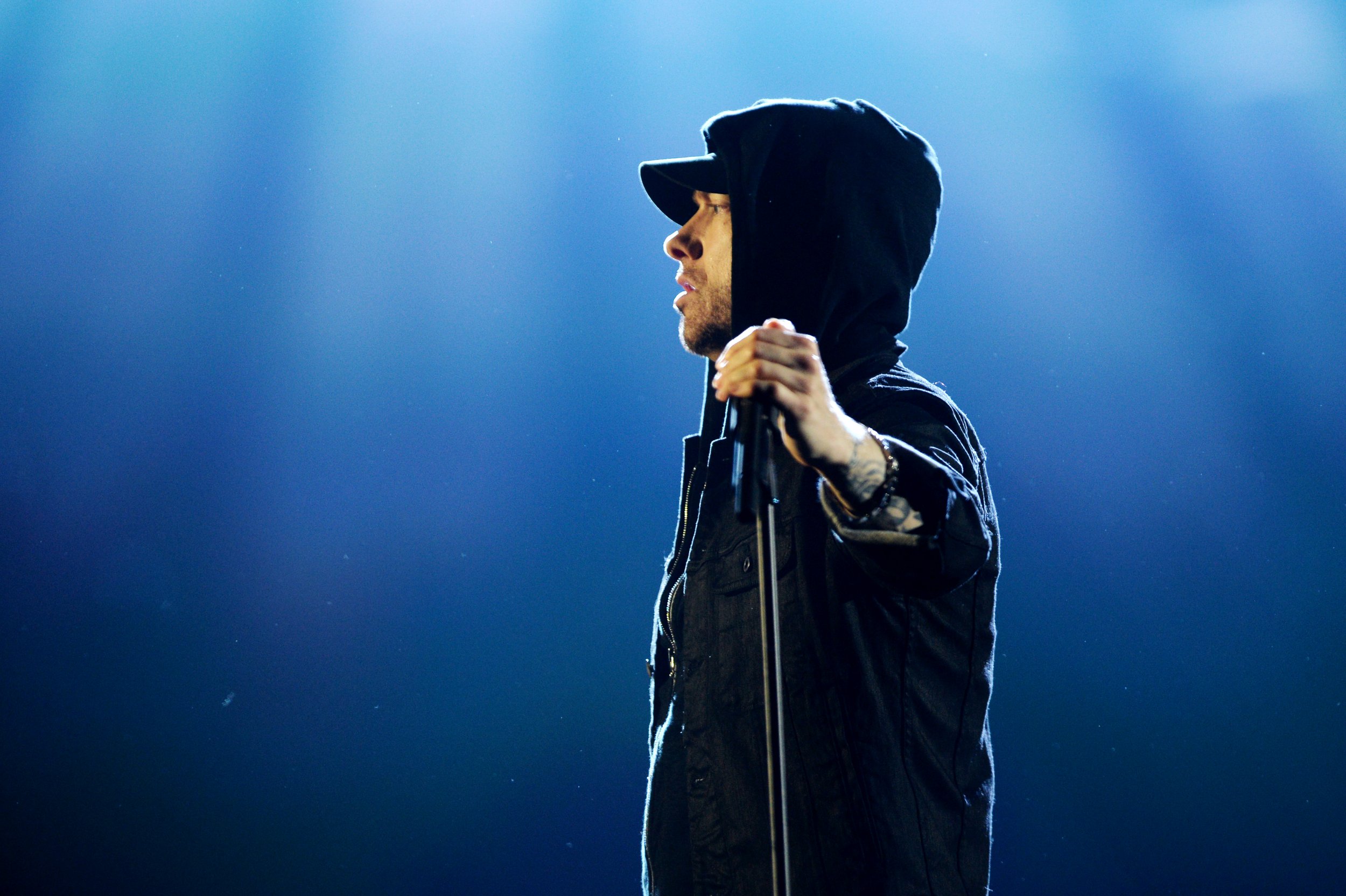 It turns out Eminem's freestyle about President Donald Trump at the BET Awards in June was just the opening salvo in his attack on the commander in chief.
Friday's release of Slim Shady's comeback album, Revival, his ninth studio effort, features the fiery anti-Trump track "Like Home," featuring Alicia Keys.
Picking up where he left off at the BET Awards, Eminem shoots hard on the divisive president, calling him an "Aryan," a reference to the Nazi ideology of white supremacy, and says Trump watches "Fox News like a parrot and repeats."
The rapper—real name Marshall Mathers—warns that Trump is "tryin' to divide us" and calls his leadership of America as being akin to a "cult."
Later, Em raps, "Can't denounce the Klan, 'cause they play golf with ya/You stay on Twitter, way to get your hate off, Nazi/I do not see a way y'all differ."
The second verse continues, courtesy of Genius:
The swastika with your name carved in it
Should be your trademark, 'cause it's all you played off
And you just took the plate off
So I guess it pays to feed off of chaos
So basically, you Adolf Hitler
But you ain't ruining our country, punk
You won't take our pride from us, you won't define us
'Cause like a dictionary, things are looking up
So much, got a sprained neck, know we would rise up
Against this train wreck and take a stand
Even if it mean sittin' when they raise the flag
This ain't the Star Spangled Banner
This man just praised a statue of General Lee
'Cause he generally hates the black people, degrades Hispanics
Ultimately, though, "Like Home" is a song about the strong will of the American people. Eminem raps that despite the Trump administration's controversial policies that marginalized minority communities, like transgender soldiers and the black community, "he'll only unite us."
"If we start from the scratch like a scab for scars to heal/And band together for Charlottesville/And for Heather, fallen heroes," Em says, name checking Heather Heyer, the counterprotester killed during the Charlottesville, Virginia, unrest in August.
Revival is littered with socially conscious lyrics. On the song "Untouchable," for example, the Detroit rapper speaks about racial injustice and police brutality against black people in America.
The album features collaborations with Beyoncé, Ed Sheeran and Pink.