Donald Trump Says Jill Biden 'Looking Lovely' During State of the Union
In a series of comments made during Joe Biden's State of the Union speech on his Truth Social media platform, Donald Trump reacted in real time to proceedings—even commenting on the first lady's outfit.
The former president—who is hoping to run for re-election in 2024—said Jill Biden was "looking lovely" in her "beautiful" purple dress. He added that she was "clapping and applauding with great enthusiasm."
The first lady appeared in the viewing gallery of the House of Representatives to watch as her husband delivered his second State of the Union address, which made bipartisan appeals to a Republican-majority House to work with him. "If we could work together in the last Congress, there's no reason we can't work together and find consensus on important things in this Congress," Biden said.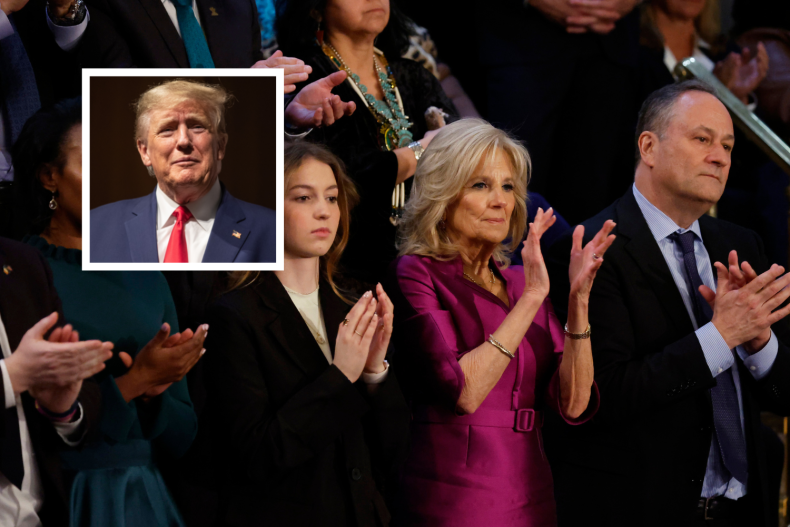 Jill Biden was seated near to a host of familiar faces to watch the address, including the singer Bono, Paul Pelosi, the husband of the former House Speaker Nancy Pelosi, the parents of Tyre Nichols, who died after being beaten by police in Memphis in January, and Brandon Tsay, who disarmed the gunman who killed 11 people in Monterey Park, California, on January 21.
At the start of his 73-minute speech, Biden pointed to his wife to applause, before joking: "By the way, chief justice, I may need a court order. She gets to go to the game next week; I have to stay home."
The president sought to portray the U.S. as a nation that had significantly improved since he took office in 2021, claiming credit for a return to economic stability, an end to the coronavirus pandemic and the survival of democracy following the January 6, 2021 uprising.
"The story of America is a story of progress and resilience. Of always moving forward. Of never, ever, giving up," Biden said. "It's a story unique among all nations. We're the only country that has emerged from every crisis we've ever entered stronger than when we got into it."
While striking a unifying note in his speech, the political divisions were clear from the start: Biden was met with jeers and heckles from GOP lawmakers at times, and an attempt by the new House Speaker Kevin McCarthy to shush them fell on deaf ears.
"The people sent us a clear message," Biden said. "Fighting for the sake of fighting, power for the sake of power, conflict for the sake of conflict, gets us nowhere. That's always been my vision for the country: to restore the soul of the nation, to rebuild the backbone of America—the middle class—and unite the country."
However, as Biden appealed to Congress to help him "finish the job," a new poll by the Associated Press suggested that three quarters of American adults believed the country was headed in the wrong direction, and a majority of Democrats do not want to see 80-year-old Biden run for another term.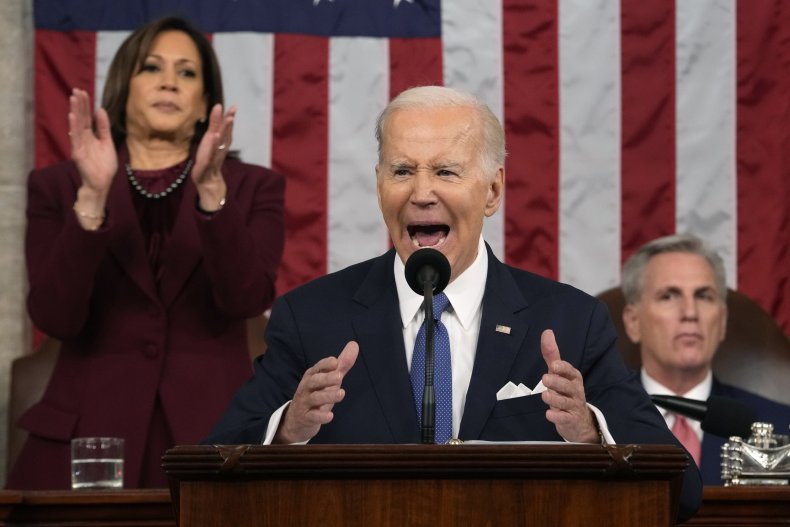 In another Truth Social post, Trump hinted that Biden's age was having an effect on his mental acuity. "Stumbling, bumbling, he just can't get the words out," he wrote. "I don't want that to happen, but the world is watching, and it's not a pretty sight!"
However, Trump took an uncharacteristically conciliatory tone in his comments by the end of the night, albeit somewhat barbed.
"Look, he worked hard tonight, it's not a natural thing for him, it never was, and never will be, but you've got to give him credit for trying," he wrote. "I disagree with him on most of his policies, but he put into words what he felt, and he ended up the evening far stronger than he began."
Newsweek has contacted the White House for comment.