Donald Trump's Miserable Thanksgiving
Donald Trump will be waking up on Thanksgiving morning facing a number of potentially troublesome pitfalls, even for the former president.
In a month in which Trump has already been dealt a huge blow to his reputation after being widely blamed for the GOP's poor midterm performance, the Republican won't find respite during the holiday season due to a combination of lawsuits, court decisions and election results going against him.
For starters, Trump will be facing a new battery lawsuit on November 24 from E. Jean Carroll, a former Elle columnist who accuses the former president of raping her in the mid-1990s.
Carroll, who is already suing Trump for defamation over remarks he made denying allegations he raped her at a Bergdorf Goodman dressing room in New York, confirmed she will be filing a new suit in the Federal District Court in Manhattan while taking advantage of a new law which will come into effect on Thursday.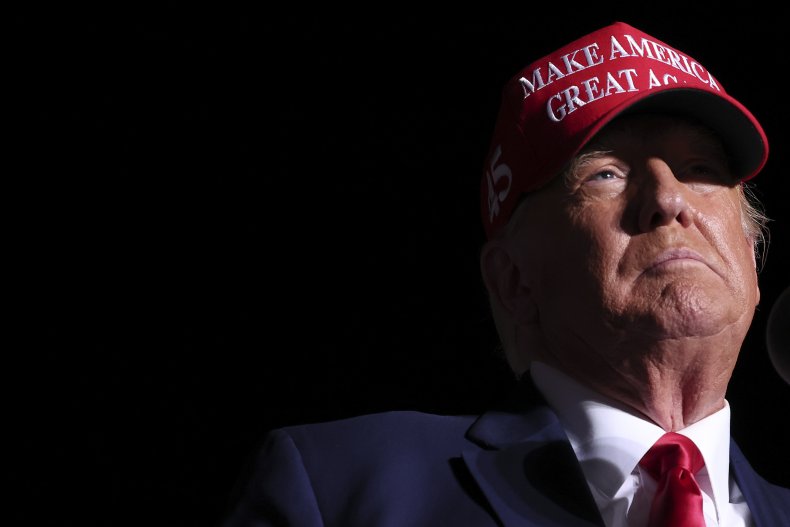 New York's Adult Survivors Act, which was passed in May, allows alleged adult sexual assault victims one year to bring lawsuits even if the statute of limitations has expired.
Carroll will be filing the battery lawsuit against Trump along with a fresh defamation suit in relation to the former president's additional rape allegation denials he made in October.
Carroll's original lawsuit focused on how Trump claimed that Carroll was "not my type" in a 2019 interview, while also making a series of other potentially damaging remarks.
The new defamation lawsuit will be in response to Trump repeating the "not my type" remark about Carroll in an October 12 statement posted on Truth Social.
Elsewhere, Trump could have his tax returns leaked after the Supreme Court paved the way for his financial records to be handed over to a Democrat-controlled House committee.
In a ruling on Tuesday, SCOTUS justices rejected the former president's attempt to block a lower court decision to grant the Ways and Means Committee access to his Internal Revenue Service records.
The House committee has been seeking Trump's tax returns from 2015 to 2020 for the past three years as part of an investigation into his compliance with IRS auditing.
While the committee is legally forbidden from making the records public, on Twitter University of California law professor and former U.S. Attorney Harry Litman said: "These things have a way of seeing the light of day."
Trump himself has called the House Committee's attempts to gain access to his tax returns an attempt to publicize them—a sentiment which was shared by attorney and media commentator Greta Van Susteren.
"Do you believe the Ways and Means Committee is doing this because they want to check to make sure the IRS does proper audits? Or do you think this is to get Trump's returns to leak?" Van Susteren wrote in reply to a Twitter user who accused the House Committee of carrying out a "nonsense fishing expedition" against Trump.
Finally, Trump also saw two more of his endorsed midterm candidates lose their races in Alaska, a state which the former president won by 10 points in 2020.
On the eve of Thanksgiving, Sarah Palin, the former Alaska governor and 2008 vice presidential candidate, lost the race for Alaska's sole seat in the House of Representatives to Democrat Mary Peltola.
The same night, Republican Senator Lisa Murkowski won re-election after beating the Trump-endorsed Kelly Tshibaka as well as Pat Chesbro, a Democrat, in the midterm election.
Murkowski's victory would be particularly hard for Trump to take, since she was one of seven Senate Republicans who voted to convict Trump in his second impeachment trial over allegations he incited the January 6 attack at the Capitol.
Palin's loss, her second to Peltola in three months following the special election in August, will add further pressure on Trump as many, include those within the GOP, blamed him for the party failing to ride a "red wave" in the midterms as a number of his MAGA and election-denying candidates lost their races.
Mocking the former Alaska governor's defeat, political commentator Brian Tyler Cohen tweeted: "Mary Peltola has defeated Sarah Palin and is the first Democrat to represent Alaska in the House in 50 years. In case you were wondering how the 'red wave' went."
Trump has been contacted for comment.
Do you have a tip on a politics story that Newsweek should be covering? Do you have a question about Donald Trump? Let us know via politics@newsweek.com.