Fauci Rejects False COVID-19 'Cure' Again As Trump Renews Attacks On Him
Dr. Anthony Fauci has downplayed the efficacy of hyrdoxychloroquine after President Donald Trump shared a video touting it as a cure.
The president shared several posts touting the efficacy of the drug in treating COVID-19, despite this having been disputed and the safety of its use questioned.
A since deleted video shared by Trump on Twitter showed a woman stating: "This virus has a cure, it's called hydroxychloroquine, zinc, and Zithromax. You don't need masks, there is a cure."
Fauci, director of the National Institute of Allergy and Infectious Diseases (NIAID), responding to the posts from Trump promoting the drug said it had not been proven to be an effective treatment to coronavirus patients.
"The overwhelming, prevailing clinical trials that have looked at the efficacy of hydroxychloroquine have indicated that it is not effective in coronavirus disease," Fauci said in an interview with ABC's Good Morning America.
He also advocated for people wearing masks, describing it as "very important," while encouraging people to also social distance.
There is mixed evidence about the effectiveness of hydroxychloroquine, usually used to treat malaria and rheumatoid arthritis, in tackling COVID-19. With studies ongoing, most have shown it offers little or no benefit, though some suggest it could have a positive effect if used early and in certain circumstances.
The Food and Drug Administration and the World Health Organization have raised concerns over its safety, with the FDA citing risk of it causing heart rhythm problems.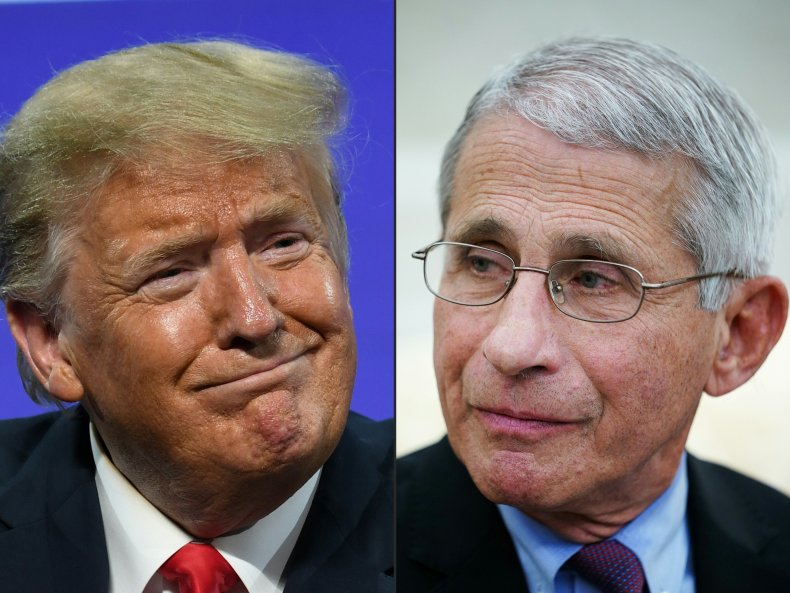 Trump has previously dismissed concerns over the drug and also said he himself had taken it.
Trump shared a post suggesting that the use of hydroxychloroquine to tackle COVID-19 is being suppressed in a bid to keep deaths high and the economy shut down, ahead of November's election.
Another retweeted post criticized Fauci directly and said he had "misled the public," while accusing him of dismissing hydroxychloroquine.
"I have not been misleading the American public under any circumstances," Fauci said, when asked about this.
Asked about Trump's comments, with the suggestion the president is questioning his credibility, he said: "I'm just going to certainly continue doing my job. I don't tweet, I don't even read them, so I don't really want to go there. I just will continue to do my job no matter what comes out.
"We're in the middle of a crisis with regard to an epidemic, a pandemic, this is what I do, this is what I've been trained for my entire professional life and I'll continue to do it."
Newsweek has contacted the White House for comment.
The latest comments from Fauci come after several previous disagreements between him and Trump over the course of the pandemic.
Fauci previously appeared to be at odds with the White House over personal protective equipment supplies, suggesting there were still issues despite Trump having previously said the U.S. is "very strong on supplies."
The president recently spoke of the pair also disagreeing over lockdowns to stem the pandemic.
Trump said Fauci, who has encouraged states with surges to seriously consider shutting down again, would like to see the U.S. "closed up for a couple of years". The president has long pushed for states to reopen.
Fauci recently revealed he has received hate mail and death threats from some of those who disagree with his health advice, while criticizing the response to COVID-19 having become politicized.
The dispute comes as COVID-19 cases continue to rise in the U.S., with more than 4.2 million confirmed nationwide, according to Johns Hopkins University figures.
The graphic below, from Statista, shows the states with the highest numbers as of July 27.