41 Facts About Meghan Markle and Prince Harry You Probably Didn't Know
Meghan Markle and Prince Harry are two of the most written about celebrities, but there are still many lesser known facts you may not have come across.
Waves of press coverage—some adoring, some hateful—have put their lives into the public domain in extraordinary detail.
However, dramatic allegations, family crisis and wars with the media can sometimes push the little facts to the background.
Here are 41 missible details about the Duke and Duchess of Sussex.
1. Meghan is Not Her Real First Name
The Duchess of Sussex was in fact born Rachel Meghan Markle in Los Angeles on August 4, 1981.
2. Harry is Not His Real First Name
The Duke of Sussex was in fact born Prince Henry Charles Albert David, at St Mary's Hospital, in London, on September 15, 1984.
3. Meghan is a Trained Calligrapher
Meghan is an expert calligrapher and taught classes through her part-time job at Paper Source, in Beverley Hills, from 2004 to 2005.
Winnie Park, the company's chief executive told People in 2018: "It was her part-time job as she was going through auditions.
"She taught calligraphy and hosted a group of customers and instructed them during a two-hour class on how to do calligraphy."
4. Meghan Helped Fund Her College Fees Through Work-Study and Scholarships
Meghan double-majored in theater and international studies at Northwestern University, in Illinois, starting in 1999.
However, she had a battle to get the money together for her tuition fees, relying in part on a loan her father took out and money from her mother.
Meghan's lawyers told her lawsuit against the Mail on Sunday: "Mr Markle did not pay for all of [Meghan's] college tuition. [Meghan's] mother also contributed towards her university costs.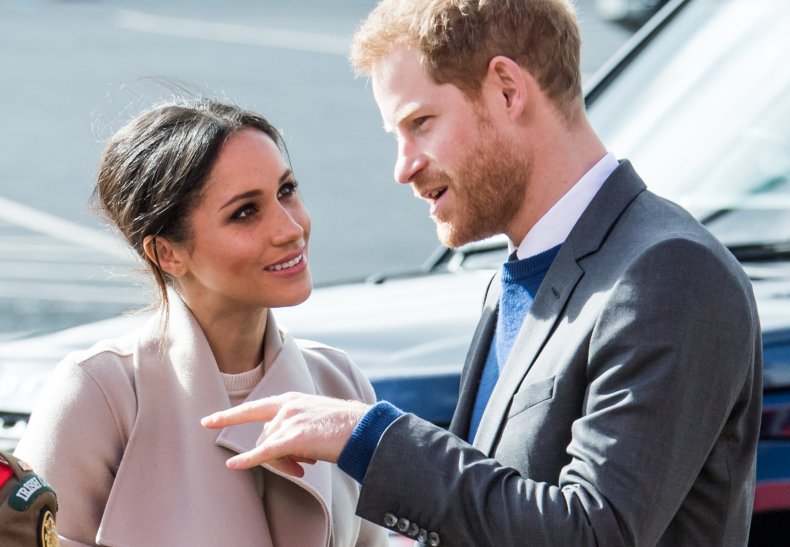 "In addition, [Meghan] received scholarships for academic achievement, which reduced the payable tuition fees.
"[Meghan] also undertook a work-study programme whereby income she made from working on campus after class was applied directly to supplement and lower her tuition costs, thus personally contributing to her tuition as well."
5. 12-Year-Old Meghan Complained About a Sexist Advert
Aged, 12, Meghan wrote a letter to consumer goods company Procter & Gamble about an advert for Ivory Clear washing up liquid, which said women across America were fighting greasy pots and pans.
The company responded by changing the narration to "people" in an early victory for the future royal.
She then went on Nick News and said: "When they heard this [advert], the boys in my class started saying: 'Yeah that's where women belong—in the kitchen'."
6. Meghan is a Dog Lover
The duchess loves dogs and had two, Guy and Bogart, before meeting Harry.
Bogart had to stay in Canada when she moved to Britain, her spokesperson confirmed at the time, in 2017.
However, on returning to North America they have added Labrador Pula to the family.
The duchess also got on well with the queen's Corgis early in her relationship with Harry.
During their BBC engagement interview, he said: "And the corgis took to you straight away.
"I've spent the last 33 years being barked at; this one walks in, absolutely nothing."
Meghan said: "Just laying on my feet during tea, it was very sweet."
7. Harry Flew an Apache Helicopter in Afghanistan
Harry surprised Armchair Expert podcast host Dax Shephard during a recent interview with stories from his time in the armed forces, fighting in Afghanistan.
The duke did two tours and on his second was at the controls of an Apache helicopter.
During a 2013 BBC interview, he said: "Whereas it used to be very much front seat, you're firing the whole time. Now, yes, we fire when we have to.
"Take a life to save a life. But essentially we're more of a deterrent than anything."
8. Harry Dislikes His Own Child Outfits
Royal children are known to wear eccentric clothes in part due to the tradition of wearing shorts for young children.
Harry in 2017 told documentary Diana Our Mother: Her Life and Legacy how he hated the outfits.
He told the ITV program: "One thing I would love to ask her now, I genuinely think she got satisfaction out of dressing myself and William up in the most bizarre outfits – normally matching.
"It was weird shorts and little shiny shoes with the old clip on. Looking back at the photos it just makes me laugh and I think, 'How could you do that to us?'"
9. Harry Has Seen The Crown
Harry told James Corden in an interview earlier this year how Netflix series The Crown is "not strictly accurate" but is "loosely based on the truth."
During a segment for the Late Late Show, he said: "I am way more comfortable with The Crown than I am seeing stories written about my family or my wife.
"That [The Crown] is obviously fiction, take it how you will. But this is being reported on as fact because you're supposedly news. I have a real issue with that."
More recently he told the Armchair Expert podcast he had seen parts but not the whole thing.
10. Harry's 'God Save You' Joke About Queen
Harry was filmed seemingly pretending he was on the phone to the queen while he was in the armed forces.
The footage, recorded in 2006, was later leaked to the News of the World and published in 2009.
Quoted by the BBC, the prince said: "Granny I've got to go, send my love to the Corgis and Grandpa.
"I've got to go, got to go, bye. God Save You ... yeah, that's great.
11. Prince and Princess Were Their Actual Job Titles
Paperwork for their now defunct Sussex Royal philanthropic organization listed Harry's occupation as "Prince of the United Kingdom" and Meghan's as "Princess of the United Kingdom."
12. Meghan Worked at the U.S. Embassy in Argentina
Meghan did an internship at the U.S. Embassy in Buenos Aires as a 20-year-old with a little help from her uncle, a retired diplomat.
Michael told the Mail on Sunday: "I knew the ambassador, and I asked him if he could help, as her application was a little on the late side."
13. Meghan the Humanitarian
Meghan visited a school in Kigali province where she heard about the struggle children go through to get clean water, in 2016.
The duchess wrote on her lifestyle blog The Tig about how her status as a World Vision Global Ambassador triggered internal conflict about the glamour of her acting career.
She wrote how she was invited to the Baftas that year but would have had to fly straight to London from her humanitarian work.
Quoted in the Daily Mirror, she wrote: "My brain, heart, spirit couldn't shift gears that quickly – from the purpose-driven work I had been doing all week in Rwanda, to the glitz and glamour of an award show – plus the pomp and circumstance that comes with it.
"'No,' my heart said. And it wasn't a soft whisper to myself; it was a lion's roar."
She added: "My gut said, 'No.' While my two worlds can coexist, I've learned that for me, being able to keep a foot in both is a delicate balance – because while they are not mutually exclusive, guiding my heart though the swinging pendulum from excess to lack of access is sometimes challenging."
14. Meghan the Entrepreneur
Meghan's lawyers described her in a court filing as an actress and entrepreneur sparking a raised eyebrow from the Mail on Sunday, who she sued for publishing her father's letter.
Her team clarified that her former lifestyle blog The Tig was a money-making enterprise before she closed it down ahead of her marriage to Harry.
Their court filing from June reads: "In her capacity as a business entrepreneur, the Claimant was the founder of the commercially successful lifestyle website, The Tig."
15. Harry Loves Africa
Harry has been visiting Africa since childhood and the continent helped give him space to process the death of his mother.
He told ITV documentary Harry & Meghan: An African Journey: "I have some of my closest friends here over the years. I came here in 1997 or 1998 straight after my mum died, so it was a nice place to get away from it all.
"I feel deeply connected to this place and to Africa."
During a tour of South Africa with Meghan and their baby, he added: "I tell you what, [Archie] clearly loves Africa as well, because he was up looking out the window, he's found his voice now.
"He was bouncing up and down, he's making more noise than he's ever made, and he's smiling all the time."
16. Meghan's Mother was Her Only Family at Her Wedding
Doria Ragland watched proudly from the pews at St George's Chapel, in Windsor Castle, as her daughter became a princess on May 19, 2018.
However, she was the only member of Meghan's family at the wedding, with other guests including royals, celebrities and close friends.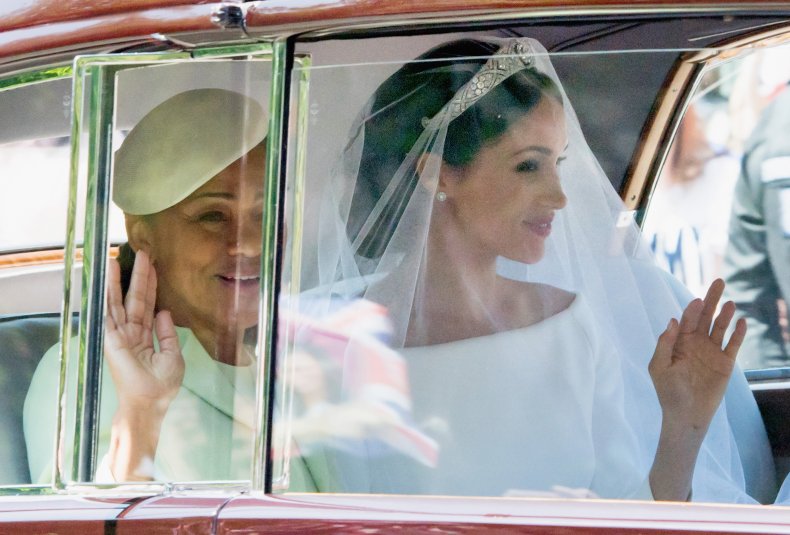 17. Elton John played 'Your Song' at Their Wedding
British pop icon Elton John played the piano at their wedding reception lunch in St George's Hall.
Harry introduced him by asking: "Does anyone here know how to play the piano?"
A Kensington Palace spokesperson told The Sun: "Sir Elton John has performed at the Lunchtime Reception for guests celebrating the Wedding of Prince Harry and Ms. Meghan Markle."
The palace said the singer's involvement was in recognition of the "close connection he has with Prince Harry and his family."
The star was a close friend of Princess Diana before her death.
18. Meghan's Veil Paid Tribute to 54 Countries
The royal family is about more than just the U.K. as Queen Elizabeth II is head of the Commonwealth, 54 countries drawn mainly from Britain's former Empire.
Meghan paid tribute to all of them through her bridal train which was woven with the flowers of each Commonwealth nation.
19. Their Duke and Duchess Titles Were a Gift From the Queen
Meghan and Harry became the Duke and Duchess of Sussex on their wedding on May 19, 2018.
An official statement released on the day reads: "The Queen has today been pleased to confer a Dukedom on Prince Henry of Wales.
"His titles will be Duke of Sussex, Earl of Dumbarton and Baron Kilkeel.
"Prince Harry thus becomes His Royal Highness The Duke of Sussex, and Ms. Meghan Markle on marriage will become Her Royal Highness The Duchess of Sussex."
20. Meghan Is Still a Princess
There has been much debate over Meghan and Harry's royal titles, first after their outspoken comments on the U.S. election and more recently since they criticized the royal family.
However, much of the focus has been on their duke and duchess titles, missing the fact Meghan is still a princess.
On marrying Harry, she got the title Princess Henry of Wales and would be entitled to style herself that way.
However, royal women do not generally give up their own names in order to assume their princess titles.
The one exception is Princess Michael of Kent, who would otherwise be known through her birth name Baroness Marie Christine Anna Agnes Hedwig Ida von Reibnitz.
When Prince Charles becomes King, Kate Middleton will also become the Princess of Wales, the same title Princess Diana held.
21. Harry had to Ask the Queen's Permission to Marry
Royals historically were required to ask the monarch's permission to marry according to the The Royal Marriages Act 1772.
Reforms passed by Parliament in 2013 relaxed the rules but the next six in line to the throne are still required to seek the queen's approval, which included Harry.
22. The Archbishop of Canterbury Had to Approve Their Church Wedding
Church of England rules previously banned church weddings for divorcees with a living former spouse.
Those rules were relaxed too in the early 2000s but only at the discretion of the Archbishop of Canterbury.
Prince Charles and Camilla were denied permission by Rowan Williams to marry at St George's Chapel, and had their legal ceremony at The Windsor Guildhall.
However, Justin Welby, the current Archbishop of Canterbury, was more lenient with Harry and Meghan, paving the way for their spectacular ceremony on May 19, 2018.
23. Meghan Was Friends With Princess Eugenie Before She Met Harry
Harry was not Meghan's first royal acquaintance as she was friends with Princess Eugenie—Harry's first cousin and daughter of Prince Andrew—before they met.
During her Oprah interview, Meghan said: "Eugenie and I had known each other before I had known Harry, so that was comfortable."
She added: "We're friends with them as a couple."
The duchess also revealed she did not Google Harry before going on their first date.
24. Harry Visited Rehab Clinic After Smoking Cannabis
Harry hinted at a past life of wild partying during an appearance on the Armchair Expert podcast last week.
In 2002, the News of the World reported he had been drinking and smoking marijuana when he was 16.
Prince Charles arranged for him to speak to recovering addicts at the rehab clinic Featherstone Lodge, in Peckham.
In February 2021, Harry's lawyers claimed journalists planned to tell Charles that he was taking cocaine, in a bid to get a softer story about his "alleged drug use."
The claim formed part of Harry's phone hacking lawsuit against the owners of the News of the World and The Sun.
25. Harry Worked as a Cowboy
The prince spent a year abroad after completing his end-of-school A-level exams, including several months in Australia working as a "jackaroo," or, effectively, a cowboy.
Aged 19, he flew out on September 23, 2003, to work on a farm in Southern Queensland.
Quoted in the Daily Telegraph, Harry's then spokeswoman, Colleen Harris, at the time said: "He will be working as a jackaroo, mustering cattle on horseback and will be paid the going rate.
"Hopefully [the media] will leave him alone so he can get on with it and learn about farming and agriculture here in Australia, which he is very keen to do."
Later in his gap year, he travelled to Southern Africa and visited an orphanage for children with AIDS, in Lesotho, in January 2004.
26. An Incognito Supermarket Date
On one of their first dates they met in a London supermarket by the parchment paper, Harry recently told the Armchair Expert podcast.
The duke said: "The first time Meghan and I met up for her to come and stay with me, we met up in a supermarket in London, pretending we didn't know each other, texting each other from the other side of the aisles.
"There's people looking at me, giving me all these weird looks, and coming up to me and saying 'hi'.
"I texted her saying, 'is this the right one,' and she said, 'no, you want parchment paper,' and "I'm like 'where's the parchment paper?'"
27. Prince Charles Broke the News Harry's Mother had Died
Harry has described how he was left emotionally devastated by the loss of his mother, Princess Diana, in a Paris car crash in 1997.
The funeral carried its own trauma as he and Prince William were made to walk behind her coffin in front of thousands.
Harry told the BBC in a 2017 documentary, Diana, 7 Days that it was their father who broke the news she had passed away.
The duke said: "He [Prince Charles] was there for us.
"One of the hardest things for a parent to have to do is to tell your children that your other parent has died."
28. Harry's Comedy Christmas Present for Queen
Harry's grandmother famously prefers cheap, funny Christmas presents to anything extravagant or expensive.
And one year the duke gave her a shower cap with the words "Ain't life a b****" on the front.
29. Harry Used to Tease Prince William
Before their infamous royal rift, Harry and his elder brother, William, used to have a playful relationship.
Harry would tease his older brother about his baldness, including on a 2010 visit to Barbados when shown a painting.
Quoted on the Huffington Post, Harry said: "I don't know, I'm a little bit more ginger in there than I am in real life, I think, I don't know, and (William) got given more hair so, apart from that, it is what it is, but no its nice, it could have been worse."
30. William used to tease him back
However, William was not one to shy away from the brotherly banter and would return fire with comments about Harry's ginger hair.
On a 2010 visit to New Zealand, William described his brother in a speech as "the ginger one," Huffington Post reported.
31. Meghan is a Foodie
Meghan wrote about food on her lifestyle blog The Tig and despite coming from diet conscious California told Vanity Fair of her love of bread in 2017.
A profile by the magazine read: "'I mean, this bread is so good!' she enthuses over the delicious meal she prepared. 'It's that perfect crunch and then the softness. They call it the 'crumb,' all of these little holes—oh!'"
32. Harry is Behind William's Children in the Line of Succession
Prince Harry is sixth in line to the throne, with succession passing through every direct heir.
Prince Charles will become king when Elizabeth passes away, and he in turn will be followed by Prince William and then Prince George.
Once all the direct heirs have been ruled out, the spotlight falls on siblings of the youngest heir before working back up, generation by generation.
So Princess Charlotte and Prince Louis follow their older brother George and come ahead of Harry.
However, Harry's children still come ahead of Prince Charles' siblings, meaning Archie is seventh in line, ahead of Prince Andrew, who is eighth.
33. Harry Proposed Over British Roast Chicken
During the couple's engagement interview it was revealed that Harry proposed while they were preparing a roast.
Meghan told the BBC: "We were just roasting chicken. Trying to roast a chicken and it just [was] an amazing surprise.
"It was so sweet and natural and very romantic. He got on one knee."
34. They Have Rescue Chickens
The couple gave Oprah Winfrey a tour of the farm at their $14m Montecito mansion.
They have a coup with a sign that reads "Archie's Chick Inn, Established 2021," where they keep chickens rescued from a factory farm.
Publicity material for Meghan's upcoming children's book The Bench also describes her as having "a growing flock of rescue chickens."
35. Archie is Still Set to Be a Prince
Meghan told Oprah Winfrey how the royal family discussed changing the rules so Archie would not be a prince—suggesting his skin color may have been a factor.
However, an insider at the time told Newsweek Meghan was referring to behind the scenes discussions and that no change had yet actually been brought in.
So if nothing changes, Archie Mountbatten-Windsor would still become Prince Archie at the point Charles was crowned King.
36. Their Daughter is Set to Be Born a Lady
Harry and Meghan turned down the royal title Earl of Dumbarton for Archie and may chose to stop their daughter receiving a title.
However, if they do not intervene then protocol will automatically make their baby girl a Lady when she is born this summer, Thomas Woodcock, Garter Principal King of Arms, told Newsweek.
37. Things Got Serious From Their Second Date
Harry told friend James Corden his relationship with Meghan went from "zero to 60 in the first two months" during an appearance on the Late Late Show.
During the February segment, he said: "The second date I was starting to think 'Wow, this is pretty special.'
"It was just the fact we hit it off with each other and we were just so comfortable in each other's company."
He added: "There were no distractions and that was great. It was an amazing thing, we went from zero to 60 in the first two months."
38. Meghan's Children's Book Started out as a Poem
The duchess has written a children's book called The Bench which is about the father son relationship and inspired by Harry and Archie.
In publicity material, Meghan said: "The Bench started as a poem I wrote for my husband on Father's Day, the month after Archie was born.
"That poem became this story."
The book is due for release by Random House Children's Books on June 8.
39. Meghan's Engagement Ring Contains Diana's Diamonds
Harry got the chance to explain how he created Meghan's engagement ring when the couple sat down with the BBC to announce their plan to marry.
In November 2017, he said: "The ring is obviously yellow gold because that's her favorite and the main stone itself I sourced from Botswana and the little diamonds either side are from my mother's jewellery collection to make sure that she's with us on this crazy journey together."
Meghan said: "Everything about Harry's thoughtfulness and the inclusion of Princess Diana's stones and obviously not being able to meet his mum.
"It's so important to me to know that she's a part of this with us."
40. Harry Gave William Their Mother's Ring to Give Kate
Harry helped make sure Diana was a part of his brother's wedding to Kate Middleton—by passing on their mother's ring.
William used the ring to propose to Kate Middleton ahead of their 2011 Westminster Abbey wedding.
Former royal butler Paul Burrell told documentary The Diana Story: "Harry said to him [William]: 'Wouldn't it be fitting if she had mummy's ring?"
He added: "Then one day that ring will be sat on the throne of England. Harry gave up his precious treasure.
"His one thing he kept from his mother, he gave to his brother. That's selfless, kind and exactly who Diana was."
41. Meghan Knows How to Fire a Gun
The duchess did a one-day firearms training session in British Columbia, Canada, in 2009 as part of her preparation for a role, The Sun reported.
The newspaper printed a picture of Meghan holding a handgun and pointed out that after it was taken she went on to star as FBI agent Amy Jessup in Fringe and Leah Montoya in CSI: Miami.