Fans Compare Will Smith to Mike Tyson, Even Invoking Old Fresh Prince Song
Following the viral release of a video in which boxing legend Mike Tyson appears to repeatedly hit a man on a plane, some on social media are comparing the reactions to the comments made after Will Smith slapped Chris Rock at the Oscars last month.
In the footage, first shared by TMZ Thursday morning, a man who looks like Tyson can be seen hitting a man seated behind him on a JetBlue flight from San Francisco to Florida. Witnesses said that after speaking with the man and taking a selfie with him, when the man continued to talk to Tyson after being asked to stop, Tyson punched him repeatedly before leaving the plane, which was boarding at the time.
Tyson's representatives told Newsweek, "Unfortunately, Mr. Tyson had an incident on a flight with an aggressive passenger who began harassing him and threw a water bottle at him while he was in his seat."
The video led to a flurry of posts across social media, with some asking if the incident could put Tyson on the No-Fly List, while others thought his fists had been registered as deadly weapons.
A number of people backed the former heavyweight boxing champion, even sharing a post Tyson made to Facebook in 2020. That post showed a picture of Tyson with the text, "Social media made y'all way too comfortable with disrespecting people and not getting punched in the face for it."
"Mike Tyson punched somebody who was Fn with him....... The problem is nowadays, MFs think they WON'T get punched in the Face..." rapper Ice T wrote in a tweet.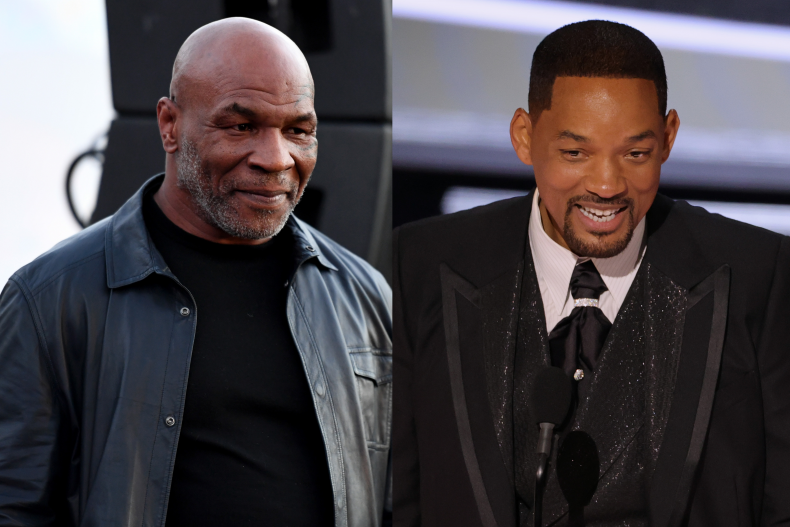 The praise for Tyson led some to ask about the difference between him and Smith, who slapped Rock after he made a joke about his wife, Jada Pinkett-Smith, and her alopecia. Smith apologized for the slap in his acceptance speech for Best Actor.
Afterward, Smith faced mounting criticism, with some suggesting Smith return the Oscar even after he resigned from the Academy of Motion Picture Arts and Sciences, the organization which gives out the Oscars.
"Wait. Are the people who were vocal about how f***ed up it was that Will Smith slapped Chris Rock now the same people who are praising Mike Tyson for bloodying a drunken a**hole's face?" singer Richard Marx tweeted.
"People: 'I can't believe Will Smith slapped Chris Rock for insulting his wife. Will should be in jail and banned from Hollywood,'" sports journalist Aaron J. Fentress wrote. "Also people: 'That guy who was bugging Mike Tyson on the plane had that beat down coming to him. Tyson was in the right.'"
Though a few people also made reference to Will Smith's old song, "I Think I Can Beat Mike Tyson."
"Guy on that plane with @MikeTyson was listening to too much Will Smith," radio host and podcaster Tim Andrews wrote, alongside a screenshot from the music video.
"I Think I Can Beat Mike Tyson" was the debut single from the third album from DJ Jazzy Jeff and the Fresh Prince, And In This Corner. The single came out in September 1989, and the video includes Tyson, his promoter at the time, Don King, and, oddly enough, Chris Rock.
If, as Andrews suggests, the man was listening to the Fresh Prince song as inspiration—he should have listened to the entire song. At the end, Tyson wins the match, soundly beating the Fresh Prince in the first round, leading the rapper to lament, "But I don't know what made me think I can beat Mike Tyson."