Dr. Anthony Fauci said there is no chance that COVID could be eliminated but it could be controlled by increasing the level of immunity through vaccinations and boosters as the new Omicron variant continues to spread worldwide.
"I don't think there's a chance you're going to eradicate this because we've only eradicated one virus for humans in history and that was smallpox. Elimination is tough," he said on Friday during a TV appearance with Neil Cavuto on Fox Business Network. "I'm not so sure we're going to be able to do that, at least not in the near future. That's aspirational."
"We do know that with the boosters we're giving now, we're not only getting a higher level of immunity, we're getting a more breadth of immunity, which I believe may give us more duration. So better control is what I think we need to look for and then we can get back to some form of normality to our lives," he added.
Fauci also said that he "never liked" the idea of mandating vaccines, but added that people should know the importance of vaccination.
"I never liked the idea of forcing the issue but the only thing, that's important is that we know the importance of vaccination," he said. "I would hope that even now as we enter into this new era of Omicron that people would appreciate why it's so important."
This was Fauci's first interview on Fox Business Network after declining numerous requests for appearances by its sister network, Fox News. He had also previously refused invitations for appearances by hosts Bret Baier and Neil Cavuto.
On Thursday, Fauci said that he was "astounded" that Fox News hadn't taken any disciplinary action against Fox Nation host Lara Logan after she compared him to Josef Mengele, a Nazi doctor who performed medical experiments at the Auschwitz concentration camp.
"What I find striking is how she gets no discipline whatsoever from the Fox network," said Fauci during an appearance on MSNBC's All In. "How they can let her say that with no comment and no disciplinary action? I'm astounded by that."
He described her remarks as "preposterous" and "unconscionable" after she appeared on Monday during an appearance on Fox News program Tucker Carlson Tonight.
"[Fauci] doesn't represent science," she said during the segment. She added that Fauci represents "Josef Mengele, the Nazi doctor who did experiments on Jews during the Second World War in the concentration camps."
Outraged by her comments, Fauci said during his Thursday appearance on MSNBC that Logan's remarks are "an insult to all of the people who suffered and died under the Nazi regime in the concentration camps."
Fauci has also been criticized recently by other conservatives after his interview on CBS' Face the Nation on Sunday in which he said "I represent science."
Republican Senator Ted Cruz of Texas on Monday criticized Fauci's claim and wrote on Twitter: "Fauci is the most dangerous bureaucrat in the history of the country."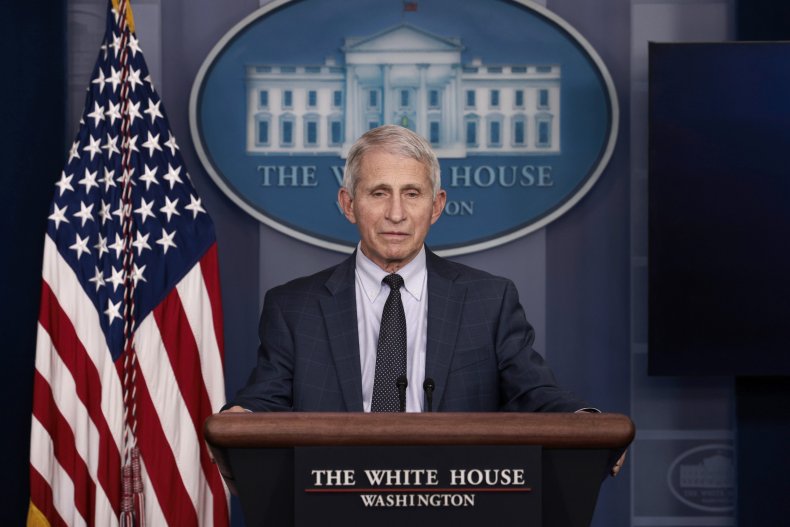 During his Friday interview with Cavuto on Fox Business Network, Fauci defended his "I represent science claim" and repeated the importance of masks and vaccines as protection measures against COVID.
"I'm getting criticized by so many different sectors that are putting ad hominem against me. All I'm doing is talking science," he explained.
"So when you're coming at me with bullets and slings, and what I'm saying is public health-based and science-based. That's what I meant when I said I represent scientific principles. That wasn't being pejorative against anyone." he added.
The infectious disease expert has been warning against Omicron since it emerged as he continued pushing for vaccinations and masks after the new variant was detected in South Africa last week, prompting multiple nations to impose temporary travel restrictions.
Countries including the U.S., U.K., Japan, Israel, France, and Italy banned travel from South Africa, Lesotho, Botswana, Zimbabwe, Mozambique, Namibia, and Eswatini.
"This variant has a large number of mutations, some of which are concerning," the World Health Organization (WHO) said in a statement last week.
WHO also said that the data collected about Omicron when it first emerged suggested an increased risk of reinfection." The organization also added that cases of the new variant are surging in "almost all provinces in South Africa."
Fauci recommended people to keep wearing face masks and get the COVID vaccine booster to curb the spread of Omicron.
"It is conceivable that...the vaccines we have may well be able to contain this," Fauci said last Saturday, "and then this won't be as serious as some people are surmising it might be."
The first Omicron case identified in the U.S. was discovered after a fully-vaccinated traveler returned to California after a trip to South Africa.
The second reported Omicron case was identified on Thursday in a Minnesota resident who was returning from New York City after attending a convention, according to New York and Minnesota officials.