How Florence Pugh Won the Internet Amid 'Don't Worry, Darling' Drama
As rumors of battles between the major players in Olivia Wilde's Don't Worry, Darling grow louder, the internet has crowned a victor: Florence Pugh. Actress Pugh, 26, enjoyed a groundswell of viral support from fans as the psychological thriller premiered at Venice Film Festival on September 5, 2022.
The public will likely never know what really went on behind the scenes of the film—if anything. Director Wilde herself attempted to quash the rumors once and for all at a press conference on Monday and Pugh has stayed mum. Meanwhile, Wilde's seemingly snarky nickname for Pugh, "Miss Flo," trends on Twitter after Pugh stole the show at the film's red carpet premiere.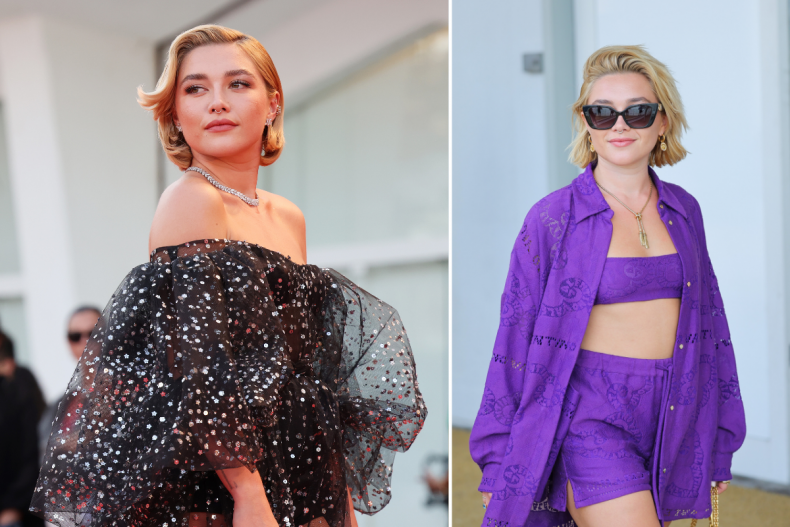 But the lack of clarity on the situation hasn't stopped people from picking sides, helped in no small part by Pugh's late arrival at the Venice Film Festival with an Aperol spritz in hand. Here's how Pugh and Wilde's rumored feud climaxed with a string of viral moments for Pugh.
Newsweek has asked representatives of Pugh, Wilde and co-star Harry Styles for comment.
Pugh Is Rumored to Be Peeved by Styles and Wilde's Alleged Romance
In late July 2022, Page Six published an anonymously sourced account of tension on the set of the film regarding the rumored relationship between Wilde and Styles. Pugh wasn't comfortable with a budding romance, per Page Six, due to suspicions that it overlapped with Wilde's engagement to fellow actor Jason Sudeikis.
There is no proof at all that any cheating occurred. Wilde and Styles haven't even confirmed their relationship and kept some distance from each other at the film's promotional events. (They've been spotted engaging in PDA elsewhere.)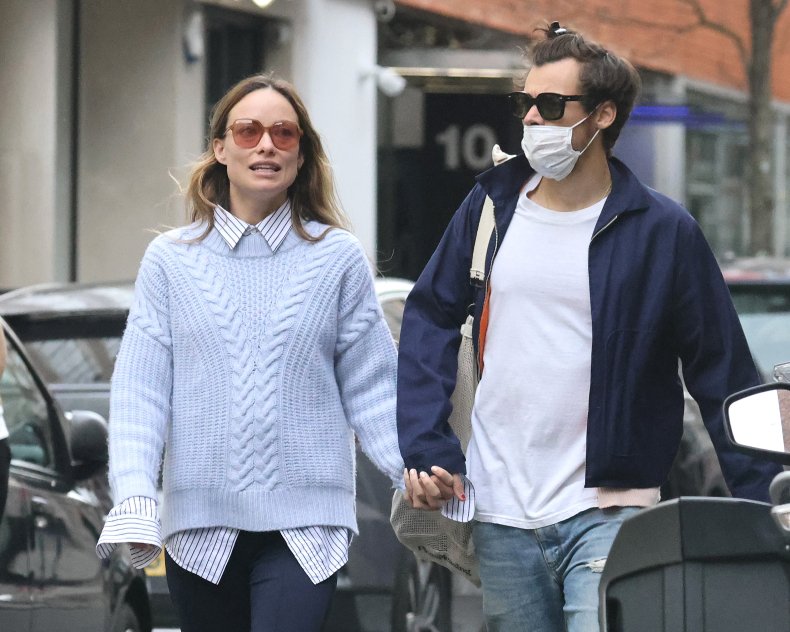 But the infidelity rumors, however unsubstantiated, didn't help Wilde's image. The Page Six report led Pugh to be perceived as the more honorable party, sticking up for the wronged Sudeikis. This, combined with her breakup from the 21-years-her-senior Zach Braff, started pushing the public to Pugh's side.
Wilde Plays up Film's Sex Scenes While Pugh Demurs
As the promotional tour for Don't Worry, Darling heated up, director Wilde was keen to use sex scenes between Pugh and male lead Harry Styles as a draw for audiences. Sexually suggestive promo materials led fans to obsess over the seemingly steamy film.
But soon, after a newly single Pugh expressed discomfort with the emphasis on eroticism, focus turned to whether or not the star was comfortable with how she was being portrayed.
"When it's reduced to your sex scenes, or to watch the most famous man in the world go down on someone, it's not why we do it. It's not why I'm in this industry," Pugh told Harper's Bazaar in August.
Shortly after, Variety published comments from Wilde saying she had wanted to show more sex in the film's trailer, not less. The Motion Picture Association, she said, "came down really hard" on the trailer and Wilde had to make cuts. "I thought they took it up another notch," she lamented of the cut scenes.
The dissonance wasn't lost on fans, who noted Pugh and Wilde's opinions on the film's themes didn't seem to align.
Pugh Is Dragged into Wilde's Dust-Up with Shia LaBeouf
The summer of Wilde's discontent rolled on as a certified beef with Shia LaBeouf played out publicly.
Wilde claimed she fired LaBeouf due to his "combative" attitude on-set. An anonymous source close to the beleaguered LaBeouf, however, released text messages and videos to Variety that appeared to show Wilde begging him to stay on. LaBeouf claimed he'd left the film due to frustration over lack of rehearsal time.
In a video LaBeouf provided, Wilde brings up Pugh and calls her "Miss Flo"—a nickname that has now stuck with Pugh throughout the ongoing drama.
"You know, I think this might be a bit of a wake-up call for Miss Flo," Wilde says in the video, "and I want to know if you're open to giving this a shot with me, with us. If she really commits, if she really puts her mind and heart into it at this point and if you guys can make peace—and I respect your point of view, I respect hers—but if you guys can do it, what do you think? Is there hope? Will you let me know?"
Some fans took this to mean that Wilde wasn't telling the full story about LaBeouf's departure from the film, and felt she was throwing "Miss Flo" under the bus to coax LaBeouf into staying on board. Pugh continued not to comment.
Pugh Pulls out of Press for Don't Worry, Darling
Pugh did not appear at press events for the film or answer questions about it at the Venice Film Festival. She was largely applauded online for sitting out the interview circuit, although a few detractors called her "unprofessional."
"If you have the privilege to headline (!) a studio film and you are already in town for the world premiere, doing the press conference is the bare minimum," one Twitter user wrote. Still, the majority of online commentators appeared to laud her decision.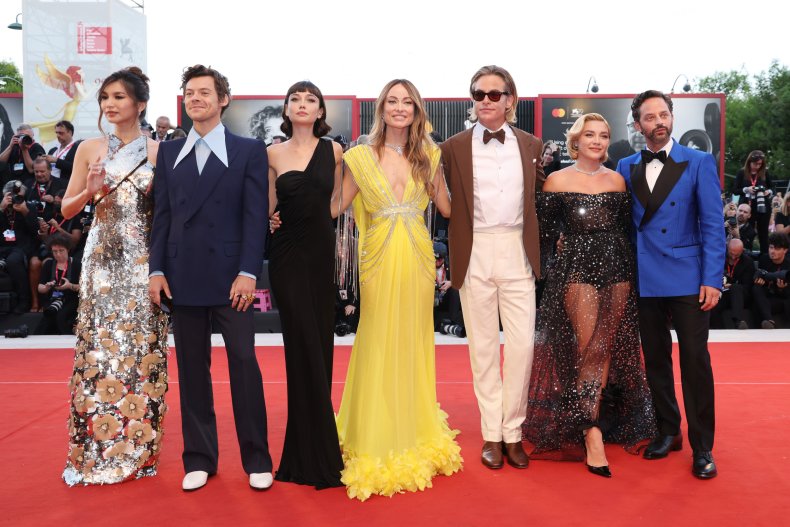 On September 5, Wilde and Styles arrived separately for a pre-premiere panel on the film where a reporter asked Wilde about the rumored feud between her and Pugh. She was gracious and complimentary to the star and chalked Pugh's absence up to a scheduling clash.
"Florence is a force, and we are so grateful that she is able to make it tonight, despite being in production on Dune," Wilde said. "I know as a director how disruptive it is to lose an actor even for a day, so I'm very grateful to her and Denis Villeneuve for helping us. We're really thrilled we'll get to celebrate her work tonight.
"I can't say enough how honored I am to have her as our lead," she continued. "She's amazing in the film and as for all the endless tabloid gossip and all the noise out there, I mean, the internet feeds itself. I don't feel the need to contribute. I think it's sufficiently well nourished."
Pugh's Purple-Clad Arrival Sparks Wave of Memes
Just as Wilde said Pugh couldn't fit the presser into her filming schedule, she arrived in Venice with a bang. Around the same time as the press conference, Pugh was photographed walking through Venice in a purple Valentino outfit.
Her appearance sparked hundreds of memes, with fans praising her blasé attitude in the face of alleged turmoil. "Miss Flo really said no to press but yes to looking fabulous in film festivals," one fan tweeted along with the clip of Pugh strutting her stuff. "Me when I finally listen to my therapist and start setting boundaries," said another.
Pugh Later Walks the Red Carpet in a Show-Stopping Gown
As the press conference wrapped up, Twitter was officially hooked on the drama as it unfolded in real time. Fans waited with baited breath for the film's cast and director to hit the red carpet. Pugh took up space in an unapologetically voluminous black and iridescent silver Maison Valentino gown.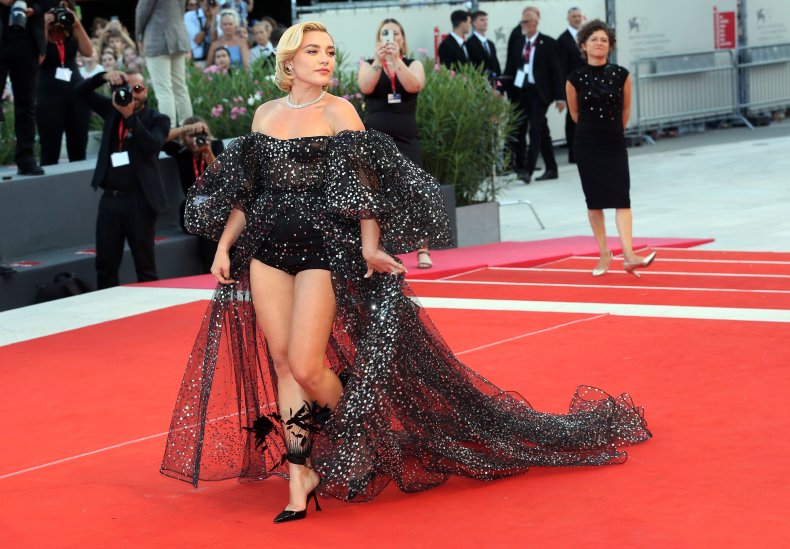 The online applause started immediately. Writer Mattie Kahn dubbed her a "quiet quitting icon," referencing a recent viral phenomenon that refers to the concept of doing the bare minimum at work just to stay employed.
Even Pugh's stylist got in on the virality. Rebecca Corbin-Murray posted photos of Pugh in the dress with the winking caption, "Miss Flo," a callback to Wilde's nickname for the star.
A Video of Pugh "Refus[ing] to Make Eye Contact" with Wilde Goes Viral
After the stars took their seats for the film's festival debut, observers couldn't help but notice the large distance between Wilde and Pugh as they watched the film. "whoever made this seating arrangement has planned a wedding with divorced parents," one Twitter user quipped.
After the movie—which most of the world won't see until its September 23 wide release—finished, audience members reported there was a standing ovation. But according to Variety co-editor-in-chief Ramin Setoodeh, Pugh "refuse[d] to make eye contact" with her director.
What's more, Pugh dashed for the door after about three minutes of clapping, per Variety.
Despite Middling Reviews of the Film, Pugh's Performance Wins Praise
It's not just the online peanut gallery handing Pugh plaudits. The BBC called the film "laden with half-baked ideas" but allowed that Pugh "does her best with the material." Time, meanwhile, praised Pugh for "giv[ing her character] some depth and sparkle, and there's never a moment you don't root for her."
Outside online cinephile haunts, though, Pugh's viral moments are all but overshadowing the film itself.