When 'Fortnite' Chapter 2, Season 7 Ends - And What To Expect From Season 8
Fortnite Chapter 2, Season 7 is now drawing to a close and will soon be replaced by the mysterious Season 8.
Here is everything that you need to know about the upcoming changes being made to the popular battle royale.
When Will Fortnite Chapter 2, Season 7 End?
Fortnite Chapter 2, Season 7 (which is technically the game's seventeenth season) began on Tuesday, June 8 and saw an alien race attempting a hostile takeover of the world.
Over the course of the next three months, this intergalactic war gradually escalated, with extra-terrestrial parasites infesting the island, entire regions of the map being ripped from the earth and even Superman himself jumping into the fray. Overall, it has been an incredibly busy season, one that has introduced plenty of unique mechanics and fun, sci-fi themed items.
The "Invasion" season is due to wrap up this weekend with the "Operation: Sky Fire" mission. This live event will see the Imagined Order (IO) make their ultimate move against the Kymera forces, by smuggling explosive devices aboard the mothership and then detonating them remotely.
How exactly this will play out remains to be seen, but players will have the option to experience it all first-hand on Sunday, September 12 at 4 p.m. ET. Once the event has concluded, Season 7 will officially end and the Fortnite servers will be taken down while the version 18.00 update is rolled out.
As such, you will have until 4 p.m. ET on Sunday, September 12 to take care of any unfinished business you will have with the "Invasion" season. Once that deadline has elapsed, any leftover battle pass rewards will be vaulted and your progress with outstanding quests will be irretrievably lost.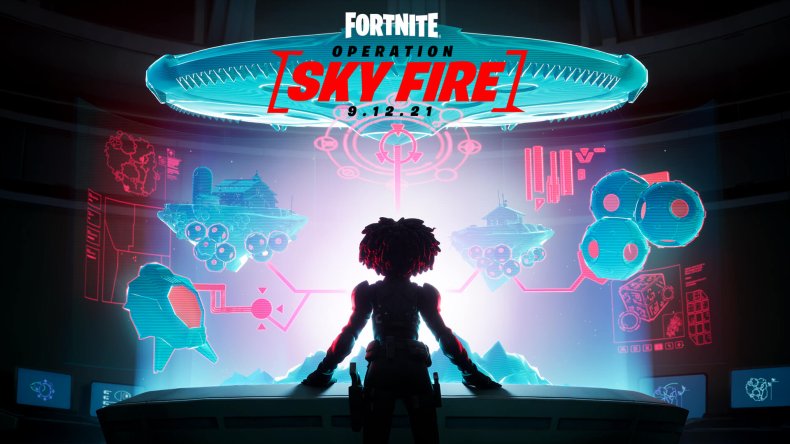 What To Expect From Fortnite Chapter 2, Season 8
Although a release date has not yet been officially announced, many expect that Fortnite Chapter 2, Season 8 will begin on Monday, September 13, the day after "Operation: Sky Fire".
In terms of what the new season will bring, details are surprisingly scarce at the time of writing.
In the lead up to Season 7, it felt like we knew nearly everything about what was in store for the game. For example, it was common knowledge that aliens would be central to the theme and that we would be getting appearances from the likes of Superman and Loki.
Developer Epic Games was also incredibly active on Twitter at the time, dropping subtle (and not so subtle) hints about the upcoming content.
In contrast, when it comes to Season 8 the official channels have been much quieter. Fortnite's recent social media posts have all revolved around either "Operation: Sky Far" or the latest additions to the item shop, and there has been very little in the way of teasing what is next.
For even the vaguest hints of what is to come, we must instead turn to reliable data miners like HYPEX. This community member has leaked accurate information about Fortnite in the past and, according to one of their latest tweets, they known a bit about what we can expect to see from Season 8.
Namely, HYPEX mentions that there will be Halloween themed content around October (with monsters being added to the island), as well as a new point of interest in the form of a pyramid structure. They also forecast the return of the legendary Kevin the Cube and a corresponding outfit.
HYPEX claims that Naruto might be added to the game as an unlockable skin too, which is a prediction that has been corroborated by other dependable leakers like @ShiinaBR and @qCandywing. To accompany the manga costume, it is also alleged that exploding kunais will be added to the weapon roster for Season 8.
As you can see, there does not appear to be any unifying theme behind all this rumoured content (like there was with the alien invasion or the dinosaur-centric "Primal" season). Indeed, there is a mixture of both Halloween and anime elements here, and there is even the suggestion that we might get to see flying animals roaming the map as well.
Regardless, it should not be too long now before we get to find out something more concrete about Season 8 of Fortnite, as the update is now rapidly approaching.