'Fortnite' Week 8 Secret Battle Star Banner Location & Hunting Party Loading Screen
Fortnite 's Week 8 Challenges are live, and that means another Secret Banner is up for grabs. Even though the Hunting Party skin was officially available to unlock last week, this most recent banner offers a possible chance to unlock the A.X.E. Pickaxe at the end of the season. Per usual, let's detail the Week 8 Challenges and reveal the location of the Secret Banner using the Loading Screen.
How to Unlock the Week 8 Hunting Party Secret Banner
As has always been the case with these sorts of season-wide tasks, the Secret Banner only appears if you've completed every Week 8 Challenge. In case you don't know what they are, here's a list with links to relevant guides.
Free Challenges
Stage 1: Visit Lonely Lodge and Retail Row in a single match.

Stage 2: Visit Junk Junction and Pleasant Park in a single match.
Stage 3: Visit Flush Factory and Fatal Fields in a single match.
Stage 4: Visit Haunted Hills and Lazy Links in a single match.
Stage 5: Visit Tomato Temple and Shifty Shafts in a single match.

Dance with a Fish Trophy at different Named Locations (seven) [Guide].
Six Shooter or Heavy Assault Rifle Eliminations (two) [Hard].
Battle Pass Challenges
Get a score of three on different Clay Pigeon Shooters (three) [Guide].
Get Trick Points in a vehicle (250,000).
Visit different Named Locations in a single match (four) [Hard].
Stage 1: Use Grappling Hook [Hard].

Stage 2: Use Launch Pad [Hard].
Stage 3: Use a Rift [Hard].
Once you complete all these challenges and their respective stages, you'll see this Loading Screen. As you can see, the Banner is engraved on the chimney of the building behind A.I.M. That clue tells us where to go.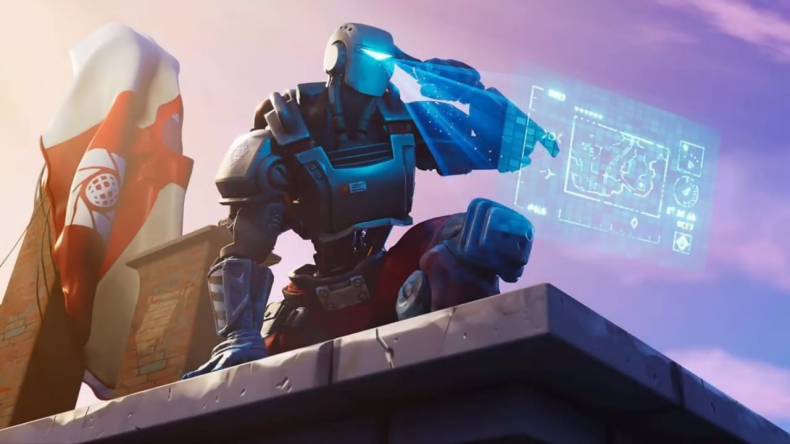 The Week 8 Secret Banner Location
To locate the banner, all you have to do is go to the location of A.I.M.'s parachute in Flush Factory. If you don't know where that is, here's what it looks like on the map.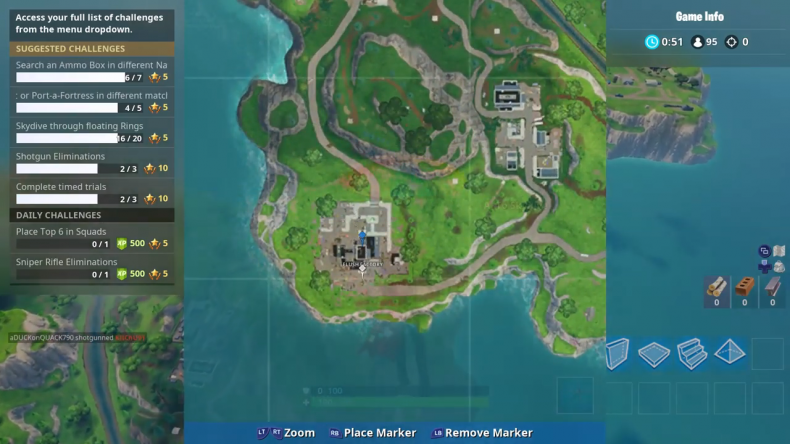 The Banner should be around the Chimney on the roof.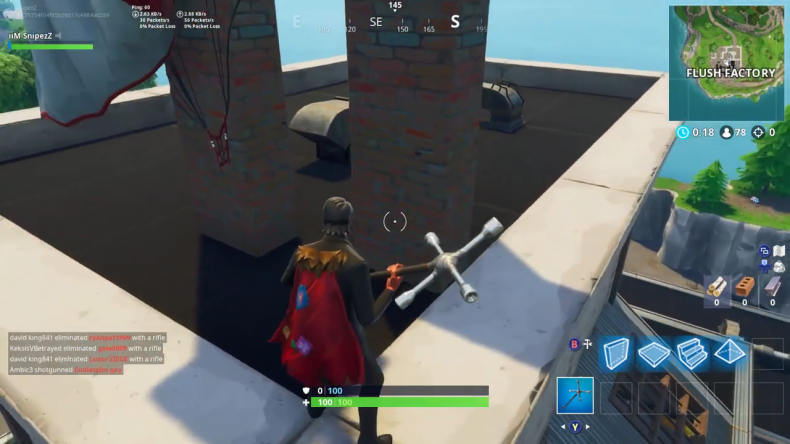 That's all you need to know about this week's Hunting Party Secret Banner. In case you missed locations for past weeks, we have those as well.
Fortnite is available now on PS4, Xbox One, Switch, PC and mobile. The secret banner location is the same on all platforms.
What's your take on the latest Secret Banner and Loading Screen? Have you completed every challenge so far? Tell us in the comments section!