Gambia's Election Result Is a Sign of Democracy Advancing in Africa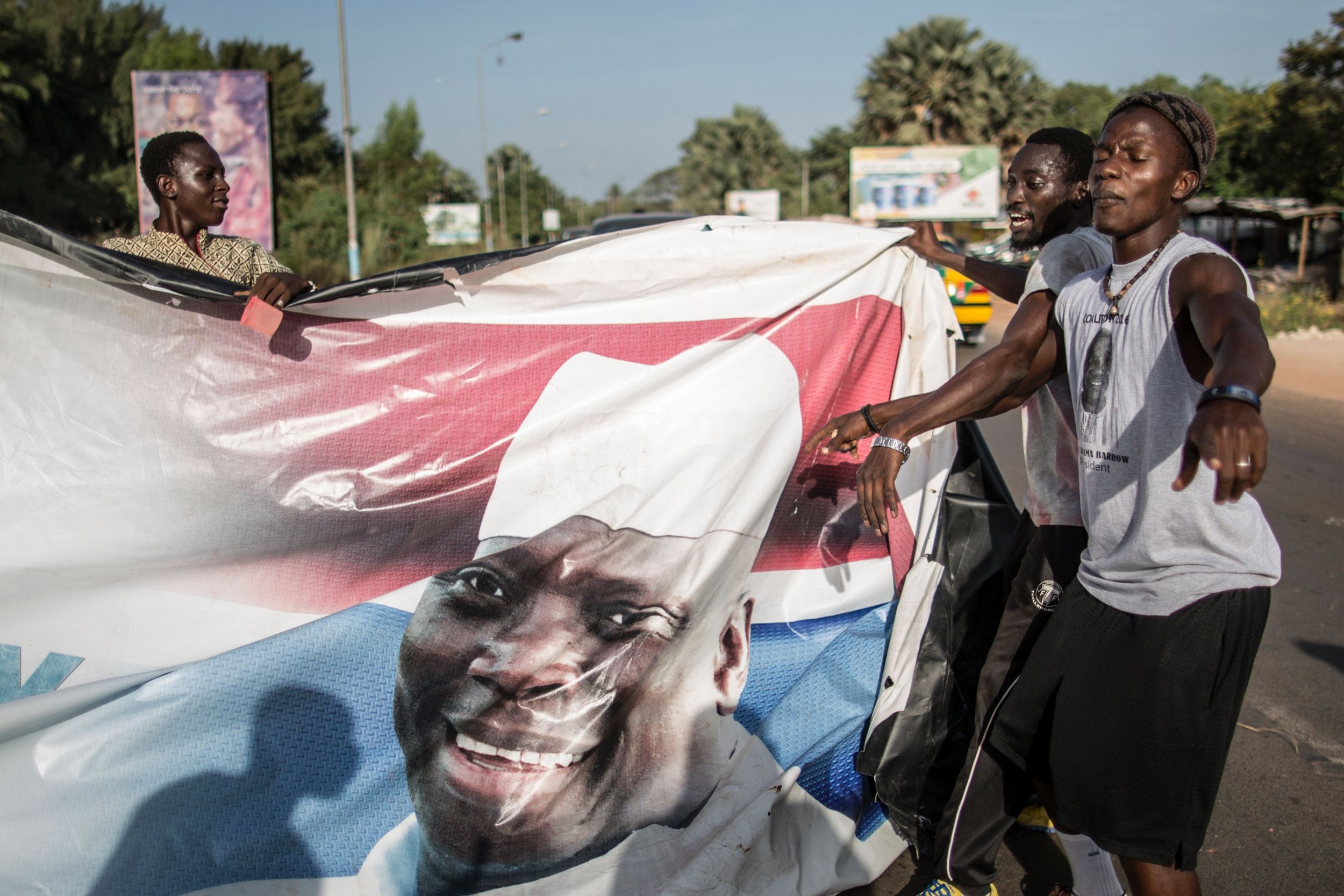 The news that Gambia's President Yahya Jammeh had conceded defeat following elections on December 1 added to my list of failed predictions in 2016—Brexit and Donald Trump's victory in the U.S. presidential election also made the growing list.
For 22 years, Jammeh ruled with increasing ruthlessness in Gambia, one of the smallest nations in the world. The European Union and the regional body, the Economic Community of West African States (ECOWAS), did not even monitor the Gambian elections, with the latter concluding that there was little point in doing so. That was my view too. Only the African Union (AU) thought it worthwhile to send observers and, according to one of those who led the last mission there for the 2011 elections, staying away is not prudent. Reading between the lines of the AU report on those elections, it showed that if the opposition could unite and the electorate ignored the fear factor, an electoral upset could occur.
That is what occurred in Gambia: the opposition united, bringing block votes of two of the biggest ethnic groups, and an electorate already inoculated from fear by years of repression dared to dream of change came out and voted, helped this time around by the introduction of on-the-spot counting. The bravery of the Independent Electoral Commission to clearly state the results in a timely fashion when counting showed a decisive win for opposition candidate Adama Barrow.
Fatigue after more than two decades of Jammeh's rule and a stagnant economy appears to have driven this process and convinced the security forces—who had helped Jammeh survive at least four coup attempts—to stand by and let the will of the electorate prevail.
This unexpected result in Gambia puts pressure on others in the region, such as Togo. ECOWAS tried in 2015 to introduce a binding norm that its leaders would only serve two terms, but unsurprisingly, Gambia and Togo were in opposition. Togo's President Faure Gnassingbé was re-elected for a third term in April 2015, but attempts by other incumbents to stay in power have failed. The most dramatic example of this popular rejection of an overreaching head of state was in Burkina Faso, when Blaise Compaore—who took power in 1987—attempted to scrap presidential term limits in 2014 and was driven out of power by mass protests. Coalitions of activists and political interest groups have in recent years successfully rejected efforts by presidents to extend their terms in Malawi, Mozambique, Nigeria, Senegal and Zambia.
Sub-Saharan Africa is vast, and ECOWAS is advanced in comparison to Central Africa and its Great Lakes region, where presidents are changing constitutions and seeking long-term mandates: in Burundi, for example, President Pierre Nkurunziza announced his decision to seek a third term in April 2015, prompting an outbreak of violence that has killed hundreds and still rumbles on. Elsewhere in Africa, in places such as Equatorial Guinea, Chad, and Republic of Congo, we should not expect a Gambia-style result soon.
But pressure for political change is growing, as Ethiopia's current internal crisis suggests: the government, led by the Ethiopian People's Revolutionary Democratic Front since 1991, has seen major protests in the Oromia and Amhara regions since November 2015, which the government has dealt with brutally. There have been setbacks in 2016: the arrest of opposition leader Kizza Besigye in Uganda, for example, after President Yoweri Museveni was re-elected in February to extend his 30 years in power. Election violence in Gabon in September resulted in the burning down of the national assembly after allegations of rigging, and there was deadly violence in the run-up to Zambia's election in August.
Change is also on the way in southern Africa, in particular heralded by Angolan President José Eduardo dos Santos, the world's second-longest serving head of state—after President Teodoro Obiang of Equatorial Guinea—indicating he will finally step down in 2017 after 37 years in power. His reportedly anointed successor, Angola Defense Minister João Lourenco, could usher in a new era if the ruling MPLA win the 2017 elections. Dos Santos stepping down would put further pressure on Robert Mugabe, the world's oldest head of state at 92 years old, whose rule of Zimbabwe since 1980 is surely coming to a close soon as factions of his ZANU-PF party fight over who will succeed him.
Related: Can the Catholic Church stop Congo violence?
Democratic advances since the 1990s in Africa are not linear: there are peaks and troughs, but the direction is clear. There are more elections, more regularly; only Eritrea has not held an election since its independence in 1991. There have been democratic advances in 2016 in Gambia, South Africa, Cape Verde and, hopefully, in elections in Ghana on December 7. Election observers from ECOWAS, the AU, the Commonwealth Observer Group and others are watching Ghana's election closely.
The overall message is clear: Africans want increased accountability of their leaders and are increasingly challenging them. Presidents who have overstayed their tenures—such as Paul Biya in Cameroon, who has ruled for 34 years, and Equatorial Guinea's Obiang, who has been in power for 37 years—will increasingly feel the pressure to step down. The decision by President dos Santos to step down in 2017 after 37 years in the job is a watershed moment, but so is the result in Gambia, which shows that democracy can prevail and change can come.
Alex Vines OBE is head of the Africa Program at Chatham House and senior lecturer at Coventry University.