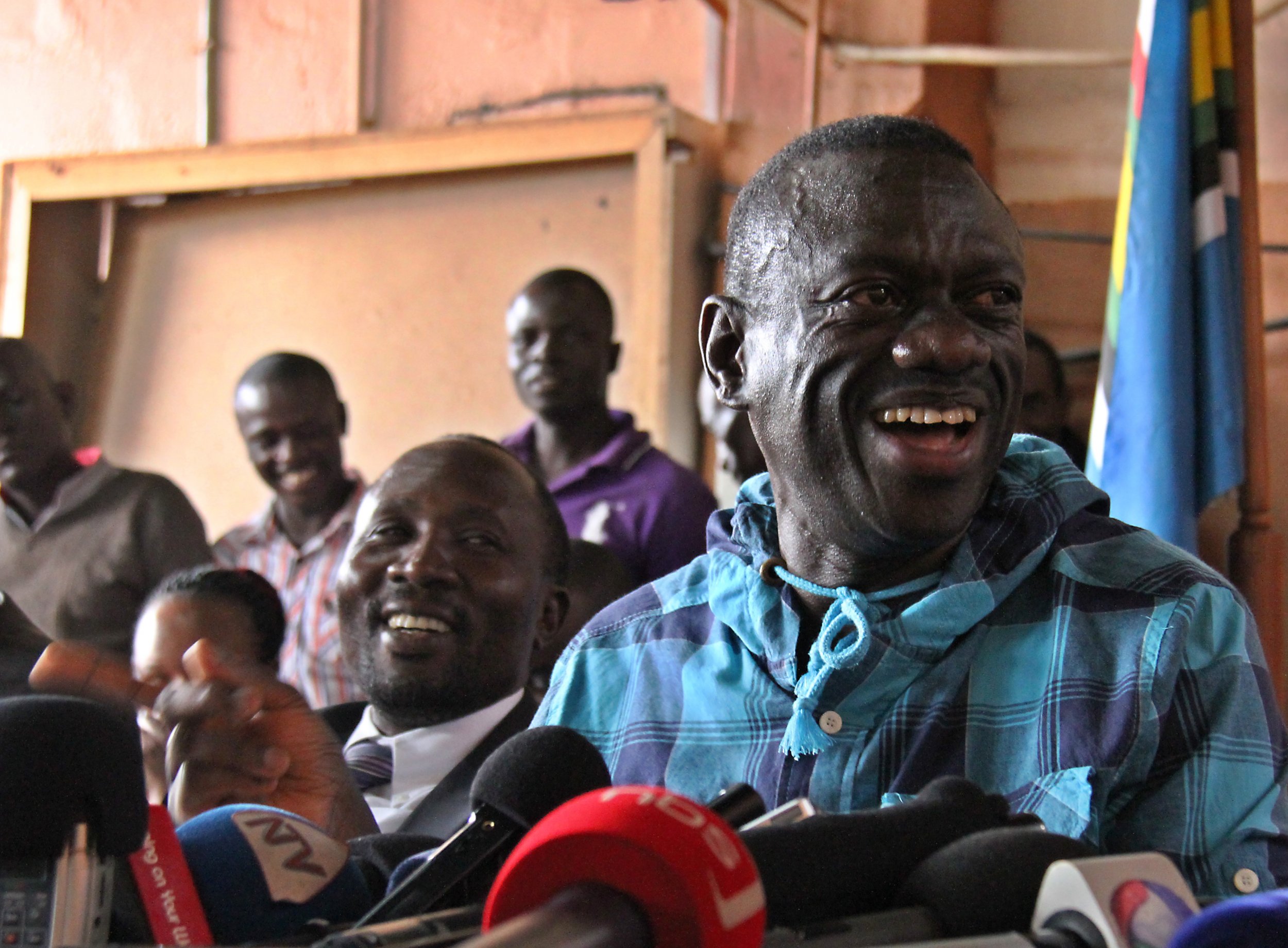 I am on my first trip outside Uganda since the February 18 general election, in which I was a presidential candidate for the fourth time. In order to make the trip to London, I had to secure permission of the Ugandan High Court, since this court released me—from a maximum-security prison—on bail in August on conditions that had to be adjusted to enable me travel.
I am charged with treason, a capital offence punishable by death in Uganda. The particulars of the offense are that I declared myself as the winner of the February election and later swore myself in as the elected president. This came after the Ugandan electoral commission had announced the incumbent Yoweri Museveni as the victor in controversial circumstances that were criticized by, among others, the European Union and United States.
The leadership and political management of our country Uganda, just like that of most African countries, has been chronically problematic. Our country has never seen a leader hand over power peacefully to another. We have only known violent changes of government.
When Yoweri Museveni led us to take arms against the second regime of Milton Obote—after what was widely believed to be a rigged 1980 election—we were convinced that we were fighting a just war: a war to end impunity; a war to establish the rule of law; a war to end the corrupt and sectarian tendencies of past regimes; and to engender a democratic dispensation. We believed that it was a war to end all wars.
Museveni himself recognized and wrote in his essays that the main problem of African countries was political mismanagement and, especially, leaders who didn't want to leave power.
Indeed, the Museveni regime started with a lot of promise. Reforms led to considerable economic recovery; some of the worst human rights abuses of previous regimes were not witnessed; more children were going to school and getting immunized; the AIDS epidemic was effectively controlled; and some infrastructural programs were being implemented.
After more than 30 years of Museveni rule, however, it has become difficult to distinguish the regime from its predecessors. Uganda remains one of the poorest and most corrupt countries in the world—our country was ranked 139 out of 168 nations in Transparency International's 2015 Corruption Perceptions Index. It is also one of the most unequal, where top government officials are flown abroad for medical treatment but 16 Ugandan women die in childbirth each day.
Human rights abuses, like we saw under Idi Amin and Obote, have returned under Museveni, changing only in form, but not in substance. Human Rights Watch, Amnesty International, Freedom House and other outside bodies have, over the years, detailed these widespread abuses, including detention of suspects without trial, torture, disappearances, killings and suspicious deaths, the shooting dead of unarmed protestors, military raids on civilian courts, and the charging of civilians in military courts.
Under Museveni, corruption has become the way Uganda works, not the way it fails. The stench of corruption seems to go to the top. We now have in Uganda—a supposedly constitutional republic—a government where Museveni's son runs the military, his wife is the education minister, his brother-in-law is the foreign affairs minister, and his brother is the Mr Fix-It-All (officially, in charge of "wealth creation"). Many other Museveni relatives and cronies manage the vital institutions of the state.
Underpinning all this is the erosion of constitutionalism and the hollowing out of institutions on which democratic values of justice, accountability, and rule of law are built. Museveni ascended to power by military might. He has retained the power through the unchecked control and abuse of state institutions and resources. Electoral processes are manipulated by, inter alia, bribing and intimidating voters, stealing ballots, jailing opponents on trumped up charges, shutting down independent media, repressing civil society and allowing his National Resistance Movement ( NRM) "party" to leech off state resources.
Some 70 percent of all Ugandans today were born during Museveni's reign as president. Uganda has one of the youngest populations in the world, with almost 50 percent of population below the age of 15 years old. An entire generation of smart, young Ugandans is straining at the leash, their abilities and potential held back by the short-sighted and narrow view of an imperial president who came to power before the Internet had been invented.
Between 62 and 83 percent of young people in Uganda are unemployed and desperate as to their survival. Money that would be empowering them with relevant skills, undertaking public investments that provide jobs and increase public goods and services, or supporting the hugely underdeveloped agricultural potential, is instead spent on renting political support and securing regime survival.
Uganda is a uniquely endowed country, with fertile soils, plenty of fresh water and natural resources, including oil and gas. Yet this young country is saddled with a tired, old, corrupt dictatorship and remains one of the poorest in the world.
It is against this background that a popular defiance campaign was started in 2011, after another rigged election. In spite of unprecedented police brutality, the campaign has continued to gain momentum. Our 2016 campaign was premised on "winning by defiance and not compliance." Young people have gained confidence to defy the injustices of the Museveni dictatorship.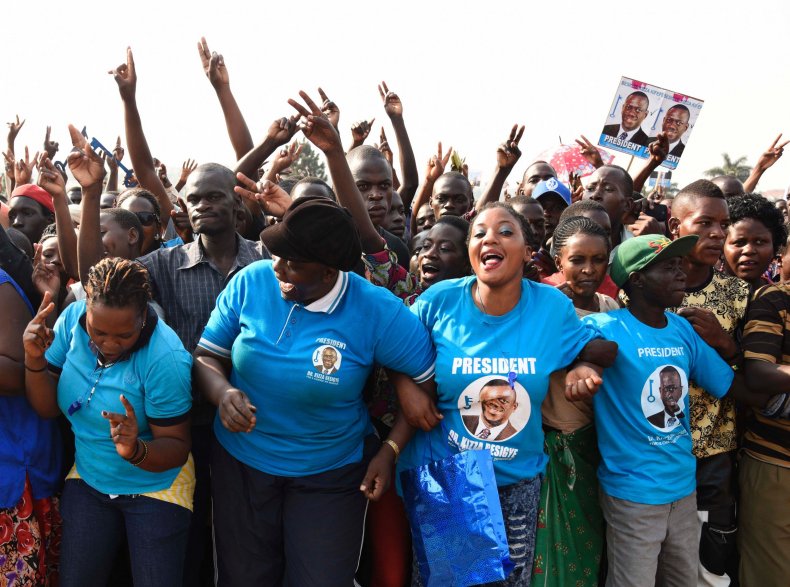 It's that defiance campaign that delivered an electoral victory to us, in spite of the monumental challenges outlined earlier. We have incontrovertible evidence that our Forum for Democratic Change (FDC) party won by 52 percent of the vote. It is that victory that constituted the charge of treason that I am facing. I am very optimistic that Ugandans are on the verge of regaining control of their country and resources from a junta run by a small cabal of corrupt and incompetent cronies.
Regrettably, for the most part, the international community has been conspicuously quiet about the corruption, abuse of human rights and dictatorship in Uganda. Ten years after Museveni manipulated the constitution to abolish presidential term limits, he's once again plotting to remove age limits, without which he would be barred from being a candidate in 2021.
This is the time for the international community to stand with the young people of Uganda in their effort to have a non-violent transition from the Museveni regime. It is possible and vitally important to avoid the path that several of the countries in our neighborhood have trod. God bless Africa.
Kizza Besigye is the leader of the Forum for Democratic Change and was a presidential candidate in Uganda's 2016 general election.