Where Gun Control Movement Won, Lost in Tuesday's Elections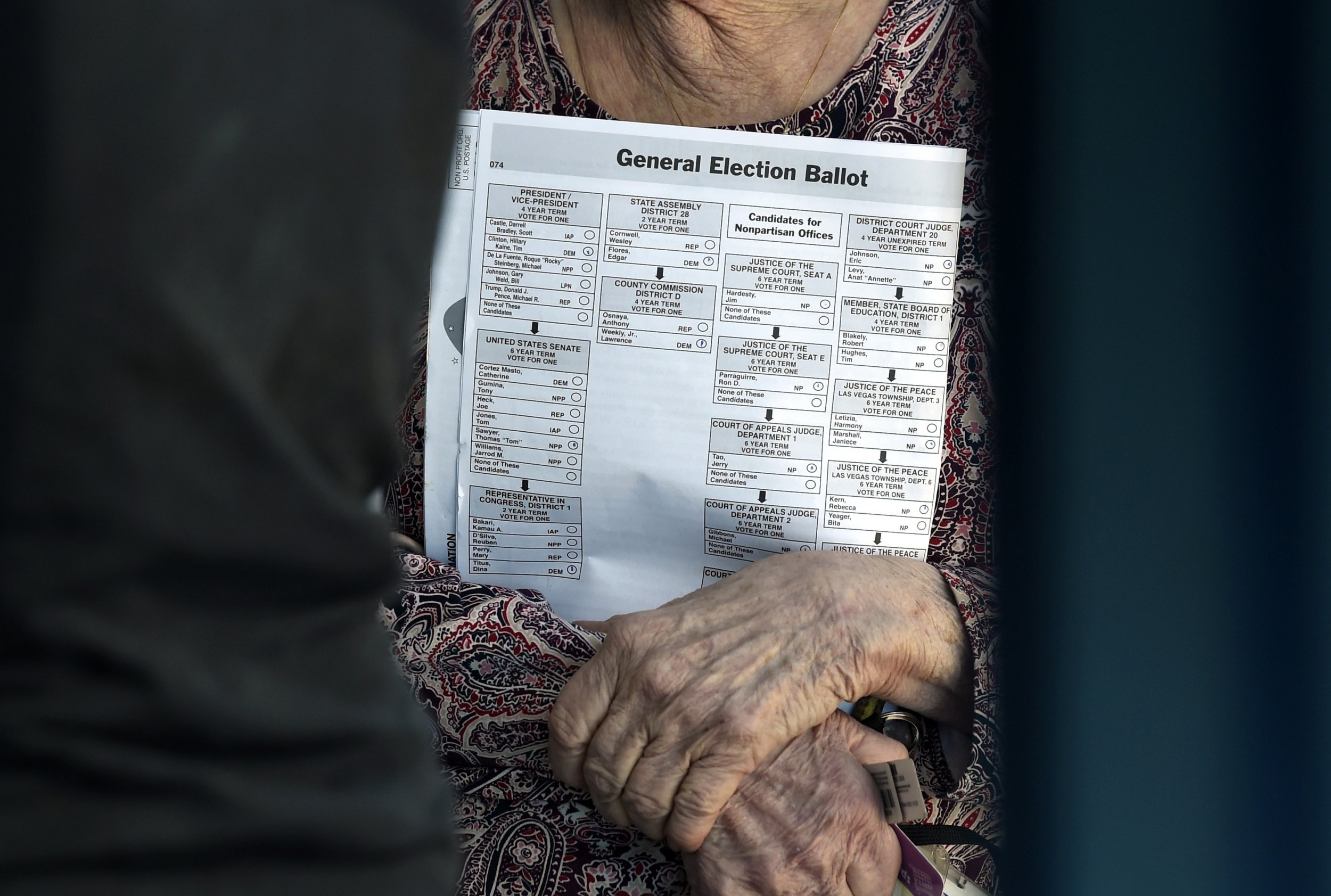 Following the success of gun-safety ballot initiatives in Tuesday's elections, Americans in a total of 19 states soon will live in areas that have expanded criminal background checks.
The gun-control movement scored victories Tuesday in Nevada, Washington state and California, but lost in Maine. There were mixed results among voters in Maine and Nevada, largely rural states with long-standing traditions of gun ownership. Residents there voted on ballot initiatives that sought to expand background checks to private gun sales and transfers, including at shows and on the internet. The measure won by a razor-thin margin in Nevada (50.4 percent to 49.6 percent, according to the Associated Press), but was narrowly defeated in Maine (51.9 percent to 48.1 percent).
Federal law requires licensed firearms dealers to perform background checks on prospective purchasers and to maintain records of the sales. But unlicensed private sellers—online and at gun shows, for example—are not required to observe the same policies.
This was the first presidential election since 20 first-graders and six educators were killed at Sandy Hook Elementary School in Newtown, Connecticut. Since that shooting in December 2012, eight states have passed or strengthened background checks laws, bringing the total number of states to do so to 19, plus the District of Columbia. The win in Nevada marks an important turning point: Nearly half of Americans now live in states that have expanded criminal background checks to private sales.
Also on Tuesday, Washington state approved a measure that will allow authorities to temporarily seize firearms when an individual is deemed a threat to safety. And voters in California, which already has some of the country's toughest gun laws, embraced a measure that, among other things, would require background checks for those who buy ammunition and prohibit possession of large-capacity ammunition magazines.
Gun safety advocacy groups, including Everytown for Gun Safety, had poured millions of dollars into these initiatives to counter the National Rifle Association. As other conservative groups backed away from the candidacy of the Republican nominee and now president-elect, Donald Trump, the NRA spent more than $30 million to bolster his campaign, with the goal of electing a pro-Second Amendment commander in chief.
While the gun control movement was celebrating its victories, it was shocked by Trump's defeat of Hillary Clinton in the presidential race. Many viewed Clinton as a candidate who would have fought for universal background checks at the federal level and to prevent criminals, domestic abusers and others who pose a threat to public safety from obtaining firearms.
Beginning on January 20, Republicans will have firm control of the White House, the House and the Senate. Trump, whom the NRA endorsed in May, has promised to dismantle President Barack Obama's key firearms policies. This includes undoing Obama's executive actions on gun laws that he announced in January to streamline the background checks system and set gun-free zones in schools and on military bases. Before the election, gun company stocks gained amid concern that firearms might be harder to buy under another Democratic White House. In early trading Wednesday, after Trump won the presidency and that concern had subsided, gun manufacturers' stocks plunged.
Before Election Day, Connecticut Senator Chris Murphy, one of the Democrats' most outspoken voices against gun violence, told Newsweek that the state gun referendums were "a way to go over the heads of a broken political system and get something done," saying the system has been hijacked by special interests. Advocates viewed the referendums as the next best option to federal action to advance stronger gun laws, considering Congress has remained in gridlock following several high-profile shooting massacres, including at Sandy Hook in 2012 and at a nightclub in Orlando, Florida, in June.
Still, the advocates vow to continue marching state-by-state with the hope of making legislative changes on gun laws. Shannon Watts, founder of Moms Demand Action for Gun Sense in America, which now is part of Everytown, tweeted Wednesday that grass-roots advocates have "built the machinery and the momentum to take on the NRA, and for now we have to hold the line." Kate Folmar, Everytown's deputy communications director, tells Newsweek the fight to save American lives from gun violence is a long game. Despite a loss in Maine, she says, "in this round, we made gun safety a central issue."