Taiwan Could Be First Domino in Chinese Land Grab Across Asia
The People's Republic of China (PRC) justifies the potential use of force against Taiwan because it views the island nation as part of its territory, its return a "historic mission" that has been glorified by successive Chinese Communist Party (CCP) leaders.
After Texas Senator John Cornyn warned Congress this week that a hostile takeover of the democratic island—and its 23.5 million people—would be the first step in China's quest for world supremacy, experts discussed with Newsweek wider implications for the United States and a postwar Asian regional order that has held for more than seven decades.
There are two lines of inquiry that follow the question of "what comes next?" after a successful Chinese military operation to occupy Taiwan. Both center on expanded interpretations of the American geopolitical "domino theory," which once referred to the fears of communism spreading throughout Asia during the Cold War and today might apply to an expansion of China's territorial boundaries and its sphere of influence in the region and beyond.
"If China is able to capture Taiwan, there's no reason to believe that the Chinese Communist Party would stop there. China also has territorial claims against the Philippines, Japan, Vietnam and India," Cornyn said on the Senate floor on Tuesday while endorsing stronger deterrence in the Taiwan Strait.
He added: "We shouldn't view Taiwan as the CCP's ultimate goal but as the first domino in a quest to reach regional and global dominance. If Taiwan falls, it will not be the end, but rather a beginning."
Of the many options available to China—a missile barrage, seizing outlying islands, a naval blockade or even a surprise decapitation attack against the Taiwanese leadership—a full-scale amphibious assault remains by far the riskiest. According to the Project 2049 Institute's Senior Director Ian Easton—author of 2017's The Chinese Invasion Threat: Taiwan's Defense and American Strategy in Asia—the unprecedented landing operation would require upwards of two million People's Liberation Army (PLA) troops and accompany military vehicles and equipment.
During a parliamentary session last month, Taiwan Defense Minister Chiu Kuo-cheng told Taiwanese lawmakers that China was already capable of attacking Taiwan, but its "cost and attrition" would be lowest after 2025.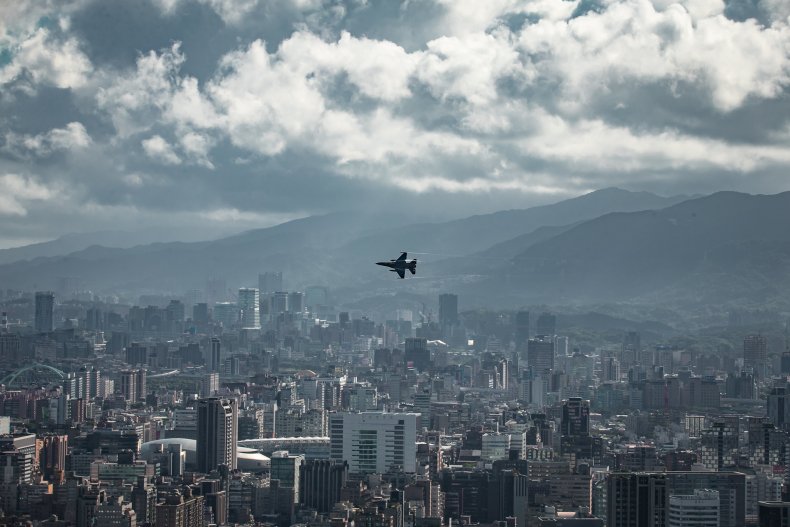 Taiwan's important geostrategic position at the center of the first island chain is well documented, and there are now more public discussions among defense planners about what a Chinese-controlled Taiwan would mean for American security interests.
PLA naval forces assigned to the East and South China seas currently have few obvious routes into the Western Pacific, where Chinese nuclear-powered ballistic missile submarines might threaten Guam, Hawaii and then eventually the continental U.S. The Bashi Channel (between Taiwan and the Philippines) and the Miyako Strait (between the Japanese islands of Miyako and Okinawa) are the most direct international waterways China's navy might use to thread the first island chain.
It is around these critical chokepoints that analysts believe American-led military intervention or China's anti-access/area denial (A2/AD) tactics could turn the tide in a conflict between the PLA and Taiwan's armed forces, which are not likely to survive a lengthy war of attrition that turns from weeks into months.
In spite of President Joe Biden's personal intentions and bipartisan support for Taiwan in Congress, the U.S. has not been legally bound to defend the island since the 1955 Sino-American Mutual Defense Treaty expired in 1979, the year Washington switched formal diplomatic allegiances from Taipei to Beijing—and yet the U.S. remains Taiwan's staunchest international backer.
Retired U.S. Marine Col. Grant Newsham, now a senior research fellow with Tokyo's Japan Forum for Strategic Studies, agrees with Cornyn's grim projection.
"The PRC might indeed try to grab some more territory—say from Japan, India, the Philippines, Indonesia or Malaysia," said Newsham, who was the first Marine Liaison Officer to the Japan Self-Defense Forces.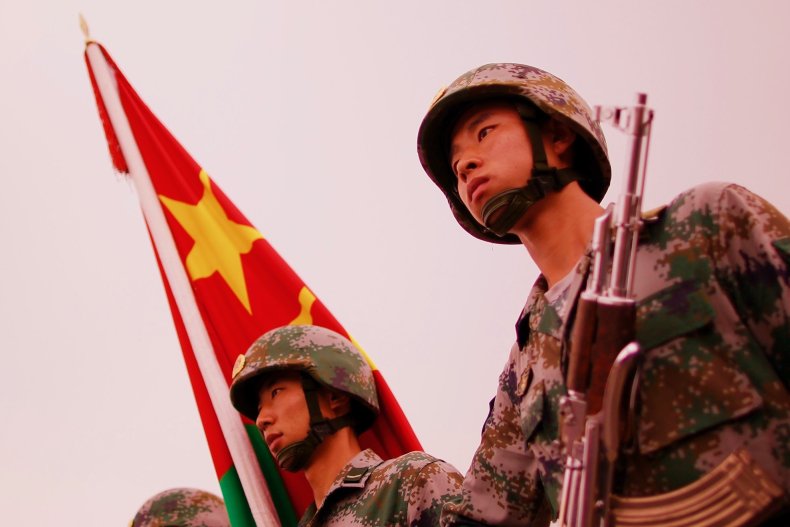 But China doesn't have to seize more territory in order to exert control and influence over its neighbors. A successful Chinese takeover of Taiwan would in itself have far-reaching consequences for the postwar American "hub-and-spokes" alliance system in Asia, where the U.S. has as yet untested defense treaty commitments to Japan, South Korea, the Philippines and Australia.
Amid the rapid growth of PLA capabilities and the CCP's expansionist tendencies under Chinese leader Xi Jinping in the last decade, the U.S. has had to publicly guarantee the defense of Manila's forces in the South China Sea and reassure Tokyo it would intervene during an attack on the Japan-controlled Senkaku Islands.
Newsham said there would be "immense political fallout" if the PRC seized Taiwan under America's watch. "Most of Asia will 'turn red' almost overnight. Every country but Japan and Australia will immediately cozy up to China and try to cut the best deal they can—in hopes of being sort of left alone."
"The Japanese and Australians will be rattled and terrified about what comes next for them," he added. "American credibility will be destroyed in the Asia-Pacific and globally as well."
These same sentiments were expressed during the March confirmation hearing of Adm. John Aquilino, who now leads U.S. Indo-Pacific Command. He told the Senate Armed Services Committee that conflict in Taiwan would impact the "status of the United States" in the eyes of its allies and partners.
In a report for the Washington, D.C.-based Center for Security Policy in February, in which Newsham warned of potential "cascading effects" if Taiwan were to fall, he wrote: "And if the Americans couldn't stop the Chinese, who would, or even could?"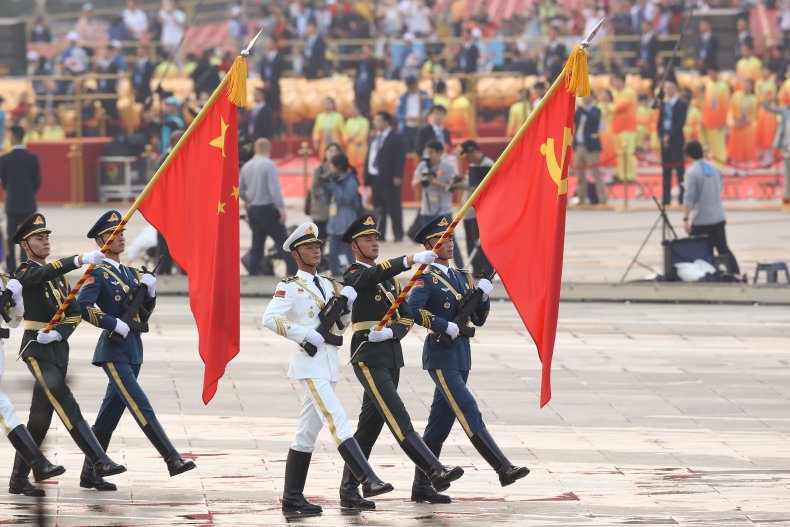 In such a vision of the future, Southeast Asian nations, especially those whose maritime territorial claims overlap with China's, would no longer believe in any realistic dispute settlement mechanism. The Association of Southeast Asian Nations could also kiss goodbye any hopes of drawing up a fair and effective code of conduct for the South China Sea.
But the question of whether Asia "turns red" is one not only of China's overwhelming capabilities, but the CCP's ambitions, too.
Dr. Hung Tzu-chieh, an assistant research fellow at the Institute for National Defense and Security Research in Taipei, describes Senator Cornyn's version of the"domino theory" as plausible.
"Because if the CCP successfully takes over Taiwan, it would signify its ability to become a hegemon," the analyst said. "Since the CCP runs a totalitarian state, as long as a future CCP leader wills it, it's certainly possible for it to seize disputed territories from other countries."
Cornyn's remarks can be interpreted from the perspective of the CCP's future world order, Hung argues. Xi's "Chinese Dream" envisions peace, development, cooperation and win-win for China and others including the U.S.
"But in a world where the CCP rules supreme, its so-called peace, development, cooperation and win-win must all be suffixed 'with Chinese characteristics,'" he said.