If Iran Deal Fails, U.S. Will Find Another Way To Deal With Nuclear Weapons Program, Top General Says
Updated | One of the U.S.'s most senior military officials expressed support Tuesday for a nuclear deal that was struck between the U.S., Iran and other leading world powers in 2015 and has since been opposed by President Donald Trump and some members of his administration.
Army General Joseph L. Votel, head of the U.S. Central Command, told lawmakers that he agreed with other top Pentagon figures, including Defense Secretary James Mattis and Chairman of the Joint Chiefs of Staff General Joseph Dunford, who also have backed the landmark nuclear agreement. Trump cited Former Secretary of State Rex Tillerson's support for the deal, known officially as the Joint Comprehensive Plan of Action (JCPOA), as a reason for the top diplomat's surprise sacking Tuesday.
Related: Trump Could Still Start a War With Iran and North Korea After Renewing Nuclear Deal
As Tillerson was replaced by CIA Director Mike Pompeo, a vocal opponent of the JCPOA, Votel warned that a breakdown of the deal would mean the U.S. needed to find another solution to address accusations that Iran was planning to build nuclear weapons, charges that Tehran has vehemently denied.
"The JCPOA addresses one of the principle threats that we deal with from Iran, so if the JCPOA goes away then we will have to have another way to deal with their nuclear weapons program," Votel said, according to Reuters.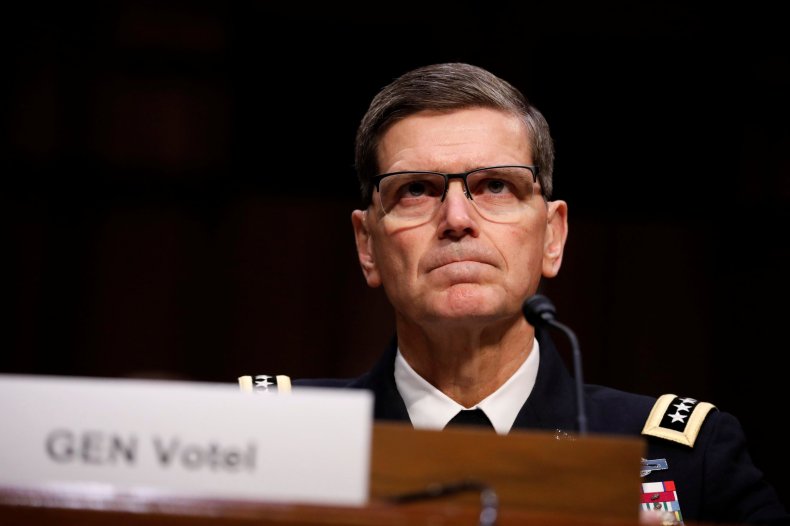 While the United Nations has found Iran to be in total compliance with the agreement at least 10 times and the State Department—headed by Tillerson—also found no violations, Trump has called the deal "one of the worst" and "an embarrassment" because he believed it failed to rein in Iran's ballistic missile development and support for groups accused by the U.S. of destabilizing the Middle East.
Trump decertified the agreement in October and, while he did renew it in December, he warned that "this is a last chance" unless Iran changed course. Iran has maintained that it would not renegotiate the deal, which it brokered under former President Barack Obama with the U.S., as well as China, France, Germany, Russia and the U.K. All of the deal's other signatories have urged Trump to not break the agreement.
While Tillerson and Trump had long been rumored to be at odds, with the men appearing to even publicly challenge, contradict and undermine one another at times, it appeared to be the former Exxon Mobil chief's support for the Iran deal that left him without a job on Tuesday.
"Rex and I have been talking about this for a long time. We got along actually quite well, but we disagreed on things," Trump told reporters, according to CNBC.
"When you look at the Iran deal, I think it's terrible, I guess he thought it was OK. … So we were not really thinking the same. With Mike Pompeo, we have a very similar thought process. I think it's going to go very well," he added.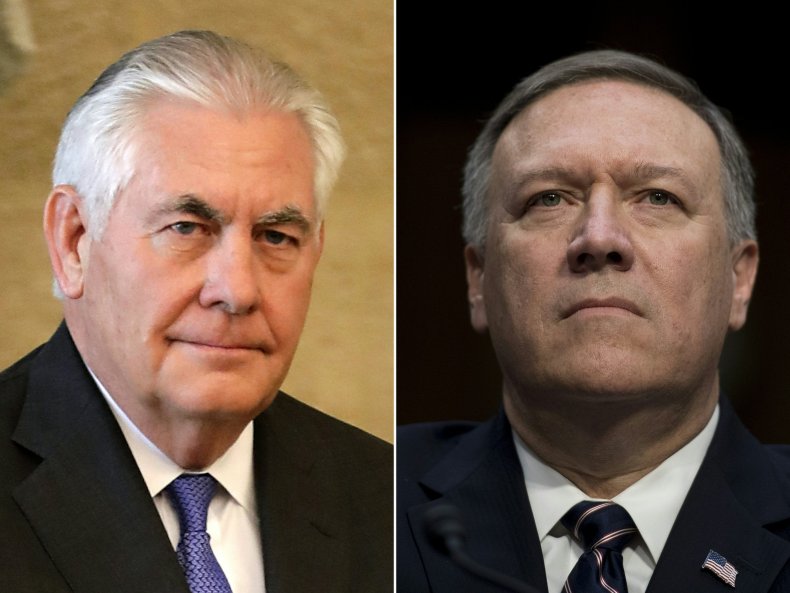 Diplomacy Works, a think tank whose advisory council included former Secretary of State John Kerry, was critical of Trump's decision, pointing to Pompeo's history of supporting military action against Iran and rejection of diplomacy in favor of insults toward its leadership.
"Pompeo has a long history of using inflammatory rhetoric against Iran, language that is not conducive to diplomacy and proves he is not up to the task of assuming the role of America's top diplomat," the think tank wrote in a statement sent to Newsweek.
Under Trump, the U.S. has urged the U.N. Security Council to take action against Iran, accusing it of perpetrating human rights abuses at home and abroad via the mostly Shiite Muslim militias it backs across in countries such as Lebanon, Iraq and Syria. Like the U.S, Iran has been deeply involved in the fight against the Islamic State militant group (ISIS) in these countries, but the two powers do not agree on post-ISIS local governance.
This article contains a statement from Diplomacy Works.