Jay-Z Taking Pics of Daughter Blue Ivy at Super Bowl Goes Viral
While Jay-Z is a hip-hop juggernaut and one of the most-famous faces in entertainment, he was tasked with regular dad duties while attending Sunday's Super Bowl LVII with his preteen daughter, Blue Ivy Carter.
Jay-Z, 53, and his eldest offspring, 11, enjoyed prime seats at Glendale, Arizona's State Farm Stadium. They watched the Kansas City Chiefs secure a 38-35 victory over the Philadelphia Eagles.
The father-daughter duo also cheered on Rihanna's performance during the Super Bowl Halftime Show. It has been spearheaded by Jay-Z's Roc Nation entertainment agency since a long-term partnership with the NFL was signed in 2019.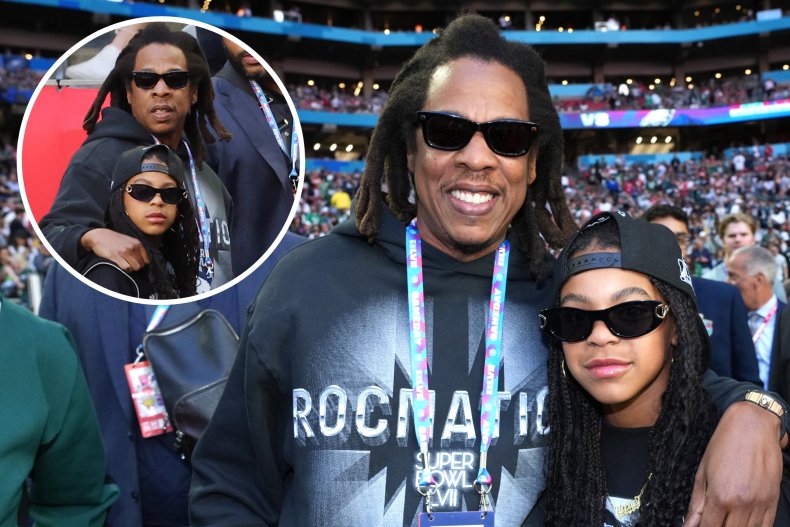 With all of the excitement around them on the momentous day, Blue Ivy appeared keen to document her outing with a few photos—and she tasked her dad with taking the snapshots.
In video footage originally shared on Twitter by Fox Sports' NFL account, the rapper and entrepreneur Jay-Z, whose real name is Shawn Carter, was seen crouching with a broad smile on his face as he snapped his daughter on the football field.
Looking cool in an all-black ensemble, Blue Ivy then approached her father to check the results of his handiwork as she asked him: "Is it live?"
The adorable video clip went viral on Twitter, garnering more than 3 million views and a flood of hilarious comments from fans.
"Blue Ivy needs a new photographer cause I don't think whoever this is is cutting it," quipped one Twitter user.
"Not her directing her dad to take better pictures of her," wrote another of Blue Ivy, who has been photographed with her dad at sporting events in the past.
Several other fans also commented on how much Blue Ivy resembles and has the mannerisms of her Grammy-winning mother Beyoncé, who was not seen at the Super Bowl. Beyoncé and Jay-Z are also the parents of twins Sir and Rumi, 5.
Blue Ivy, herself a Grammy winner, is Jay-Z and Beyoncé's eldest child, arriving four years after the stars' 2008 wedding.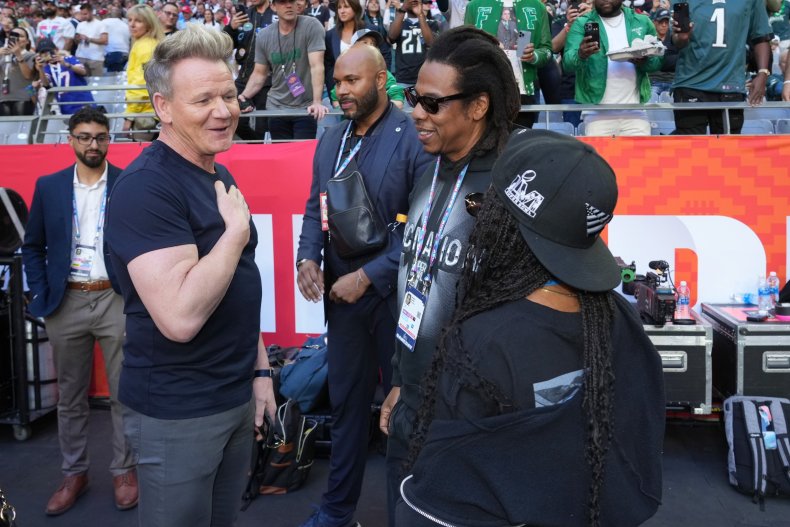 In a 2021 interview with U.K. publication The Sunday Times, Roc Nation founder Jay-Z spoke about fatherhood and his efforts to ensure his children thrive.
"Feeling loved is the most important thing a child needs," he said. "Not, 'Here's this business that I'm going to hand over to you, that I'm creating for you.' What if my child doesn't want to be in music or sports? I have no idea, right? But as long as your child feels supported, and feels loved, I think anything is possible."
Jay-Z added that the key to raising a successful child is to "provide a loving environment:" "Be very attentive to who they want to be. It's easy for us, as human beings, to want our children to do certain things, but we have no idea. We're just guides."
For her part, Texas native Beyoncé told British Vogue in 2020 how much motherhood had affected her approach to work.
"Something cracked open inside of me right after giving birth to my first daughter. From that point on, I truly understood my power, and motherhood has been my biggest inspiration," Beyoncé said. "It became my mission to make sure she lived in a world where she feels truly seen and valued.
"I was also deeply inspired by my trip to South Africa with my family. And, after having my son, Sir Carter, I felt it was important to uplift and praise our boys and to assure that they grow up with enough films, children's books and music that promote emotional intelligence, self-value and our rich history. That's why [the musical film Black Is King] is dedicated to him."