From LeVar Burton to Aaron Rodgers—These Are the Favorites to Be Full-Time 'Jeopardy!' Host
One of the most sought-after roles in the television world right now is who will be the next host of Jeopardy! with a dazzling line-up of celebrities vying to stand behind the famous podium—permanently.
So who will eventually be chosen to replace the late Alex Trebek? The rotating roster of guest hosts has provided a number of auditions for the hopefuls with the opportunity to flex their quiz show host skills.
Executive producer and showrunner Mike Richards confirmed that the highly anticipated decision will be made before the next season begins taping this summer.
"You want to make an informed decision," Richards said on The Journal podcast. "We want to go at this with real analytics and real testing and not just go, 'Hey, how about this guy?' which is kind of how a lot of these decisions have been made historically."
So far guest hosts have included Ken Jennings, Katie Couric, Mehmet Oz, Aaron Rodgers, and Anderson Cooper
Upcoming guest hosts include Buzzy Cohen, Mayim Bialik, Savannah Guthrie, Sanjay Gupta, George Stephanopoulos, Robin Roberts, LeVar Burton, David Faber, and Joe Buck.
CBS host Bill Whitaker is the current host for this week.
The biggest buzz around a prospective host so far has arguably been around Reading Rainbow host LeVar Burton, whose fans have actively been campaigning for him to get the job for months via social media and petitions with hundreds of thousands of signatures.
Burton recently told Newsweek he would make Alex Trebek proud if he were to become the host of Jeopardy!
"I think I could continue his legacy, I think I would do it proud," Burton said "Yeah, I think I would bring myself and my skills and my life experience. I believe that I will be honoring Alex's legacy by standing on the podium."
Burton says that, more than anything else throughout his career, he has been known for a "love of learning and curiosity" through his work with Reading Rainbow.
"I am practiced at relating to people through the camera," he says.
Meanwhile, NFL athlete Aaron Rodgers has thrown his hat in the ring to become the permanent host too.
The Green Bay Packers quarterback revealed he is "not shy at all about saying I want the job" in an interview following his guest stint.
"I don't think I'd need to give up football to do it," he told The Ringer. "They [Jeopardy!] film 46 days a year. I worked 187 this year in Green Bay. That gives me, eh—178 days to do Jeopardy! So I feel like I could fit 46 into that 178 and make it work."
He also had glowing ratings while on the show.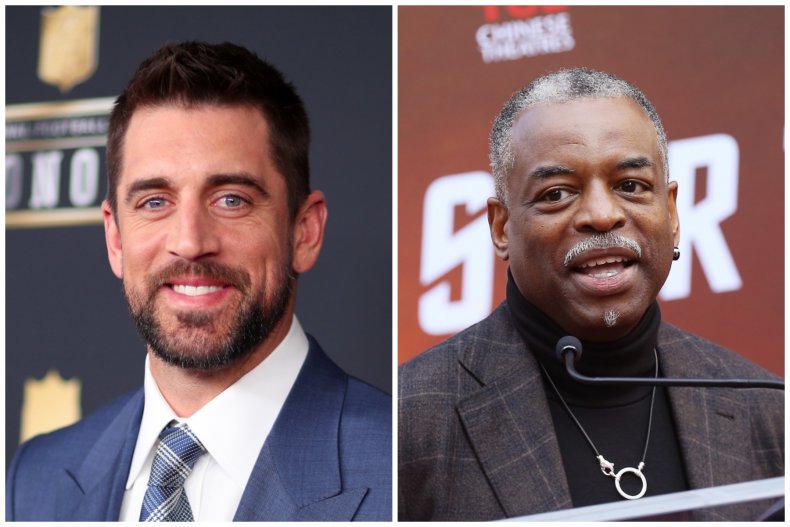 Meanwhile, another contender is Ken Jennings, the highest-scoring contestant of all time whose guest stint garnered impressive ratings, drawing a 6.2 rating in his first week, according to The Wrap.
So it really is anyone's game at this stage.
Claire McNear, the author of "Answers in the Form of Questions: A Definitive History and Insider's Guide to Jeopardy!" recently spoke about her expectations for who might get the job and cast doubts on Burton's chances.
"It's kind of funny to see people actively campaign to become the host of Jeopardy!, even if it's just kind of one of these two-week guest rotations," McNear said on NPR.
"I think there are probably some surprises in store. I don't know if it's LeVar Burton. I doubt that they are unaware at this point that he and so many fans would really like to see him up there, but I guess we'll see what happens.
"It is a uniquely really hard game show to run," the author explained. "The host is really involved in Jeopardy! in a way that doesn't really happen on a lot of other game shows. And you want somebody who projects that sort of gravitas—that academic air to them that Trebek, of course, had.
"And so I think that's why a lot of people have been really clamoring for LeVar Burton, because he so is those things. But you also want somebody with a little bit of humor and a little bit of the kind of quick wit that, of course, was kind of a mainstay of Trebek's Jeopardy!"