Ken Paxton, Texas Attorney General, Looking at How to 'Stop' Austin's Mask Mandate
Texas Attorney General Ken Paxton said Wednesday he's looking into ways to stop the mask mandate in Austin, Texas, because it contradicts the statewide order from Governor Greg Abbott lifting coronavirus restrictions.
"The state-wide mask mandate is lifted today. Yet once again, Austin Mayor Steve Adler and Travis County Judge Andy Brown are trying to figure out how they can buck state law and resist Governor Greg Abbott," Paxton tweeted.
"We're looking at every avenue available to stop them," the attorney general added.
In a follow-up tweet, Paxton said that Adler and Brown, along with their public health authorities, have until the end of the day on Wednesday "to rescind any mask mandates or business-operating restrictions and come into full compliance."
Paxton added, "Otherwise, on behalf of the State of Texas, I will sue you."
In a third tweet, Paxton said he believe city and county leaders were not "thinking clearly" because of "oxygen deprivation from quintuple-masking."
"Whatever the case, they've tried this before. They lost," Paxton wrote, reiterating that Austin and Travis County have a few hours to comply with state law or face a lawsuit from the attorney general.
Attached to two of his tweets was a letter to Adler and Brown detailing Paxton's order.
Last week, Abbott declared that "Texas is open 100 percent" and announced plans to lift the statewide mask mandate and other coronavirus restrictions beginning March 10.
The governor's decision to lift the mask mandate has been met with significant backlash, as politicians across the U.S. criticized the move.
Republican Mayor Betsy Price of Fort Worth, Texas, called the governor's decision to lift the mask mandate "premature." Other Texas mayors, including Democrats Oscar Leeser of El Paso and Eric Johnson of Dallas, have urged their communities to continue wearing masks.
President Joe Biden also weighed in and called Abbott's decision "Neanderthal thinking."
But Austin is keeping its mask mandate in place despite Abbott's order.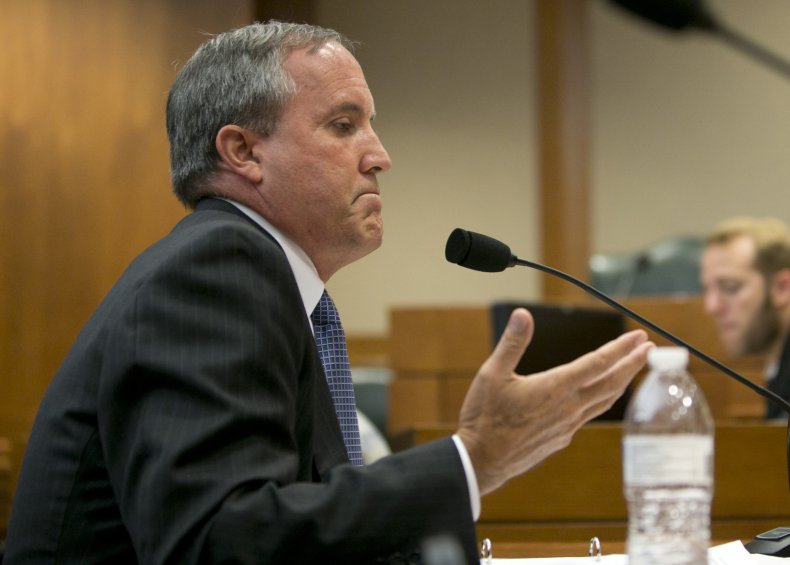 Austin Chief Medical Officer Mark Escott said Tuesday that the state's fourth-largest city will remain in Stage 4, the second-highest risk level, which advises residents to avoid nonessential travel and recommends that businesses operate at between 25 and 50 percent capacity. Stage 4 also requires all residents over the age of 10 to wear face coverings. The rules will be in effect until April 15.
"In Austin, we're committed to saving lives. Period. If state officials don't want to do their jobs protecting people from the virus, then we will," Austin City Council member Greg Casar previously told Newsweek.
Adler, Austin's mayor, was critical of Abbott's move earlier this week.
During a Sunday television appearance, Adler told Fox News host Neil Cavuto that Abbott's decision to lift the statewide mask mandate and coronavirus restrictions was "the wrong move."
"I have been really hard and really insistent that the mandate shouldn't have gone away," Adler said. "We try to be guided by science and the data, and removing the mandate is not being guided by the science and the data."
The mayor added he was concerned that lifting the statewide mask mandate will create "ambiguity" about face masks. He noted that many people in Texas will believe that "masking doesn't work, it's not effective or that we're past concern on the virus."
Newsweek reached out to Paxton's office for comment but didn't hear back in time for publication.