Kenya's Ex-PM Raila Odinga: Donald Trump Has No Africa Policy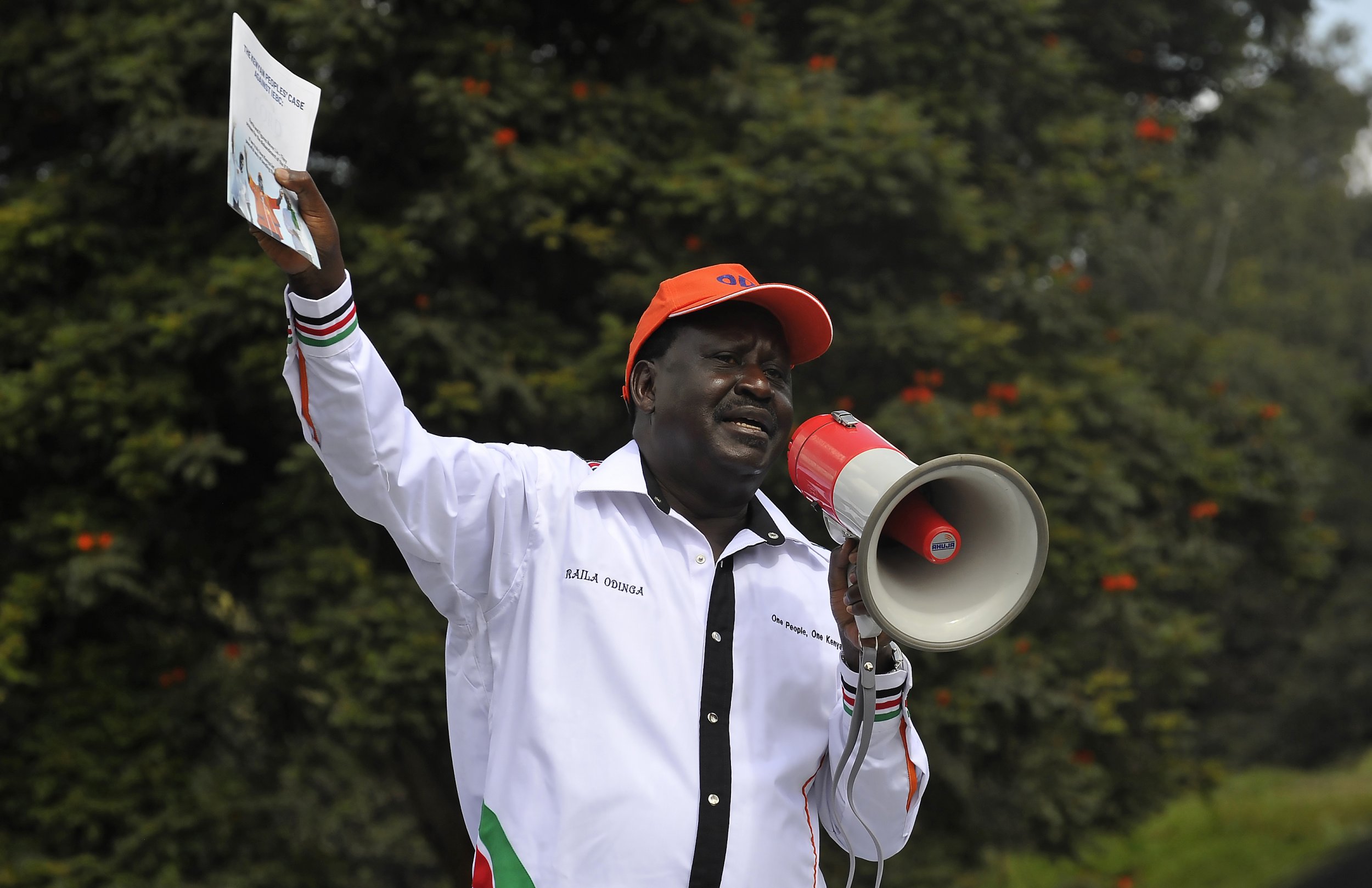 Kenya's former prime minister Raila Odinga has thrown his weight behind Democrat presidential candidate Hillary Clinton, saying he is not aware of Donald Trump having any policy on Africa.
Odinga, who served in a coalition government between 2008 and 2013, attended the Democratic National Convention in Philadelphia, where Clinton formally accepted the party's nomination as presidential candidate for the November polls. Speaking at an event at London international affairs think tank Chatham House on Friday, Odinga said that he was hopeful that Clinton would become the country's first female president.
"I don't know if the Republicans have a policy on Africa. If they have it, I did not hear it," said Odinga, when asked whether he believed Clinton or Trump would support the progress of democracy in Africa.
Newsweek contacted the Trump campaign for a comment on the businessman's Africa policy, but had received no reply at the time of publication. Newsweek also contacted the Republican Party for a comment but received no response.
The party comments in several places on its stance towards Africa in its 2012 platform document entitled "We Believe in America." The document highlights the Republicans' support for foreign aid to Africa, particularly that provided by faith-based groups who are distinct from the "cultural agenda of the current administration [of President Barack Obama]," which the party said includes imposing legalized abortion and the "homosexual rights agenda" on African countries. The party also said it supports "closer cooperation" in military and economic ties with African countries and that it "stand[s] in solidarity with those African countries now under assault by the forces of radical Islam" and urges other governments throughout the continent to recognize the threat to them as well.
Delivering a talk entitled "The Importance of Democracy in Africa: Kenya's Experience," Odinga—who is the leader of the opposition Coalition for Reforms and Democracy (CORD) in Kenya—said that democracy was "in jeopardy" in Africa and that the continent required strong support from Western countries and institutions in order to avoid slipping back into the grip of strongmen leaders like Idi Amin, the Ugandan dictator who expelled the country's entire Asian population and under whose rule up to 400,000 people are believed to have been killed.
"It is our hope that the next president of the U.S., together with the EU and Britain, will support democracy in word and in deed. The West must show an incredible support for civil society and the rule of law, accountability, human rights, and free and fair elections if the march of democracy is to be guaranteed," said Odinga. The Kenyan opposition leader cited Uganda's elections in February—which were described as lacking transparency and independence by EU observers—as an example of the problems facing democracy in Africa. "You remember in the elections in Uganda recently, they completely shut off the country, you could not use the internet, supposedly for security reasons," said Odinga. Social media sites including Twitter were reportedly blocked during polling day in Uganda, though other sites were still working.
Odinga took up the role of prime minister following Kenya's controversial 2007 elections, which were marred by weeks of bloodshed after the incumbent Mwai Kibaki was declared the victor by a margin of around 230,000 votes. Odinga rejected the result and violence broke out between rival supporters and ethnic groups, claiming some 1,200 lives and displacing half a million people. Odinga was named as Kibaki's prime minister in February 2008 following a deal brokered by former United Nations Secretary-General Kofi Annan.
Trump has made little mention of Africa during his campaign so far, but he has reportedly received the backing of the continent's longest-serving leader, Zimbabwean President Robert Mugabe. Democrat lawmakers Adam Schiff and Chris Coons revealed during an interview with U.S. news site Politico that, during a recent visit to Zimbabwe, they met with Mugabe and were asked by the 92-year-old president why he was under U.S. sanctions. After explaining the reasons, Mugabe told the candidates, according to Coons: "Once [Trump] is your president, you'll wish you'd been friendlier to me."