Kevin McCarthy 'Siding With Insurrectionists' to Become Speaker: Kinzinger
Representative Adam Kinzinger, an Illinois Republican, said Friday that House Minority Leader Kevin McCarthy is "siding with insurrectionists" to help him become the next Speaker of the House.
Kinzinger's comments come as the GOP hopes to retake a majority of seats in the House of Representatives, which would give them the power to name the next speaker. McCarthy, who currently serves as the highest ranking Republican in Congress' lower chamber, would likely be a frontrunner for the job if he can secure enough votes in his caucus.
The congressman, who has previously been a fierce critic of GOP leadership, said during an appearance on CNN that in his bid to win the support of most Republicans, McCarthy has sided with "insurrectionists" in the party.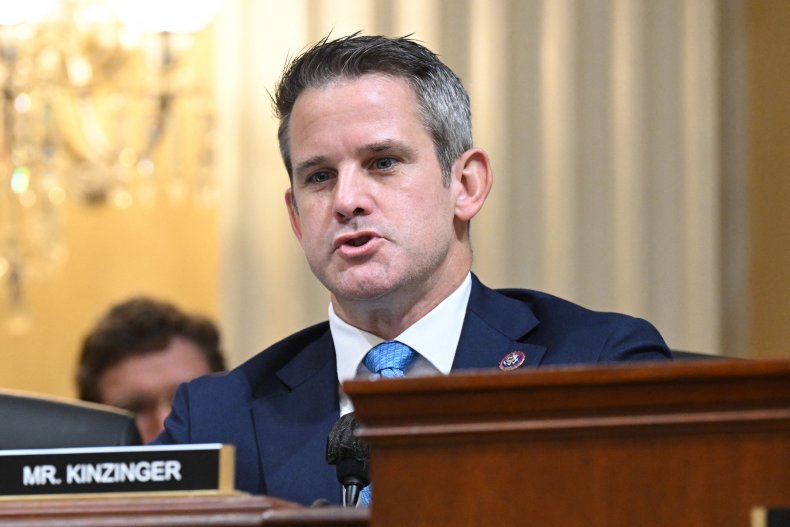 Kinzinger has found himself at odds with the majority of his party over his vocal criticism of former President Donald Trump for his actions surrounding the January 6, 2021, attack on the U.S. Capitol building, and has become highly critical of McCarthy and other GOP leaders.
He told CNN host Anderson Cooper he does not "trust a thing Kevin McCarthy says," accusing him of siding with lawmakers he says have been sympathetic toward the rioters to earn their support to become speaker.
"I'll be honest with you—sometime about a year or two ago, he made a decision that his only goal is to become Speaker of the House," Kinzinger said. "And he'll do whatever he has to do, and he thinks that siding with the insurrections is the way to get there. Maybe it will make him speaker, I don't know."
The GOP lawmaker made the accusation while criticizing McCarthy for attempting to downplay the testimony provided by Cassidy Hutchinson—who previously served as an aide to Trump's ex-chief of staff Mark Meadows—to the House select committee investigating the riot.
During her testimony, Hutchinson said she received a phone call from McCarthy urging her to prevent Trump from marching alongside the rioters to the Capitol. However, McCarthy said this week that he does not remember calling her.
"If I talked to her, I don't remember it," he said, C-SPAN reported. "If it was coming up here, I don't think I wanted a lot of people coming up to the Capitol."
Trump Allies May Not Back McCarthy
Kinzinger did not specify which lawmakers he was referring to with his "insurrectionist" dig, but he has previously been critical of the party's Trump-aligned conservative wing. Some of those lawmakers have hinted that McCarthy may have work to do in order to collect enough votes to become speaker, with some pushing Representative Jim Jordan, an Ohio Republican, as an alternative.
Sarah Palin, the former governor of Alaska who is now running for the state's open at-large congressional seat, told right-wing news outlet Newsmax in April that she may not support McCarthy for speaker.
"It's a mixed opinion right now, a lot of people don't want him as Speaker of the House," she said.
Meanwhile in November, Representative Marjorie Taylor Greene, a Georgia Republican, said McCarthy does not have the votes to be elected.
"He doesn't have the votes that are there, because there's many of us that are very unhappy about the failure to hold Republicans accountable, while conservatives like me, Paul Gosar, and many others just constantly take the abuse by the Democrats," she said.
Newsweek reached out to McCarthy's office for comment.