King Charles' Interaction With Person of Color in Viral Video Sparks Debate
A viral video showing King Charles III's interaction with a person of color while greeting crowd members in the days before Queen Elizabeth II's state funeral has sparked debate online.
The video has been viewed more than 5 million times since being uploaded to Twitter by user @RamaboduObakeng, who wrote: "Black man, you are on your own."
It comes as discussions surrounding the royal family and race have become increasingly prevalent in recent years. This follows interviews given by the Duchess of Sussex on her experiences as the first biracial person to marry into the senior branch of the British monarchy.
The video was taken from news coverage of an engagement where King Charles and the Prince of Wales met with members of the public lining up to view the late queen's lying-in-state.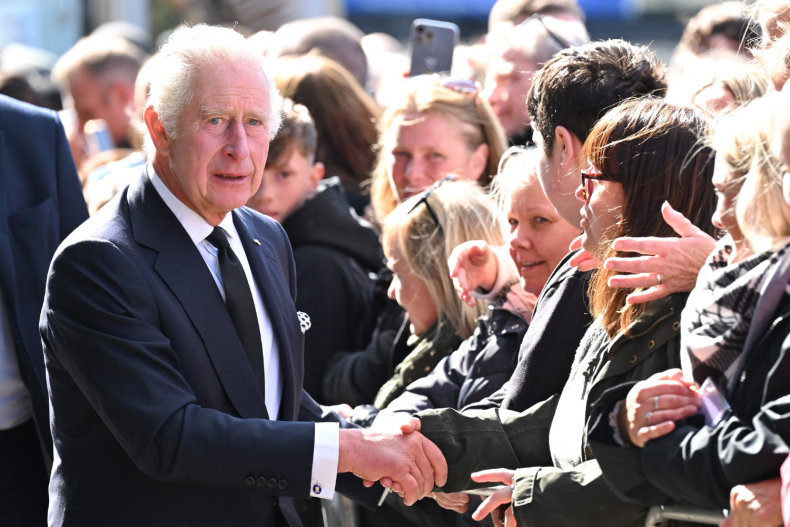 The video's caption appeared to suggest that a person of color in the crowd did not get a personal interaction with the king while other people around him did.
"This guy did it deliberately," wrote one user about Charles, with another adding that the clip was "interesting."
However, other commenters pointed out that Charles had been seen interacting with people of color elsewhere during his walkabouts.
Other users pointed out that he did briefly acknowledge the man in question after appearing to skip him after being distracted.
"King Charles III shook the hands of many black people on that day lol nice try at racism click bait," said one Twitter reply to the video.
"He eventually acknowledged him by touching him now, Nawa oh. Obviously he was distracted as he got to them but he did acknowledge him just like he did his neighbor," posted another.
Charles has a long-established track record of working with Britain's Black communities, which was recently celebrated with an invitation to guest edit Britain's only Black newspaper The Voice for its 40th anniversary edition.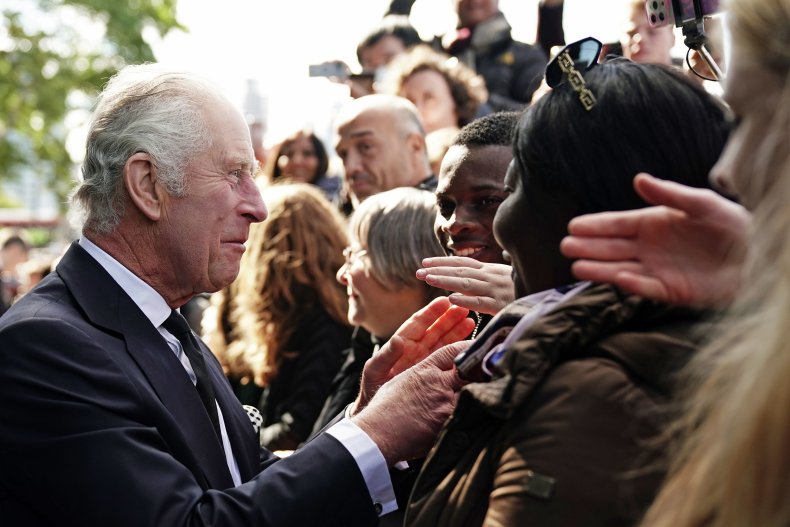 In his editor's letter, Charles praised the newspaper for helping to ensure that "Britain's Black communities have been heard" over the past four decades and wrote that he was grateful to have been able to be a part of discussions within them.
"You have welcomed me into your communities with wonderful enthusiasm and I am grateful that you have always been candid with me about the issues you continually face and how I might help," he said.
With the invitation to Charles to contribute to the anniversary edition, the editors of The Voice did not let the royal family and the monarchy's historic links with slavery and alleged racism go unacknowledged, but asserted that progress must be noted.
"This is not about the monarchy as an institution or the history of colonialism or slavery which he expressed his 'personal sorrow' about at the Commonwealth conference earlier this year," they wrote about Charles.
"Whatever the different views, it is important to note the positive work that has taken place to open doors in the arts, business and elsewhere."
Among the wider royal family discussions of race have tended to center around the experience of the Duchess of Sussex who married Prince Harry in May 2018.
Early in the couple's relationship racially insensitive newspaper articles were written about Meghan, stating that she was "(almost) straight outta Compton" and that her "exotic DNA" would enrich the royal bloodline.
This combined with racist attacks posted on social media prompted Prince Harry to issue a statement, via a palace press secretary, in which he said a line had been crossed with "the racial undertones of comment pieces; and the outright sexism and racism of social media trolls and web article comments."
The statement went on to add that Harry was "worried about Ms. Markle's safety and is deeply disappointed that he has not been able to protect her…This is not a game—it is her life and his."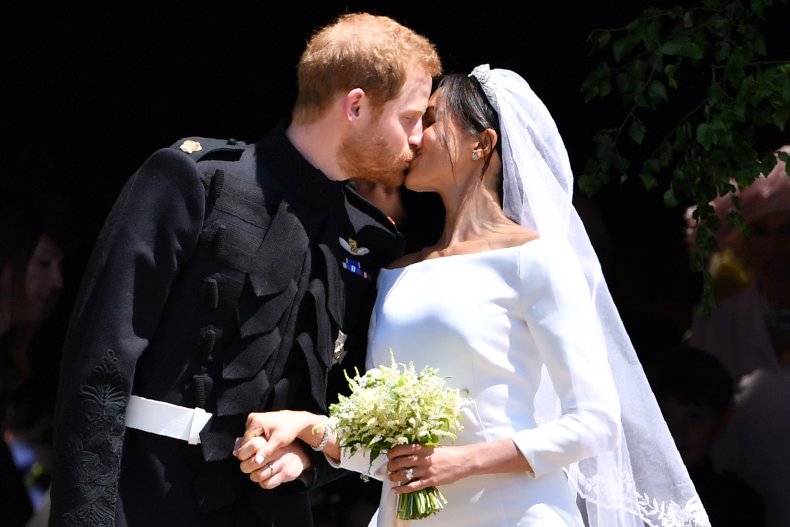 After two years the couple made the personal decision to move away from Britain and step down from their roles as working members of the royal family.
In 2021 Meghan and Harry revealed during interviews with Oprah Winfrey that racism had played a role in their decision to leave Britain.
"It was bringing out a part of people that was racist in how it was charged," Meghan said of the role the tabloid press played in the abuse she faced at the time. "And that changed the threat. That changed the level of death threats. That changed everything."
In a docuseries with Winfrey titled The Me You Can't See, Harry highlighted parallels between the treatment of his mother and his wife.
"My biggest regret is not making more of a stance earlier on in my relationship with my wife in calling out the racism when I did," he told the TV veteran.
"History was repeating itself," he later added. "My mother was chased to her death while she was in a relationship with someone who wasn't white. And now look what's happened? You want to talk about history repeating itself? They're [the media] not going to stop until she dies."
As the new King Charles III begins his reign, he inherits the throne at a time where discussions of race, racism and discrimination both present and historic are taking place and it remains to be seen what role the royal family, if any, will play in these.
Newsweek contacted Buckingham Palace for comment.