Kyrsten Sinema in the Spotlight as White House Fights to Save Neera Tanden Nomination
All eyes are on Senator Kyrsten Sinema of Arizona, a moderate Democrat, as the White House fights to save Neera Tanden's nomination to be the next head of the Office of Management and Budget (OMB).
After a challenging confirmation hearing for Tanden, and subsequent announcements by both Democratic and Republican senators that they would vote against her, the Senate Homeland Security Committee postponed Wednesday's vote after members asked for more time to consider the nominee.
The committee is reportedly concerned with how Sinema will vote, which remains unknown, and does not want to advance the vote without knowledge of the Democrat's expected decision.
If Sinema, who sits on the committee, is opposed to Tanden's nomination, like her Senate colleague Joe Manchin, the Biden administration will be unable to get her confirmed as OMB director.
A no vote from Sinema would change the final vote to 48-52 and require the White House to secure two Republican votes for Tanden, which is virtually impossible now that Senators Mitt Romney and Susan Collins have voiced their disapproval for Biden's pick.
However, if Sinema is planning to vote in favor of Tanden, the White House could shift the pressure onto GOP Senator Lisa Murkowski once the vote comes to floor. If Sinema and Murkowski both get behind Tanden, the final 50-50 tied vote to confirm her as the budget office head would be broken by Vice President Kamala Harris in favor of the nomination.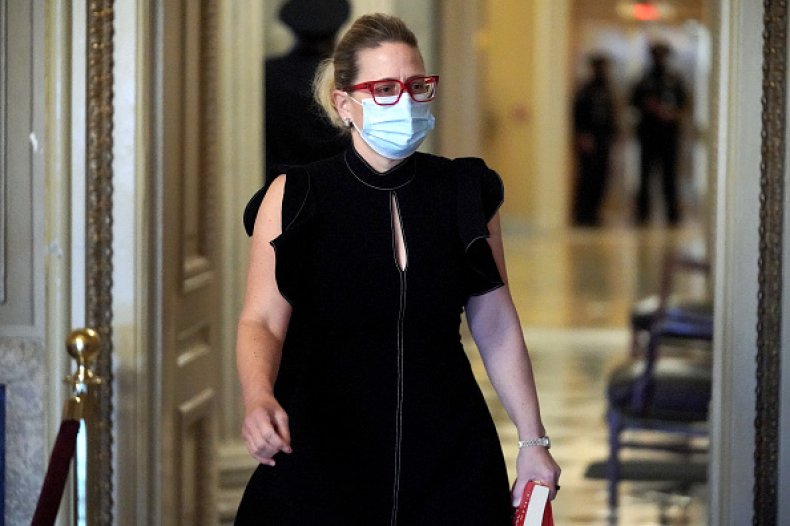 Sinema has emerged as a controversial Democratic figure in recent weeks after her major influence over the president's agenda became apparent. Because Democratic control of the Senate rests on such a razor-thin margin, individual senators can easily derail the president's legislative plans or become his ally on tough votes.
While Manchin seems to present the bigger obstacle for Biden, Sinema has challenged the president's plans for his first 100 days.
The Arizona senator has opposed a proposal, backed by the majority of congressional Democrats, to raise the minimum wage to $15 an hour, which Biden's $1.9 trillion relief package includes. Sinema has also refused to support eliminating the filibuster, a 60-vote threshold for approving legislation.
Although progressives have threatened her with a primary challenge, Sinema would not be particularly vulnerable because she represents a purple state that embraces her staunch centrism.
Tanden has become Biden's most controversial and risky Cabinet nomination. After being blasted by GOP senators and some Democrats for her partisan and hostile tweets, lawmakers are increasingly concerned that she will be unable to work across the aisle, in contrast to the Biden administration's message of unity.
Newsweek reached out to Sinema's office for comment but did not hear back before publication.